All
3 Key Tools for Success in Hotel Online Marketing
---
A day in the life of a hotel marketer is filled with a laundry list of "important, must do" activities. Sometimes it's easy to overlook the essentials needed to be successful.
We're talking about the critical role photos, virtual tours and videos play in a hotel's online marketing activities to help hit those sales goals.
When it comes to your properties, understanding how to communicate anticipated experiences to today's modern guest is critical as your marketing plans are developed. By sharing a story, you're increasing the likelihood that when the time comes to book, the hotel shopper will choose you because they've "seen" the value you offer.
Images
Based on Leonardo's study of over 500,000,000 views of media, we learned that guest rooms are viewed 2 x more than the next most popular category which is restaurants.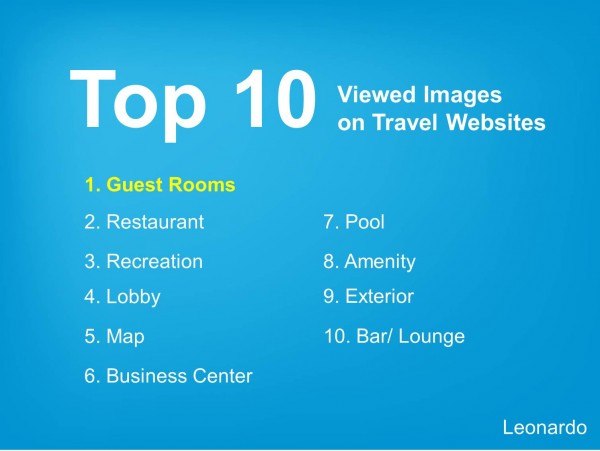 The fact that restaurants is the 2nd most viewed type of media and recreation is the 3rd provides insight into the fact that consumers really don't care about the outside of the building, but rather what the rooms looks like, where to eat and what to do while they're at your hotel.
The exterior of a hotel is #9 on the top 10 most viewed list. The only caveat to featuring the "exterior" of your hotel first is when your building has some historic or prominent architectural feature or is in view of a major landmark. (Think La Tour Eiffel or Times Square.)
Virtual Tours
Virtual Tours have their appropriate place in your multi-media plan as well. It's really valuable to give guests the opportunity to "virtually" move around the space as it increases authenticity and therefore confidence. Contrast that with one dimensional photos which are not "interactive," so to speak, or controllable by the viewer.
An economical way to create a more interactive experience is to use your existing high definition photos, stitched together, to produce your property's Virtual Tours. This creates the illusion of movement and the result is a more engaging and interesting way to communicate your hotel's story.
Another objective that transcends hospitality digital marketers is finding ways to improve the stickiness of your website i.e. keeping hotel shoppers engaged with your hotel online.  Adding Virtual Tours to your media gallery is a smart way to accomplish this goal because they make your property memorable and begin to create a relationship, increasing the likelihood they'll choose you when the time comes to book. Websites with virtual tours are viewed 5-10x longer than those without.
Lastly, Virtual Tours are a good production format for creating short vignettes of property highlights. Developing 3 – 10 high definition virtual tour "stories" of guest rooms, breakfast areas, local attractions and common areas is a great way to provide "snackable" insights into the experiences you offer.
Hosteria Del Recodo is an excellent example of how a hotel can really show off their unique story through virtual tours. Check out some of this property's virtual tours to get a better understanding of how virtual tours can make a difference to travel shoppers.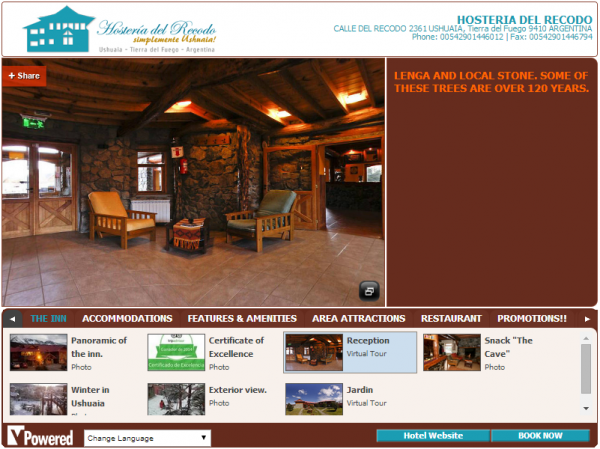 Video
Videos tell stories and bring your hotel to life by creating emotional connections with guests. In fact, 66% of consumers report watching video when planning travel and 43% when reserving their room. Whether  it's a guided tour of the hotel narrated by the General Manager, a "day in the life" story, or a series of videos showcasing different areas of your hotel, video is your way to be creative, set your hotel apart and inspire lookers to become bookers.
There are 4 distinct content types (not production formats) that are well suited to video, according to SoMedia Networks, a video production company. What you choose depends on your marketing objectives & budget.
Video tours give guests the feeling of walking through the building, making it real
Testimonial Videos add credibility and leave a positive impression on the shopper
Hosted Profiles provide personal insights into the hotel and connect emotionally with the shopper
Scripted Ads are generally left to the pros and can used in a variety of marketing activities
Take a look at how Hotel Galvez gets the most out of using videos to showcase their hotel's story.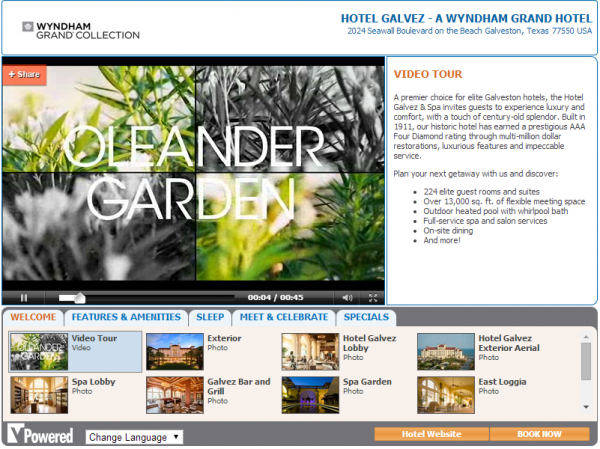 5 Key Practical Takeaways
Use a combination of photos, virtual tours and videos that reflect your brand identity to provide the shopper with a variety of media to facilitate their research throughout all stages of the shopping journey
Create snackable videos that are 12 – 45 seconds in length to capture the essence of your property's features & amenities that guests are most interested in:
a. Guest rooms & suites
b. Popular restaurant and lounge facilities
c. Well-equipped fitness areas
d. Nearby attractions
e. Wedding or meeting facilities
Complement your multi-media with carefully written descriptive text and attention grabbing captions. Remember consumers "scan" for information online. Present them with the complete story that will motivate them to choose you
Use the highest quality media that your budget can afford adhering to the specifications appropriate for the platforms and devices consumers are using
There are multi-media production options for every budget out there, ranging from high definition virtual tours, and video slideshows to full motion "Hollywood style" creations
Today's topic, though focused mainly on the logistics and technical aspects of multi-media, is all in the name of delivering an ideal storytelling environment. In other words, it is not about the content per se, but rather about the story the content tells about the hotel.
Every hotel has a story and the key is curating and displaying the content into something meaningful to the shopper, so that your property is remembered, booked and shared.