All
4 Epic Tips on How to Have Fun with Your Digital Marketing Strategy
---
Think of your day as a blank artist's canvas and you can paint your masterpiece today. A lot of the time, we spend our days cleaning up the mess from yesterday and never get around to creating a fresh design.
The same sentiment can be geared towards your digital marketing initiatives. Don't allow the burdens of the day to continually spill over to tomorrow. Although most days may feel like you're struggling to catch up with the next big thing (be it social, mobile or more), there are plenty ways you can actually have fun with your marketing strategy – and travel shoppers will take notice!
Here are four ways you can have fun with your digital marketing plans.
1. Run a Social Media Contest
Running a contest through social media platforms can actually be used as a great vehicle for engaging consumers with your hotel.
Firstly, why are you hosting this contest? Take the time to think of your objectives and ultimately what you hope to achieve. Increase your followers by 15%? Generate 250 mentions? 200 User-Generated photos via a hashtag stream?
You can run a simple "like, follow or enter to win" Instagram contest. Or you can design user-generated contests where you create a hashtag designed for your challenge and encourage people to upload photos and/or videos of themselves.
Outline the rules as succinctly as possible, just as long as you don't have people filling out entry forms like you're renewing a passport.
Take a photo of the prize. It could be a gift card to your hotel restaurant, $50 to the bar, a free night's stay, free breakfast delivered to your room in the morning, tickets to a local concert or sporting event. There are so many ideas for giveaways you can plan contests out for the entire year.
The Sol Wave House in Spain are a "Tweet Experience Hotel" and engage with their guests 12 hours a day via customized hashtags and creative contests.
Facebook and Twitter are also amazing vehicles to interact with your audience and launch a contest. Promote it ahead of time on all social channels and have them work in unison to boost engagement levels. Make sure you have a call to action to look out for the next installment of contests. And give a teaser on what the prize might be, what the contest could be or when they could expect it.
2. Selfie Station
Selfie: (noun) an image of oneself taken by oneself using a digital camera especially posting on social networks.
2014 marked the official induction of the popular word "selfie" from our vernacular to Merriam-Webster's dictionary. It proves how powerful an impact that online connectivity and tech-savvy involvement has on our lives. Now image creating a "selfie station" at your hotel as a great way to engage with your guests and infuse imagination into your social strategy.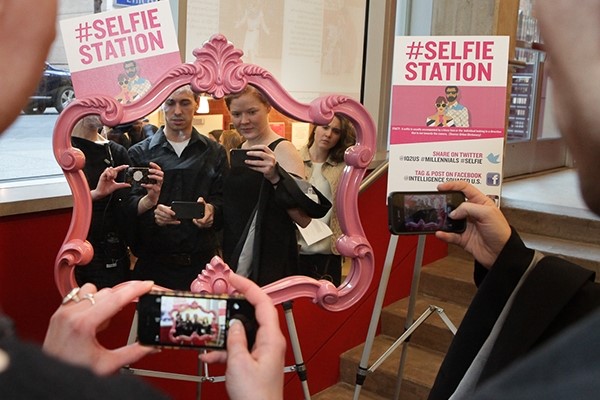 On weekends you can mimic the same kind of photo booth that weddings usually use. Maybe include crazy and whacky props and encourage your guests to have fun with them. You could hire a photographer for a few hours on a busy Saturday and have your pictures print-ready with your brand logo on it as a takeaway. Or look within your employee talent pool and find an aspiring photographer with a good eye for innovative shots.
The 1888 Hotel in Sydney, Australia is the world's first Instagram Hotel with a dedicated "selfie station" and "selfie wall." In the 1888 Hotel's lobby, guests can take pictures in their "Selfie" space and tag #1888Hotel and their image will instantaneously appear on the screens near reception.
Selfies are an unbelievable way to build User-Generated Content (UGC) that you can repurpose on social media. You may need copyright permission or you can ask guests to tag your hotel, and just share the photos to avoid the issue of consent. You could even take it one step further and tie it in with a contest for the coolest or craziest selfie you can take at your hotel. Promote it online, create a customized hashtag for social media and advertise it in the main lobby. People are very receptive when their friends and family are taking part, prizes are on the line and when it's a genuinely fun practice.
3. Vine Videos
Hotels can really benefit from using the uber-popular, snackable, six second looping video platform called Vine. It has quite an easy design and user-friendly interface that is strictly created for mobile.
Hoteliers can build a six-second virtual tour of their hotel highlighting all the unique and entertaining things to do on their property. You could even promote a local event, daily weather forecasts or upcoming deals.
You can showcase the ambiance of your restaurant and bar with demonstrations on how to make a cool drink or the construction of how the meal of the day is built. Vine is also a great platform to personalize your hotel, connect with your audience and show behind the scenes aspects of your staff and some of the tomfoolery that ensues with working at a hotel.
Remember, Vine was bought by Twitter, so make sure you take advantage of hashtags when posting videos because it's a great way to strengthen your reach and build your followers. It's a relatively unknown social app for many hoteliers because its "snackable" potential hasn't been completely realized yet. Once you start playing around with it and realize the fun light you can shed onto your strategy, you'll understand Vine can be an integral part of your digital plans.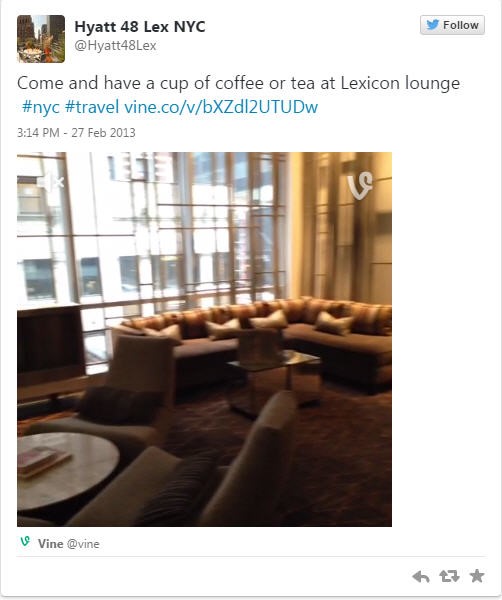 4. Epic User-Generated Content (UGC)
No solid digital marketing strategy is complete without people who authentically like your brand. It can be difficult to continually keep up with fresh content to entertain your fan base. UGC – essentially photos, videos and posts created by your fans, followers, or even staff and shared on social media – is a great tool to keep up with the demand for fresh content.
UGC opens up a direct, two-way communication stream to emotionally connect with your hotel guests. It's also about taking advantage of the endless content that flows in to help make your hotel story authentic and unique.
Utilize the massive power of hashtags. Jump on popular trending hashtags such as Throwback Thursday (#TBT), or #TravelTuesday. You can have a lot of fun by showing different sides of your hotel. Throwback Thursday is blowing up online, so you can dig into the archives and find pictures that show the evolution of your property. High Peaks Resort in Lake Placid did an unbelievable job at finding a vintage picture of their hotel's humble origins and used it to show how far they have come.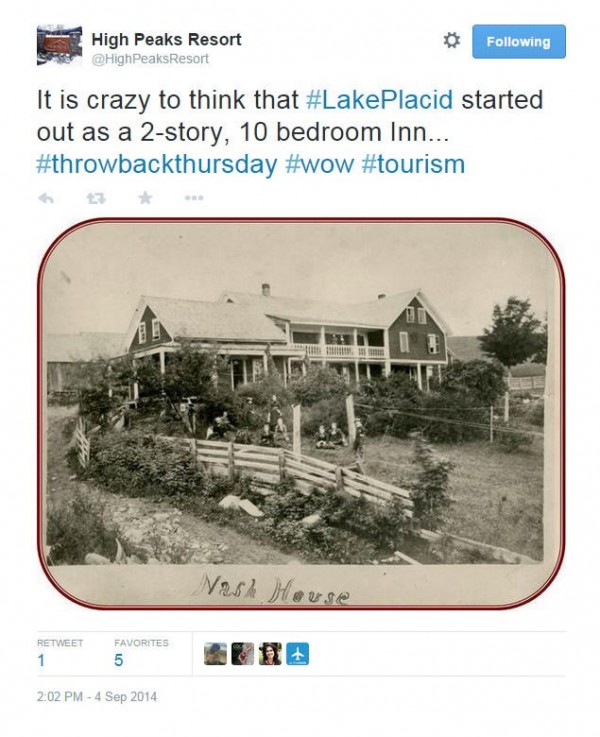 You can join the conversation using #TravelTuesday and encourage your guests to upload photos of themselves at local hot spots around town and have them tag you in. You can even take it one step further and create your own customized hashtag unique to your hotel for future use.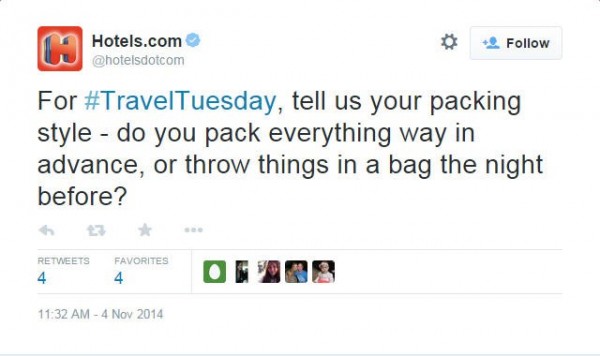 It all goes back to your guest's experience, and how you can encourage them to share these experiences via social media. An evolving movement many of the larger hotels are taking advantage of is having a television screen in their main lobby used as a social hub. This centralized area can show a guest's tweet, Instagram or Facebook posts. Hotels with properties worldwide can encourage guests to capture their best photo of their visit and the most unique one could win a free night stay.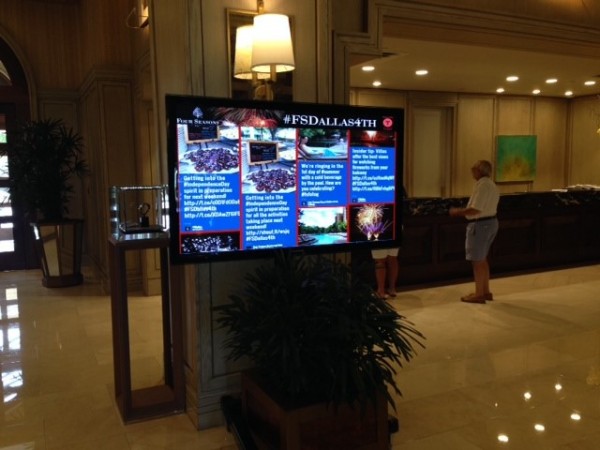 Can You Reuse Content?
Of course you can! Comedians don't use fresh material every night they do stand up. They repurpose and tweak their existing content and squeeze every ounce of it to maximize laughs. The same approach can be applied to your hotel's content marketing strategy. Any one of these strategies can be slightly tweaked or based on its success, can be duplicated again due to popular demand.
Learning how to repurpose content will be critical to a hotel marketer's efficiency because it's increasingly challenging to keep up with the demand for fresh content. And after all, social marketing should be fun for everyone involved, not a chore that always seems to take a back seat.
Remember this isn't all about YOU! It's about your guest's experience. All it takes is tapping into that right side of your brain to inject some new life into your plans.
Have even more fun with the tips and tricks in our free eBook: Show, Share, Stand Out: The Most Important Hotel Marketing Trends to Watch in 2015 and let your digital strategy exude confidence and excitement!