All
7 Secrets for Creating the Perfect Length of Everything Online: Hotel Marketing
---
Have you ever got so immersed in your writing to the point when you finally take a step back and look at your product, you begin questioning yourself if it's too long or too short? After all, how long should your Facebook posts be? What's the right amount of text to include with your photos? Should you write a short or long blog post?
Nobody wants to put limits on one's creativity, but having guidelines backed by research will help make sure your posts are seen by the most amount of people and result in higher engagement, propelling your hotel's story in front of more eyes.
Nowadays, content is being created and posted on such a wide variety of different sites, it can understandably be challenging to know what each of the best practices are.
Thankfully for us, Buffer (a social media management tool) has compiled a thorough list of the "ideal length of everything online," and we took it one step further and added our best practices to this already impressive inventory.
1. Twitter
Although it seems like a painstaking process to cut a well-articulated thought down to 140 characters, those restrictions are sometimes for the best.
Tweets must be a maximum of 140 characters but the ideal length of a tweet is 100 characters
Tweets shorter than 100 characters get a 17% higher engagement rate
71-100 character, in the "medium" range, get the most retweets
2. Facebook
Many studies have been conducted on the effectiveness of a great Facebook post, taking into account likes, comments and shares.
The ideal length of a Facebook post is less than 40 characters
Posts under this format receive 86% higher engagement than others
3. Blog Post
Blogs deal with a different form of measurement. It isn't necessarily evaluated in terms of engagement but rather on how long the reader's attention span lasts.
The ideal length of a blog post varies. This source says it's 7 minutes (1,600 words) while others agree 400-500 words is plenty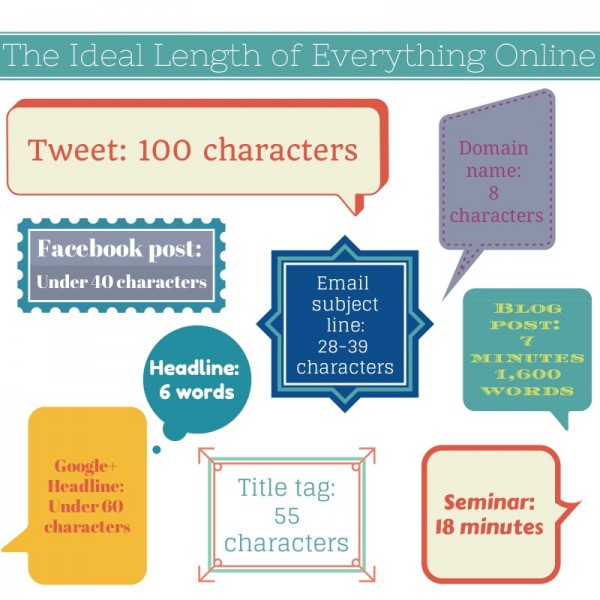 4. Google+
Google+ is a highly underutilized tool because many marketers are still unsure of what it can actually do for them. Google+ indexes content within the search engine behemoth and provides a great SEO boost in terms of first page rankings.
The ideal length of a Google+ headline is less than 60 characters
Google changed the template so you only see three lines of the original post so make the first sentence epic to get a stronger click through rate (CTR)
5. Videos
Videos are a powerful marketing weapon for the hotel industry.
The ideal length of a YouTube video is 3 minutes
A "snackable" video is a big trend in digital hotel marketing. Short videos are quick and easy to watch and they convey their messages more effectively than a longer video packed with more and varied information
Two to three 12 – 45 second videos that capture the unique features & amenities of the property act as great virtual tours
6. Website Headlines
Creating a captivating headline is a make-or-break moment for a gateway to your content. If you can't entice a reader with an intriguing headline, there will be a lot less eyeballs on your work.
The ideal length of a headline is 6 words
7. Meta Descriptions and Titles Tags
Meta descriptions are HTML attributes that give an overview of what can be found on the web page and are important for a stronger click-through rate. Your title tag is what shows up in search results as your page title.
The ideal length for a meta description is roughly 145 characters
Title tags should be 65 characters or less, with the keyword near the beginning
8. Text Descriptions in Vizlly and VScape
Having concise captions helps add depth and context to your hotel's visual story. A picture can tell a vivid story but effective text helps provide clarity and amplify what your images are all about.
In Vizlly, our Multi-Channel Digital Marketing System, it's easy to add text to all your media – photos, videos and virtual tours.
Here are the basic rules-of-thumb for Vizlly's text descriptions:
Short descriptions through should be no more than 90 characters in length and should be catchy, inviting the reader to continue
Long descriptions should be limited to about 15 lines of text to avoid scrolling
Use several small paragraphs rather than a block of text as these are easier to read
Break up the text and highlight important points using bulleted lists, bold text and underlining
Text should be relevant to the media item – it is unlikely that a single text description will adequately describe each of your images
Keep headlines to around 6 words to effectively capture the user's attention
Now that you understand the structure on how to frame your hotel's content, check out our eBook: Content Marketing 101 for Hotels: What, Why and How on what will attract more prospective guests and help you stand out from the competition.