All
Say Hello to Vizlly, A New Multi-Channel Digital Marketing System
---
I have a phrase that I use at Leonardo – that phrase is that as a company, we're in our teenage years. We've taken our first steps and accomplished some big milestones (such as growing the industry's largest media syndication network and developing new digital marketing tools like mobile sites and social apps) but we haven't become full-fledged adults yet – and I like that.
It gives us the freedom to create, to think of new ideas and watch them grow. It gives us the opportunity to listen to hoteliers' pain points and think of ways to alleviate their problems. It gives us the power to constantly innovate. It gives us passion and dedication, without the fear of failure. It gives us the ability to launch something new, which I couldn't be more excited to share with you today.
Say Hello to Vizlly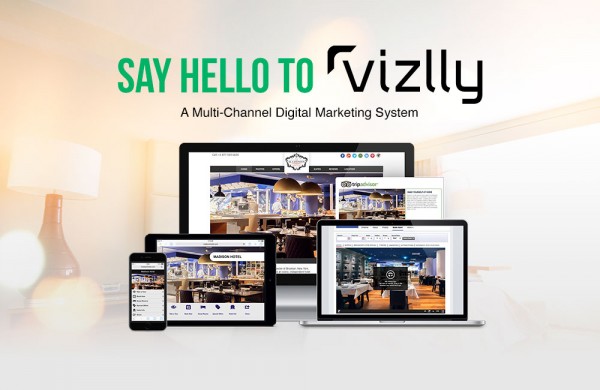 For years, we've heard hoteliers all over the world tell us their pain points – and they might sound familiar to you:
I'm tired of managing my digital marketing using so many different systems.
I want a tool to easily create a new website or enhance my outdated text-heavy website.
I need a system that allows me to syndicate my hotel story to thousands of different travel channels – without updating my hotel content thousands of times.
And finally, I want my hotel story to stand out on every channel travelers use to shop online – but how?
Couple that with the fact that the travel shopping journey continues to grow in complexity. (Travelers now visit anywhere between 10 to 30 different sites before booking – from brand and independent websites, OTAs and Meta Search to social media pages. And they are accessing these sites from their laptops, tablets and mobile devices) – and the increasing difficulty in finding a better way to help hotels differentiate themselves online. The way to do that? With a compelling visual story. That's what Vizlly is.
Vizlly is our new cloud-based Multi-Channel Digital Marketing System that makes it easy for hoteliers to create and publish hotel websites, mobile websites, social media apps and digital brochures for third party travel websites, all using a single cloud based software system. To me, Vizlly is a lot more than that. Vizlly puts visual storytelling first (just take a look at this visual-first website created using Vizlly) and that's where the industry is headed.
How We Got Here
Vizlly is the next evolution of our VBrochure Online Merchandising System, a product we first launched about five years ago that enabled hotels to curate their visual media into compelling stories and syndicate these to thousands of third-party travel websites. Hoteliers soon demanded more, and we delivered. We moved beyond syndication to offer smartphone and tablet websites (for the growing mobile-first reality) as well as social media apps, recognizing the importance of social sites like Facebook.
Vizlly takes this further by giving hotel marketers something we've heard them ask for every day, and that's the ability to create their own hotel website and tell compelling visual stories of their rooms, promotions and unique features – built to drive increased conversions on direct booking channels. That's just one of the many new features Vizlly offers (you can take a look at this overview video to learn more) and I'm excited to deliver a solution to meet hoteliers' needs.
Vizlly marks a new era for our company and the entire hospitality industry. Gone are the days of disorganization and gaps in your online marketing programs. Vizlly is a simpler, more efficient way of managing your hotel's online presence across the channels and devices travel shoppers use to search, shop, compare and book hotel rooms.
We're excited about what the future holds for hotel marketing and we're excited about Vizlly. We hope you are too.