All
Best Practices For 5 Social Media Platforms
---
There's a growing number of reasons why hoteliers need to play the social media game. Whether you're using social media to connect with guests, influence direct bookings, or research what's being said about your property, it's important to make sure your knowledge of the most popular channels is up to date.
The emergence of social media as a digital marketing must-have for accommodation providers means that your property's visual storytelling will be amplified like never before. This article will guide you through the best practices for using the most popular social networks – Facebook, Twitter, Pinterest and YouTube and Instagram – in your visual storytelling strategy.
Facebook
Facebook continues to evolve to include more and more photo and video sharing features. Its "Newsfeed" is visually-driven and the perfect place to display large, engaging visuals. Remember, Facebook is a social platform – people use it to connect with friends and be entertained. Tailor your content for this platform accordingly.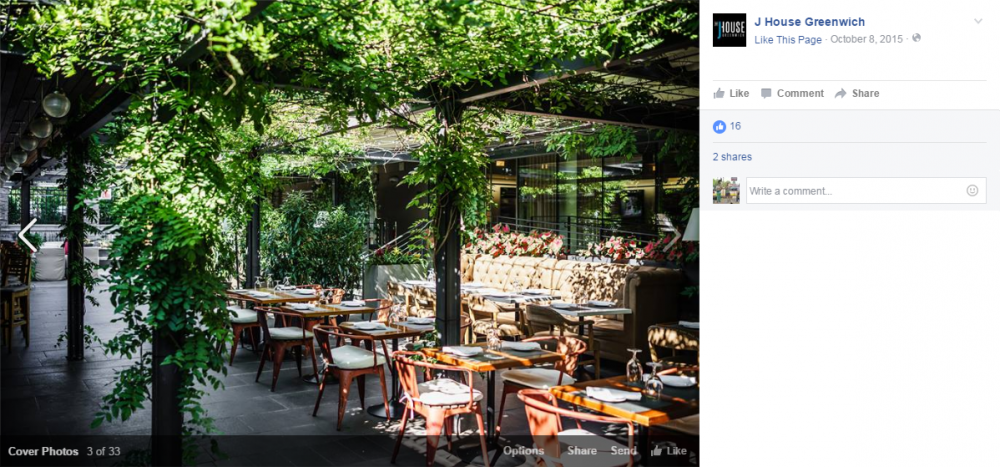 Best practices for using Facebook include:
Make an impression with your cover photo and update it often.
Lead with visuals – photos or videos
Take creative control in telling your brand story by developing original content. Share photos of your property amenities, guests enjoying their stay, and other moments that showcase the great atmosphere of your establishment. Keep it simple, but make it memorable.
Facebook does a great job of showcasing videos, which you can embed into the platform and play automatically. This means travel shoppers can get a taste for your property without having to find and visit your website. The best way to take advantage of video on Facebook is to lead with visuals, or add subtitles to any dialogue, so people don't have to turn on the sound to fully enjoy the content.
Keep it social. Don't just post things, but comment and share your followers' posts. This is an easy way for your fans to feel recognized and will reflect well on you as a result.
Use hashtags, just like you would on Twitter and Instagram. Having a hashtag and encouraging your guests to use it will make it easier to see what your guests are saying about your property. Remember, it's ok to make your hashtag fun!
Ask questions that encourage fans to engage with you.
Hold fun contests on a regular basis.
Show off your sense of humor!
If you are a Vizlly customer, leverage our Facebook Apps to enhance the travel shopping experience. They allow Facebook users to take a visual tour of your property, and see special offers, without leaving your Facebook Page. They can even book directly with you without leaving the platform!
Twitter
While posting on Twitter remains constrained to 140 characters, there are increasingly more photo and video sharing features available to share stories in real-time.
Best practices for Twitter include:
Tweet regularly and at multiple times during the day. Think of Twitter as being your hotel's mouth. Tweets have an average lifecycle of 18 minutes, so while you don't want to be talking all the time, staying current is key; post often.
Update your header photo, which displays behind your profile picture. This photo should represent your property or location in some way. Update it as the seasons change, or for major events!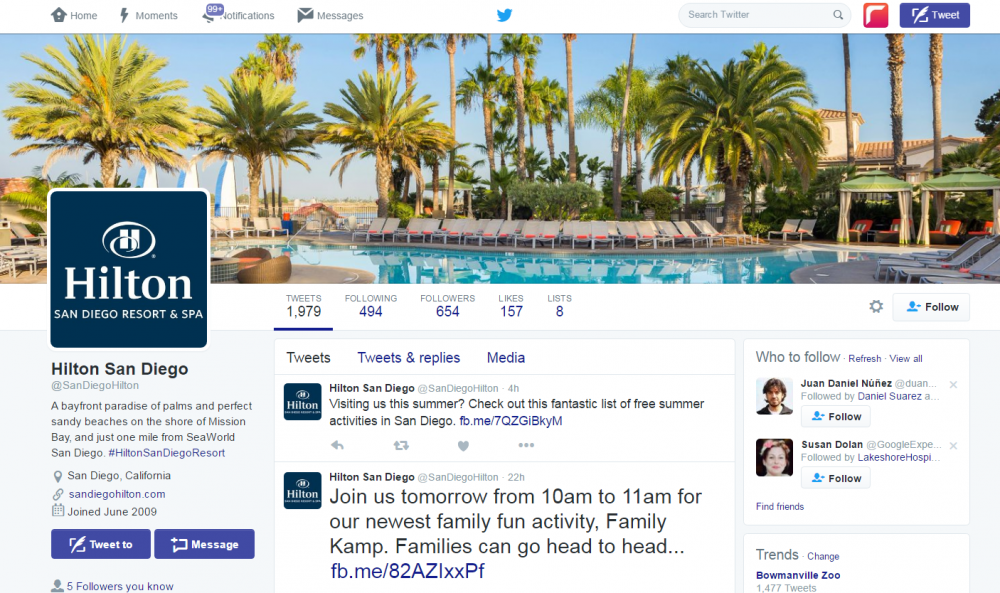 Add photos or videos to your tweets– of your property, of your guests enjoying themselves, of your chef's latest creation, etc.
Tweets are a reflection of your property and what it represents. Show off your local destination – nearby attractions, local restaurants, the stunning views from your property, special events and more. Get people excited about your region, and position yourself as a local expert.
Reach more travelers by using #hashtags in your tweets, and encourage on-property guests to use the same hashtag if they are Tweeting as well.
Engage with your guests, if they are conversing about your property or topics related to your hotel, be part of the discussion.
Pinterest
Pinterest has approximately 176 million users, 85% of which are female. Not to mention, 30% of all social media users in the U.S. have a Pinterest account. Considering women drive 70-80% of all consumer purchasing women account for more than 85% of all household purchases, and 90% of vacation decisions, your target demographic is essentially sitting right in front of you on Pinterest. Need more convincing?  52% of Pinners have seen something on Pinterest and made a purchase online. Since Pinterest allows you to link pictures directly to your website, users are merely a click away from being drawn into your property's story.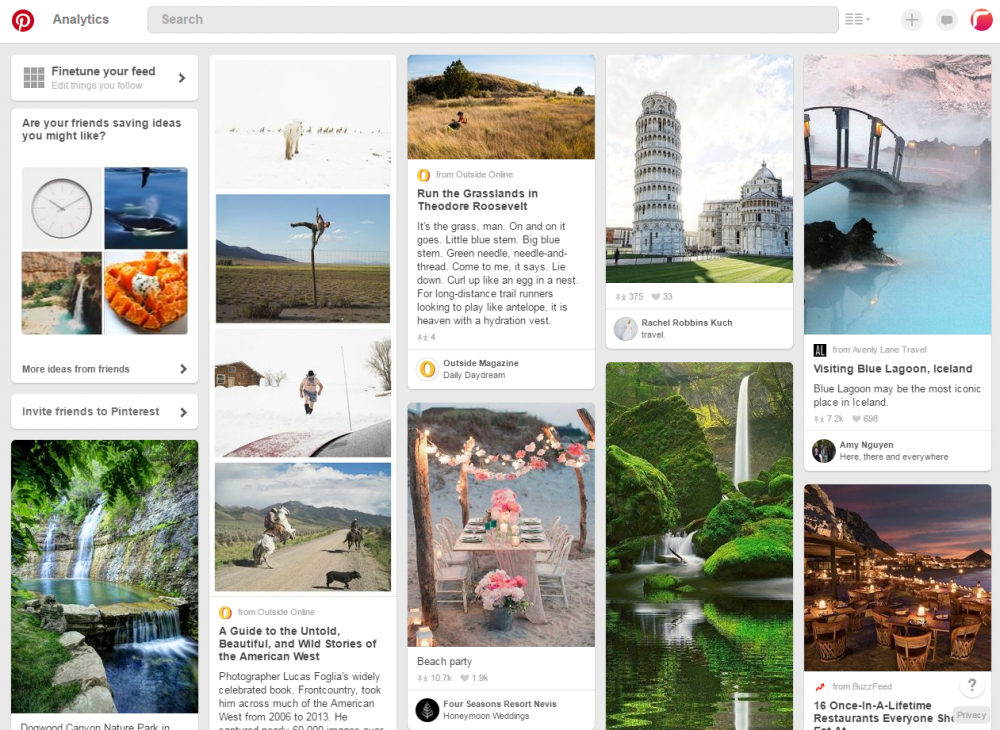 Best practices for Pinterest include:
Post interesting images that are high-quality, visually appealing, and relevant to your current and ideal guests.
Clearly label and add a description to every board you make so people know what they're about. Not every board needs to appeal to everyone.
Stay organized. Keep your pins neat and streamlined by creating different boards for different aspects of your property.
Post more on Saturdays than during the rest of the week, since 'travel' is the most popular search category on Saturdays (and that's also the day Pinterest receives the highest traffic rates).
Keep the tone of your pins aspirational. Everything that you post should be something that your prospective guests should want to buy or experience.
Create an 'Events' board on Pinterest. Take photos during events at your property and share them with followers for a more personal touch.
Be sure to upload and re-pin relevant images that others post about your property and surrounding area to contribute to your story through the eyes of guests.
Instagram
With its retro filters and snap-and-upload simplicity, Instagram has become the mobile photo-sharing phenomenon nobody expected. Vibrant visuals and explosive rich media will create an emotional connection with your guests, one where they can envision the experience they can have at your property.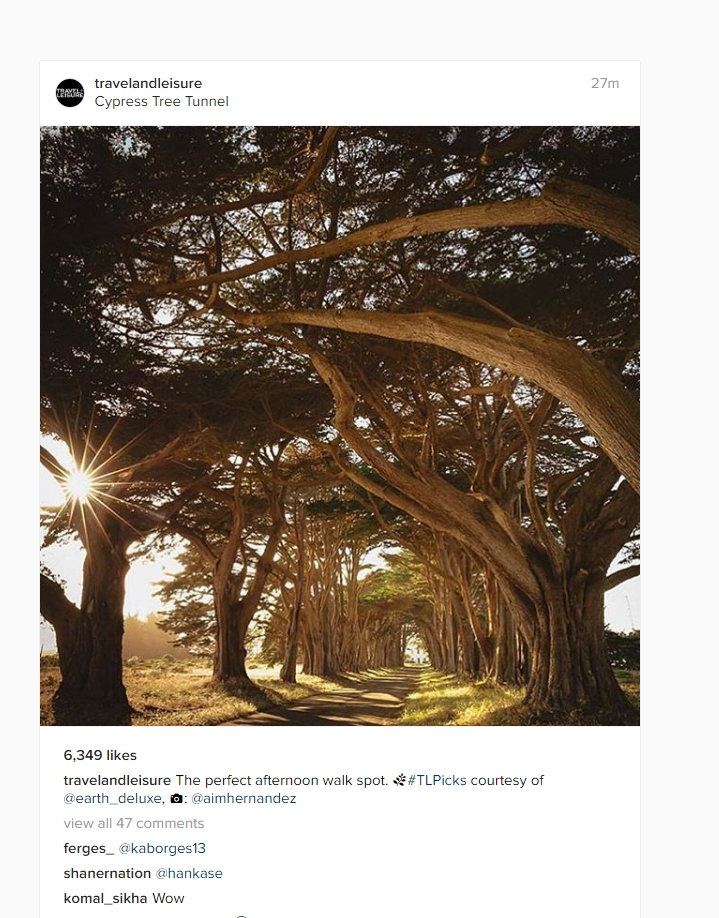 Best practices for Instagram include:
Include a link to your website in your bio so people can seamlessly book after seeing the pictures of your property.
In the descriptions of your photos be sure to tell shoppers that there is a link to your website in your bio. You cannot include a link in descriptions of Instagram photos, but you can direct them on where to go.
Get an app such as reInsta to share your visitors' photos. Ask permission first, and generally people will feel flattered that you think their photos merit being shared on your account.
Show visitors the human side of your property – it never hurts to show off the faces behind your business.
Use a hashtag for your property. This helps you find all the best pictures to reshare, and helps prospective guests see what other former guests experienced, all building your credibility and your hotel's story.

Show off the surrounding area – your property is situated where it is for a reason.
Get creative. Use Instagram's filters and special effects to better convey your story through unique and artistic lenses for your photos and short videos.
YouTube
YouTube has more than 1 billion users – watching hundreds of millions of hours of video every day. This makes it a great place to share videos that tell your story. Videos hold a great deal of opportunity for accommodation providers to display amenities and unique experiences of employees or travelers.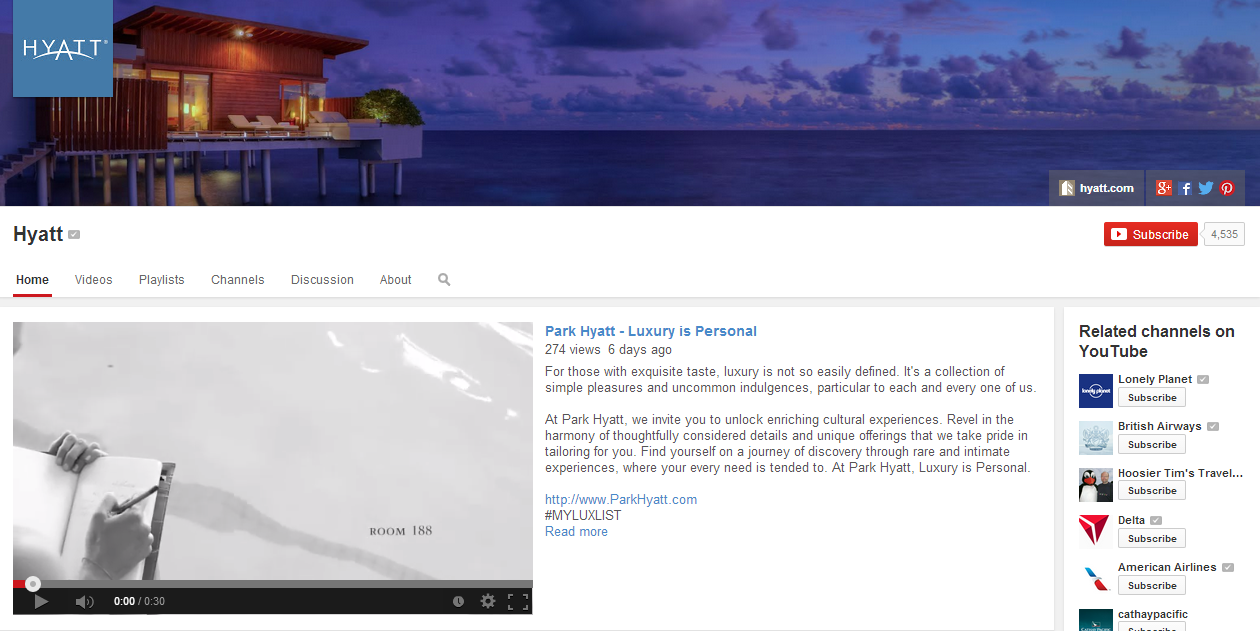 Best practices for YouTube include:
Create hosted profiles. This type of video involves a manager or other employee presenting the property (restaurant, spa, etc.). It's an effective way of helping consumers connect with a brand or property on a more personal level.
Share videos other than your own. For example, if your property's city has a local festival, share videos relating to it; or, if you're a beach-side property you can share videos related to surfing, whale watching, etc.
Online travel shoppers have short attention spans, so best practices suggest 1 to 2 minutes of video works best.
Be sure to share your video content across other platforms as well, such as on Facebook, Twitter and Pinterest (you cannot embed links into Instagram photos/videos).
Have a schedule for posting and post regularly. Having up to date content and a regular schedule, even if it's just posting video footage of local events once a month, will make your account stay relevant and show that your hotel is an active place.