All
Best Practices – Online Reviews: Part 4 of 4
---
There's no question that online reviews are a helpful addition to the travel shopping journey, but after a recent webinar with TripAdvisor's Brian Payea and Library Hotel's Adele Gutman, I learned that there are many hospitality professionals with questions regarding best practices around the validation phase along the path to purchase.
The audience for this event was a mix of GMs, e-Commerce folks, marketing coordinators, Innkeepers (and everything in between) – and they had questions about how to respond appropriately to reviews and how to incorporate reviews in their property's larger marketing strategy.
To put the importance of reviews into perspective, 89% of global travelers and 96% of global hospitality professionals say reviews are influential in generating bookings.
Reviews are an excellent opportunity for travel shoppers to read authentic stories about the property that won't necessarily be advertised on their website – the hidden gem of the buffet breakfast, the humorous concierge staff or the highly personalized customer service. Take the Hillard House Inn for example. A recent guest raved about the music room and the extra hospitality provided by the hostess.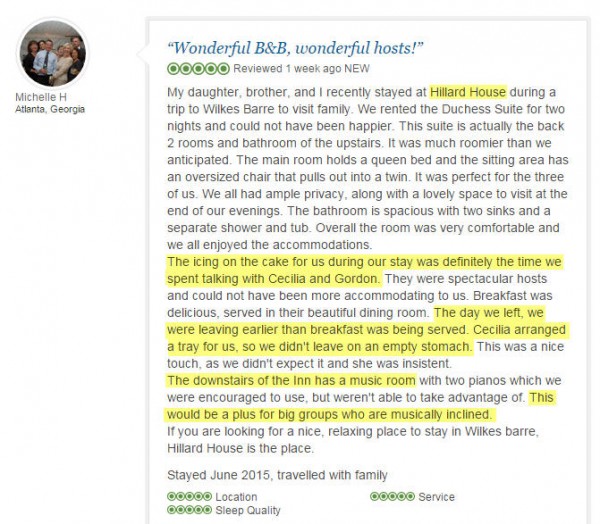 76% of customers are willing to pay more for a hotel with higher review scores, and 53% of people said they wouldn't book a hotel without reading reviews. This just illustrates the influence that the online review has on the travel shopper's final decision. As a hospitality marketer, it's smart to leverage the power of online guest feedback and use it to improve your property's visual storytelling and ultimately drive more direct bookings.
There is an astounding amount of questions about the best way to capture, respond and make the most of online reviews (I'd know, considering during our one-hour webinar event, we received over 200 questions alone!).
If you're ready to up your review game, here's a collection of tried and true advice, research and statistics on best practices for online reviews.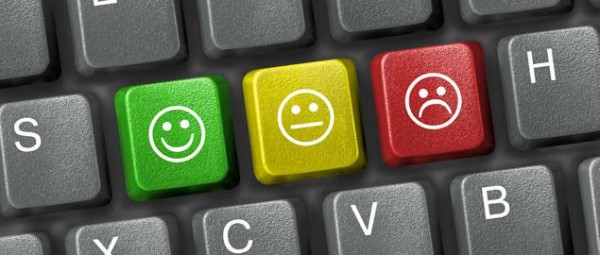 Best Practice: Visual Frenzy
The first thing that should be done to upgrade your property's presence and rating on review sites is to incorporate photos. Adding images on a TripAdvisor page results in 138% more engagement from travelers and since 93% of people say that visuals are the most influential factor in their purchase decision, this effort should be a no-brainer.
Photos will improve your storytelling effectiveness by communicating an anticipated experience on sites like TripAdvisor and will hook shoppers from the start of their path to purchase. When choosing which images to add to your property's review page, be sure to use the ones that travelers will want to see the most (rooms are number one!) and be sure to follow best practice guidelines for multimedia.
Photos are also helpful on social sites like Twitter where real estate verbiage is at a premium and are used by guests to complement the 140 character description of their experience. It's yet another way to include guest reviews in your hotel storytelling strategy.
The Montford Inn does just that on their Twitter page.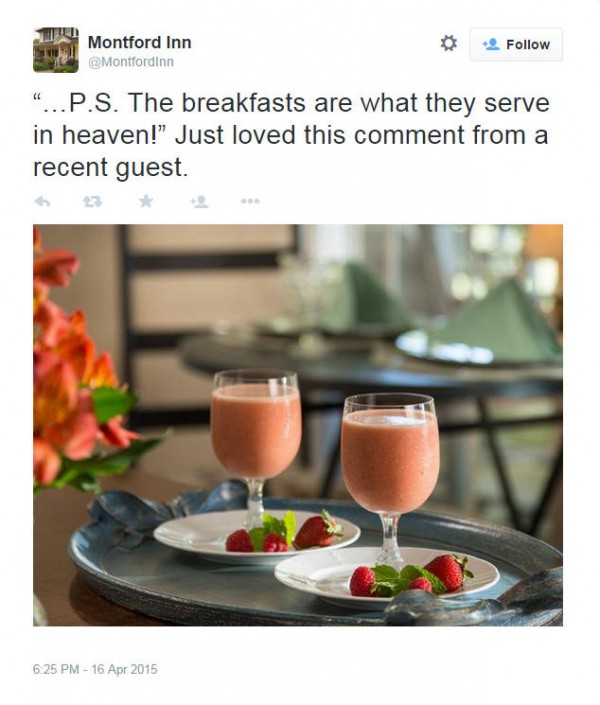 Best Practice: Understand Trends in Online Reviews
Online reviews may have been around for the past ten years or so, but even throughout my 30+ years of traveling (on business, leisure, or "bleisure") long before TripAdvisor and other review sites became mainstream, I would ask my friends, colleagues and family for advice on places to stay, things to do, and where to eat.
Like many consumers, the way I look for validation has changed as today's resources make it super easy to review feedback from friends, family and even strangers. The best practice hotel and B&B websites are now integrating reviews directly on their homepage, so it's super  convenient  to check out the consensus of others without having to go to another website source.
One of the first steps to improving your online reviews – getting them and responding to them – is understanding how online reviews has changed. A recent article from Olery shows some of the top trends in online reviews – two are particularly interesting to me:
More details about the reviewer: Travel sites now share details on who made the review and when and why they were traveling. This gives you perfect insight into the you're reaching and makes it easy to learn how to target your story to this demographic.
Proactive review management: Many properties are using software that takes guest questionnaires' and publishes the responses on review sites, another great way to secure reviews.
Best Practice: Repondez S'il Vous Plait
Be responsive to as many reviews as you can; if not every one, both positive and negative. In part three of this blog series, I shared my friend Adele Gutman's advice from our recent webinar on managing negative reviews based on her personal experiences as VP of Sales, Marketing and Revenue at the Library Hotel Collection in New York:
"We've had people say, I was going to book another hotel – actually I already did – but I just cancelled the other hotel and booked with you. Not because of the positive reviews but because of how you handled the negative reviews."
A few things can be done when acknowledging reviews to show travel shoppers that your property is run by caring people who want their guests to have a positive and memorable experience:
Respond to every review
As I mentioned, Adele has had guests tell her that they were extremely impressed by the way her and her staff were able to handle negative reviews, but it's also important to thank guests for their glowing reviews. Looking back at the positive review of Hillard House Inn, the owner responded in a way that was both gracious and appropriate.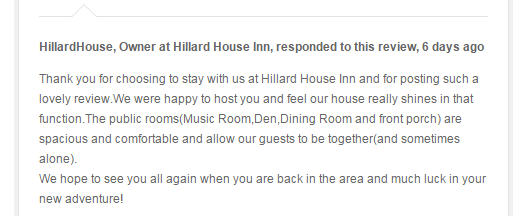 Respond promptly
We live in a digital world, and expect replies to anything from an email to a text message quickly (before you even read the end of this sentence).
Of course, your response time is dictated by how many reviews you receive and the amount of other tasks that you're responsible for on a daily basis, but in general reviews should be responded to within 24 hours – that's what Adele and her team always aim for.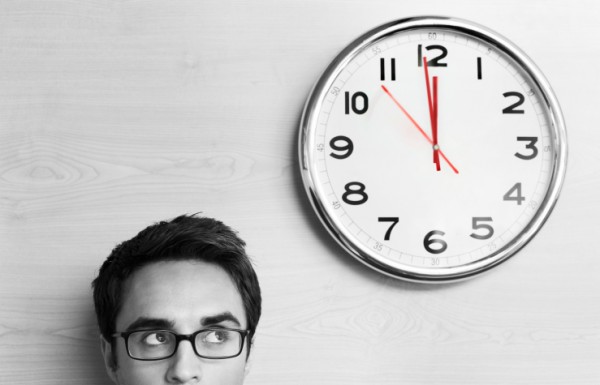 Be original
The whole point of replying to the comments is to demonstrate that you value your guests' feedback and take it seriously and personally.
If your property is responding to every positive review with cursory replies like "thank you, we hope to see you again soon" and every negative review with "I'm sorry that this has happened, please let us know what we can do next time to improve your stay," then guests will stop engaging with you because it feels as if their specific voice isn't being heard.
Address this by customizing each reply. It doesn't have to be a novel – just an acknowledgement of something the guest mentions in their review. For example, if the guest writes they love your breakfast special, thank them and begin a conversation. If someone reveals frustration related to Wi-Fi connectivity, then mention that you are willing to offer them complimentary Wi-Fi during their next visit.
The Holiday Inn Express New York City Fifth Avenue does a great job adding personal touches to every review they reply to. Check out how they handled this positive review that some criticism of their check-in.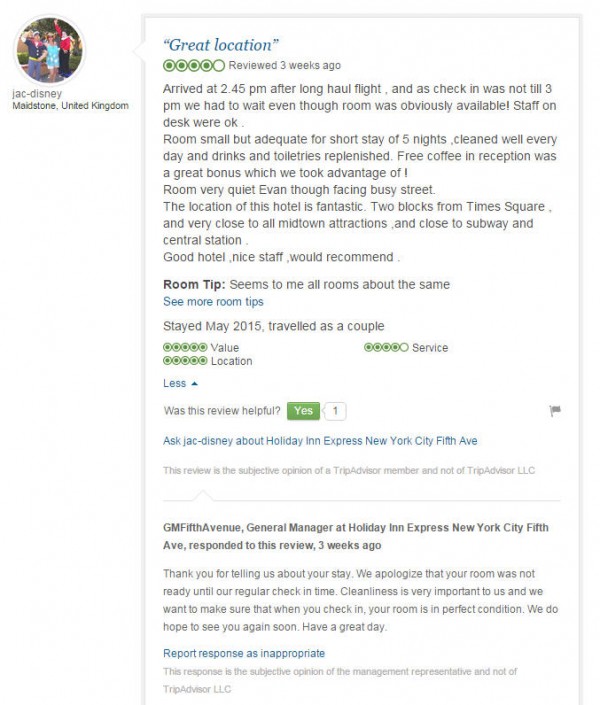 Be polite and professional
Also known as the golden rule, treat others how you would like to be treated. Place yourself in the shoes of the reviewer – if that experience had happened to you, what sort of reply would you like to receive?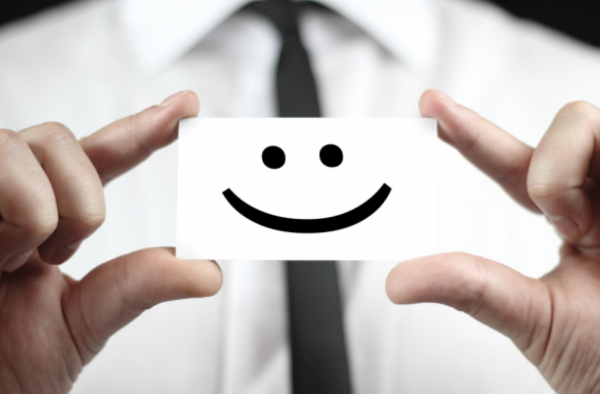 That's a Wrap
Guest reviews can provide travel shoppers with insights about what it's like to stay at your property – and also provide you with valuable intel about what people did and didn't like about staying with you.
Thanks to tips from Adele Gutman of the Library Hotel Collection and Brian Payea from TripAdvisor, your property can continue to evolve its approach to the world of guest reviews.
To learn more, watch the full recording of the webinar and view the slides from the presentation that inspired this blog series: TripAdvisor Tell-All: How to Use Reviews to Craft Your Story and Drive Bookings.
This is part four in a four-part blog series exploring how to leverage the power of guest reviews and how to use them to increase your visual storytelling capabilities.
Catch up on the first three parts here:
Part 1: Using Online Reviews To Find Your Story
Part 2: Using Guest Reviews For Visual Storytelling