All
Crowne-Jewel: How this IHG Property Overcame a Common Marketing Challenge
---
Known for their exceptional customer service, thoughtful amenities and dramatic renovation, the Crowne Plaza Boston-Woburn is a stand out property in a convenient location with an award winning restaurant.
Frank Vento, the General Manager of this Boston area hotel, brings over 30 years hospitality experience to the property, his insight, knowledge and an incredible team of hospitality professionals are what makes this Crowne Plaza a stand out IHG property.
Frank's Challenge
With a recent dramatic renovation including guestroom makeovers, the #1 rated Sports Bar in the greater Boston Area and an unbeatable value, Frank has endless stories to share about the unique and valuable experience his property has to offer.
In spite of the all this, Frank faced a challenge that's all too familiar with hotel marketers today, How can I effectively display photos and rich media online in a way that accurately tells my hotel's story and stands out to travel shoppers?
Frank explains: "It's difficult to communicate the real feel of the property online. We want to display media in a visually pleasing way. Well displayed media is what compels travel shoppers to book, and we want to be sure we're telling our story effectively online."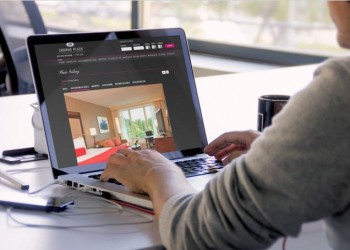 The Solution – Leonardo's VBrochure Online Merchandising System
With renovations complete and beautiful new professional photos in hand, Frank turned to Leonardo's VBrochure Online Merchandising System to transform the hotel's website into a visual-first experience and amplify its story across the web.
It was important to Frank to have a solution that would enable him to easily and seamlessly integrate his stunning new photography directly into his website. He knew he wanted to deliver a visual-first experience to travel shoppers visiting the hotel site, and VBrochure allowed him to do that.
"VBrochure helps us communicate the genuine feel of our property online. So many bookings are generated through our websites, it's the cornerstone of hotel marketing. Displaying striking visuals is what compels people to book, and the Multi-Media Gallery displays media in a visually-engaging way."
The Results of a Visual-First Website Experience
In the short ten months after implementing the VPowered Multi-Media Gallery on their website, the Crowne Plaza Boston-Woburn has generated 19,736 gallery views, a number that Frank and the hotel revenue strategy team is thrilled by. "Since we've taken a more visual approach with our hotel website, we've seen a consistent growth in direct website bookings. In fact, those bookings have almost doubled."
Since implementation, Crowne Plaza Boston-Woburn has been the recipient of several awards including the IHG 2013 Torchbearer Award and the TripAdvisor Certificate of Excellence, further building their reputation as a "Crowne" Jewel when it comes to Boston Area hotels.
In addition to the impressive results achieved on Crowne Plaza Boston-Woburn's vanity website, the hotel is using VBrochure to amplify the property's story across mobile, Facebook and VNetwork – the most extensive visual media syndication network in the global travel industry, further extending the reach of its story to millions of travel shoppers worldwide.
Experience the VBrochure Difference
To learn how VBrochure™ can help maximize your property's visibility across multiple channels with engaging multimedia and video, book a Web demo with Leonardo today and become a Merchandising Hero, the the Crowne Plaza Boston Woburn Team.
Contact Leonardo to book a Web demo.