2016 has been called the year of the chatbot, and whether you realize it or not, you've likely already interacted with one. If you've ever asked Siri or Google Now a question, you have communicated with a type of chatbot.
Chatbots are computer programs powered by Artificial Intelligence designed to simulate conversation with human users. Although chatbots are still in their infancy, their development has the ability to revolutionize how people interact with brands.
Hotel chains and OTAs are already recognizing the benefit of chatbots. Both Expedia and Booking.com use them, and Edwardian Hotels recently launched Edward, their 'virtual host' bot.
Benefits of Chatbots for Hotels
Chatbots give hotels the opportunity to improve the customer experience at every stage of the travel shopping journey. They can help answer guests' questions, suggest things to do, and even allow guests to book their stay directly.
The hotel industry could benefit from chatbots in the following ways:
Increased and improved communication with guests
Quickly direct guests down the booking path
Restart conversations with travel shoppers that have abandoned their travel purchases online
Anytime communication, 24/7
They are able to answer basic questions, reducing costs and the workloads of current employees
They can be multilingual, allowing hotels to better serve international guests with clear communication
Early Adopters
OTAs and hotel chains are already jumping on the chatbots bandwagon. In May, Edwardian Hotels launched their virtual host chatbot, Edward. Edward works as a customer service agent for guests. You can ask for advice on things to do, make housekeeping requests, or even register a complaint.
In June, Expedia launched a chatbot that helps travel shoppers book hotels. Travel shoppers can start a conversation by simply typing "hi." Throughout the conversation, Expedia's bot will ask for basic information like: the desired city, date of arrival, number of guests and length of stay. Expedia will then send back a list of hotels that meet these requirements. Booking.com has launched a similar chatbot that is also multilingual. It can automatically translate conversations between travelers and hotel staff, ensuring nothing gets lost in translation.
The Rise of Chatbots
Perhaps the largest leap forward in the adoption of chatbots occurred last spring when Facebook announced that businesses would be able to build bots for their Messenger App, using Facebook's open API. With over 1 billion downloads for Android alone, Facebook Messenger is one of the most popular apps of all time. You likely have it downloaded on your phone.
Allowing companies to have their own bots work within Messenger gives them access to Messenger's more than 1 billion active users. And companies aren't wasting any time. Messenger already has more than 18,000 chatbots.
A tutorial from Expedia on how easy it is to talk to their chatbot in Facebook Messenger
But Messenger is more than just a mobile messaging app. You can transfer its functionality over to your branded hotel site quite easily. All you need to do is install a Send to Messenger plugin that will allow users to sign in via their Facebook account and launch Messenger in a new window, without re-directing away from your website. Facebook's step by step guide explains the different options for integrating Messenger plugins into your website.
Do Independent Hotels Need a Chatbot?
While chatbots are starting to catch on in the hotel industry, so far it has mainly been large hotel chains and OTAs that have taken advantage of them. OTAs and chains have more information to pull from, so they're able to take full advantage of the data processing benefits chatbots present for booking purposes.
That said, chatbots still present a benefit to smaller hotels in terms of improved customer service and increased communication. However, implementing a standard messaging platform may be a cheaper and easier way to get started with chatbots.
How to Implement Instant Messaging
While an instant messaging system doesn't allow for automatic translation, and requires someone on-property to actively monitor it, it offers most of the same benefits as other chatbots. You can easily communicate with travel shoppers, lead them down the booking path, and send unobtrusive messages to help prevent booking abandonment.
The Hotel Noir is a great example of an independent hotel using instant messaging to improve customer service. They have integrated an easy to use instant messaging chat box on their homepage that lets consumers communicate directly with their front desk staff. It has an indicator on the top to let you know the chat is online. Travel shoppers can quickly enter their question or request to book a room and get a response within seconds.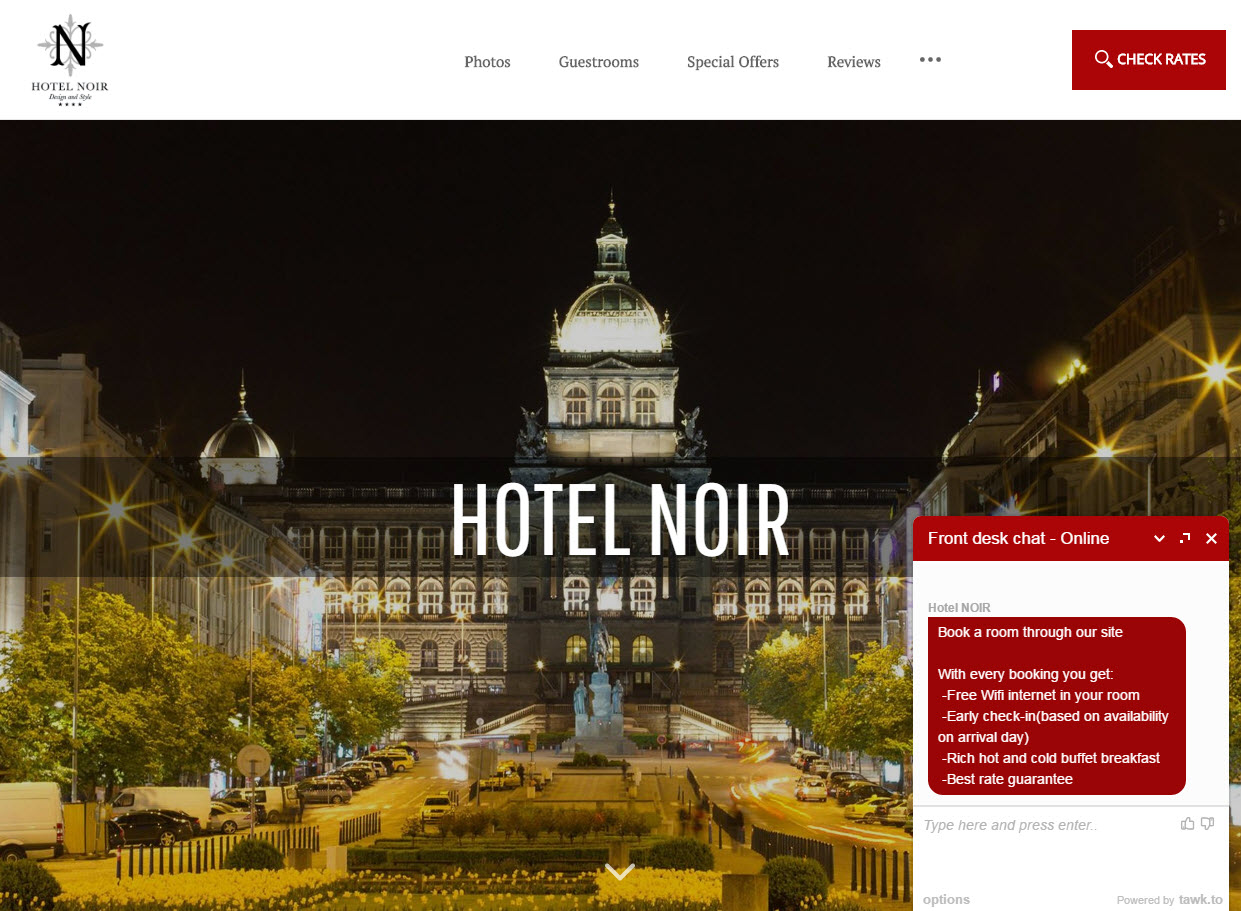 What Does It All Mean?
Chatbots are a new and exciting technology that can help hotels improve customer service and drive bookings, but it's still early days. As the technology improves it may become the norm for independent hotels to have more intricate chatbots, but as it stands now, it is OTAs and larger chains that are best suited to take advantage of them.
Instant Messaging systems provide a good alternative for independent hotels, offering many of the same benefits of custom chatbots; namely being able to interact with travel shoppers at critical stages of the travel shopping journey to move them further down the booking path.
Other Emerging Trends
Interested in what else will shape hotel marketing in the future? Watch our on-demand webinar, 4 Trends That Will Impact Hotel Marketing in 2017.