All
Engaging the New Solo Traveler with Your Visual Story in 3 Easy Steps
---
She has thought about it, while cramming for those exams.
She has even thought about it, while working her 9-5. She has definitely thought about it, while driving little Tommy and his screaming five friends home from soccer practice. She has thought about it, taken the plunge, and landed herself in the highest percentage bracket of those who are saying, "Adios, I'm traveling solo."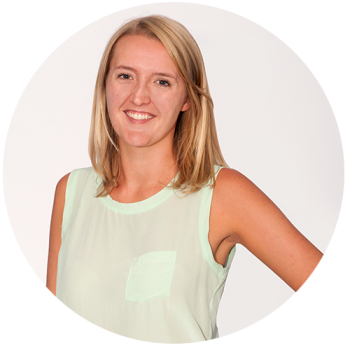 For all ages the thought of traveling alone and getting "that little bit of me time" has become a widespread trend amongst women. They have decided it's time to up, set, and jet and perhaps clear their inner canvas and rejuvenate solo.
The rise of the female solo traveler even exists in our own company. Lancel Graham, one of our Success Coaches here at Leonardo, says she has traveled alone too many times to count!
She says she enjoys the "freedom that comes with traveling" by herself and that "there is something to be said for being able to do whatever you want, whenever you want, when you're in a foreign place."
So, why now the upward trend, and why are women ranking the highest when it comes to hopping on a plane and vacationing solo?  And why do hotels, B&Bs and vacation rental properties need to take note?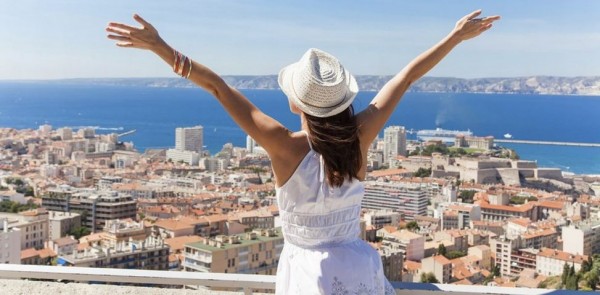 Solo leisure traveling is not new by any means but it's certainly trending upward.
Solo traveling has risen from 15% in 2013 up to 24% in 2015, according to the 2015 Vista Global Travel Intentions Study,
It has more than doubled from 14% to 32% for affluent and from 16% to 37% for first-time travelers
With the majority being women, one and five have traveled on their own on their most recent leisure trip in 2015
Almost half of solo travelers are executives or professionals
The solo adventurer is as young as 25 but on average about 55, according to Solovacations.com
Solo travelers are 80% women according to Overseas Adventure Travel
So who are these solo female adventurers? And how can you reach them?
The Fresh Faced Graduate: Women account for about 60% of Bachelor's degree holders, according to fortune.com, and if we also consider that the percentage of women living at home post graduation has raised from 46% to 50% and aged 25-34 has gone from 8% to 10% it's no surprise they are seeking an adventure before sinking into a life of working until 65.
The Single Career Woman: There also are the women who are continually climbing the corporate ladder or who are quite comfortable in their careers, not yet married, and childless. Here is where we can throw our attention toward the lessening amount of "I dos" taking place. A 2012 study suggests that one-in five adults (25 and older) had never been married compared to about one in 10 adults in 1960 according to the Pew Research Center. These women are also tired of waiting around for friend's budgets and schedules to match their own. Not to mention how annoyed they are by the constant suffocation by couples on social media sites who feel they need to share their travel adventures constantly with kisses and I love you's.
The Supermom: Lastly, we have our supermom, the caregiver and the businesswoman. These women, who are mostly baby boomers make up the majority of the solo travelers today. They have juggled two important roles for what seems like an everlasting eternity. Perhaps these mommies have reached an "I love you, but I love me more" kind of attitude and are looking to enjoy some well-deserved, bit of me time to unwind from the non-stop lifestyle they uphold in their normal daily lives.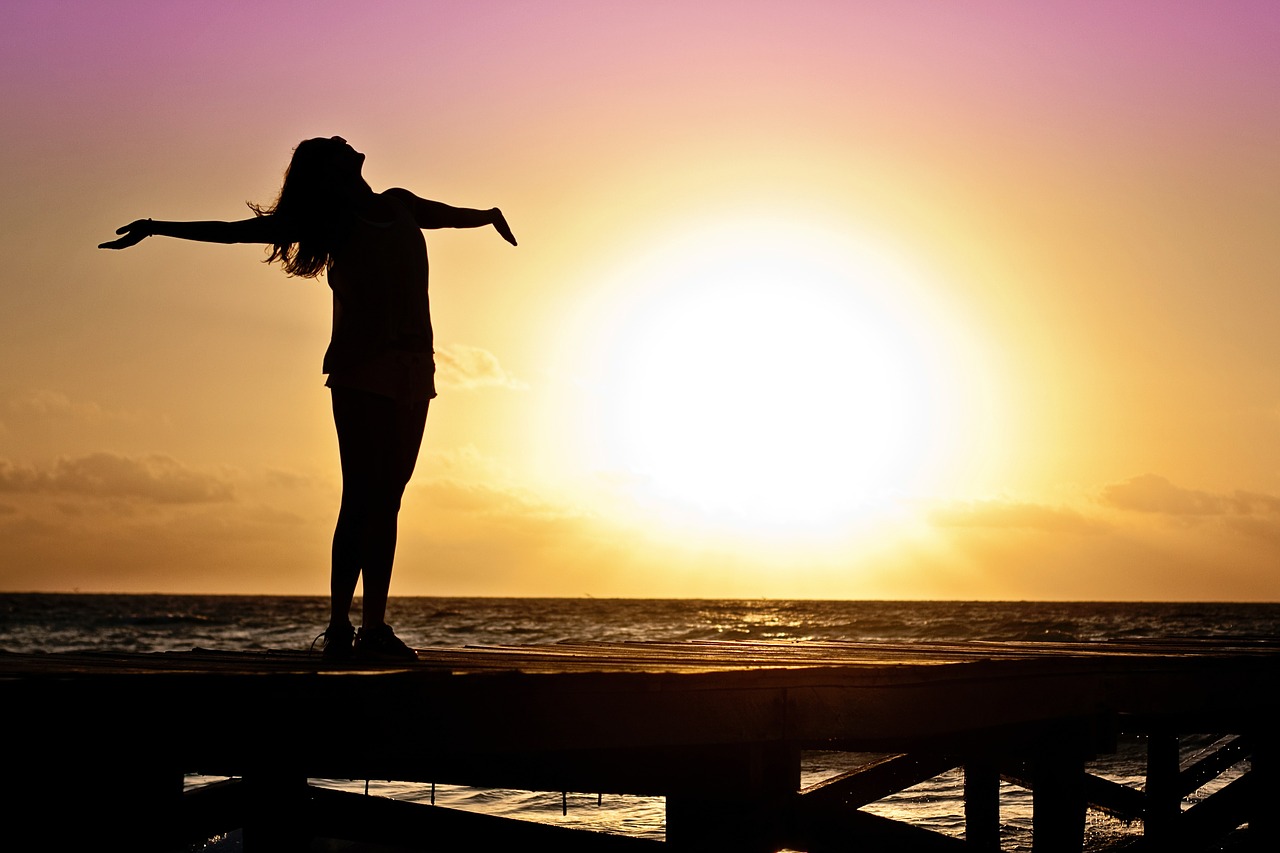 Storytelling Targeted to Solo Travelers in 3 Easy Steps
1. Insecurities and Concerns
For women, there seems to be two main concerns about traveling alone, which we've written about before in an article on targeting the female traveler. One, is the idea of looking like "the unwanted loser" and two, is whether they will be safe or land themselves in a room next to Charles Manson.
Hospitality professionals can alleviate their concerns by setting expectations through visual storytelling. Gadventures.com has done a great job when it comes to this. The first visual on their homepage is of two women with the tagline, "Travel Solo – But Never Alone." It's a great visual, and the accompanied text adds the underlying story to the image, providing reassurance one may need to continue grazing through the site.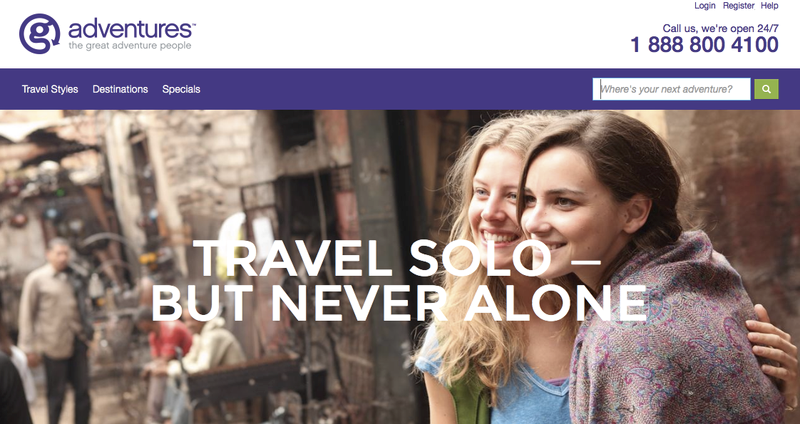 If you scroll down their website, they also feature a variety of solo travelers sharing incredible experiences with others, which shows the travel shopper "just because I'm going on my own doesn't mean I have to be on my own if I choose not to."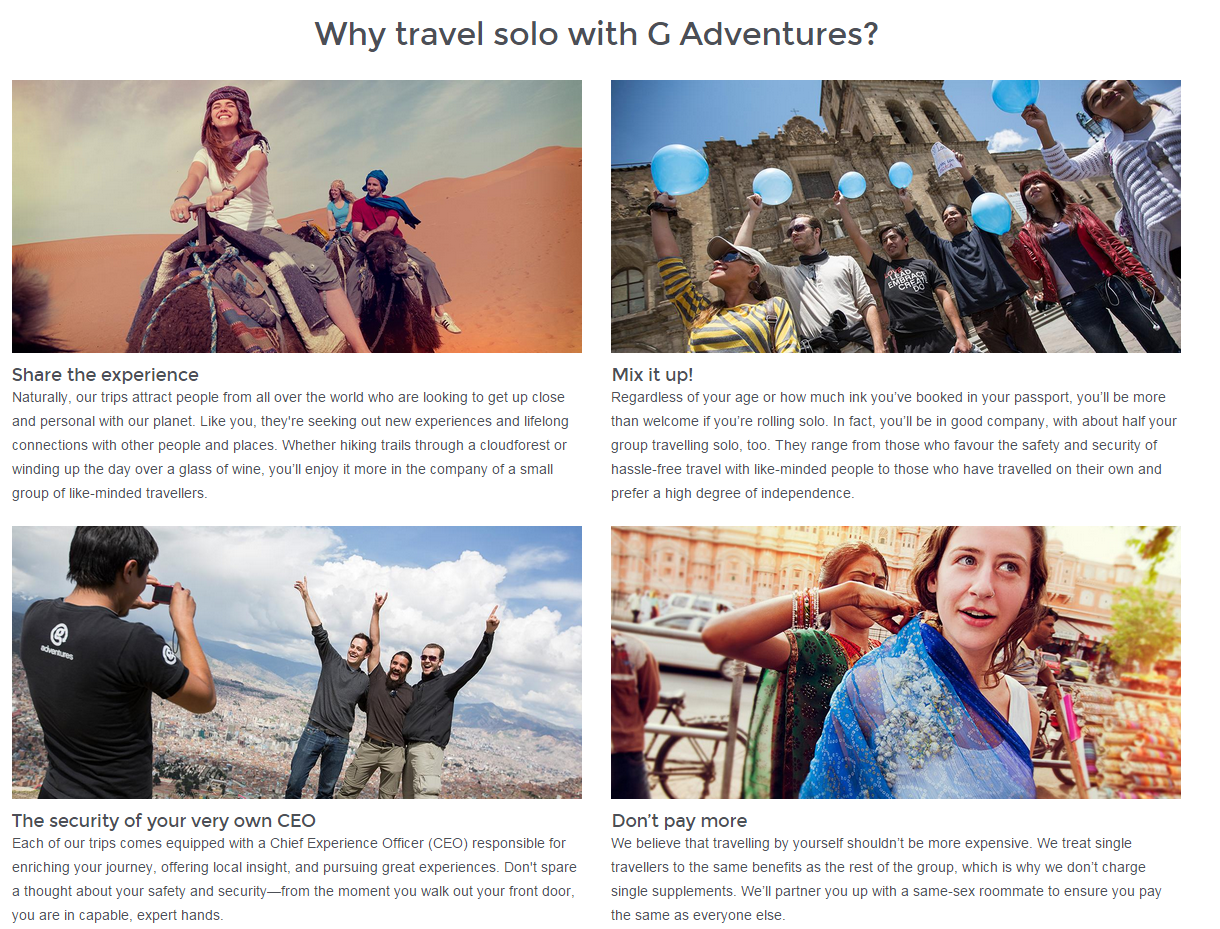 Another important aspect would be to display videos on safety tips and procedures. This way through a series of videos you can educate your solo travelers on your property's safety features and procedures along with informing them about your city.
The Somerset Inn provides us with a great example of a property that does a great job of targeting the female traveler. Take a look at their "shopping story."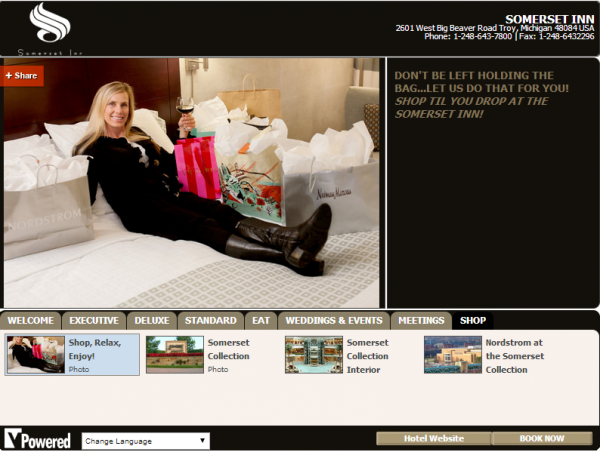 Darlene Rondeau also gives us more great tips on using visuals to target the female traveler in this blog, which can definitely be applied to the female solo traveler as well.

2. It's all about UGC

Pinterest has over 70 million users – 92% of them being women. This means about 64 million women are grazing this social media site every day for a discovery, to analyze a potential purchase or to read up on what others think before taking their credit cards out of their wallets.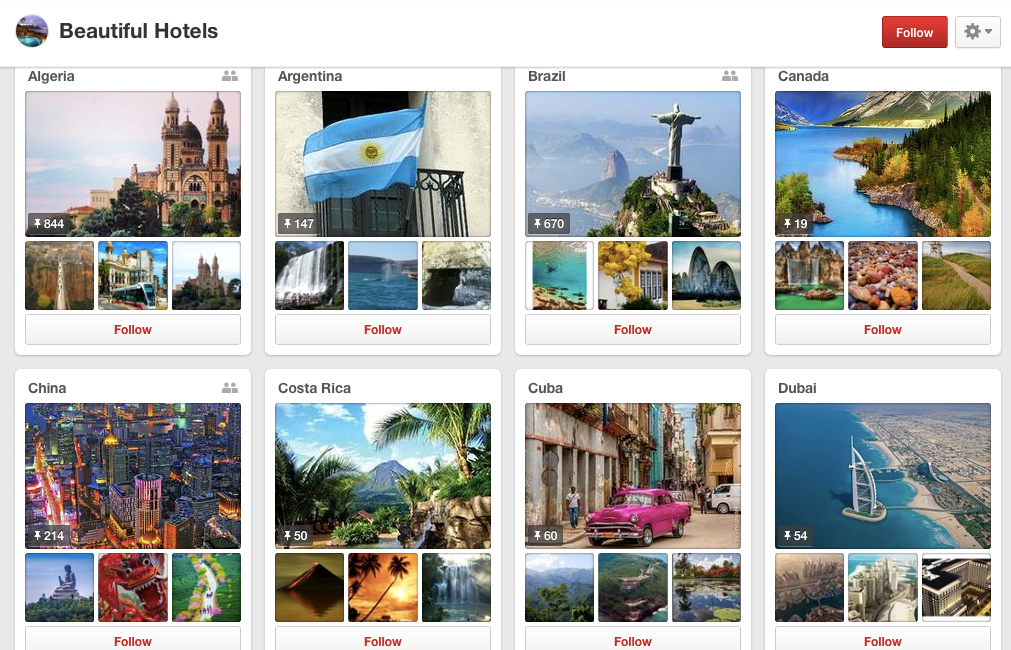 This is essentially a gold mine for properties. By including a Pinterest link dedicated to the solo traveler, you can have guests who stay with you take selfies or pictures of your property's grounds and have them pin them to Pinterest – using this user-generated content to show the authentic side of your property's story.

It truly is amazing how many re pins one can get, especially when pinning about hospitality and travel (there are 1 billion travel Pins on Pinterest).

3. Respecting Reviews

Can you even remember the last time you went to a hotel or B&B without checking out at least one review? Reviews can essentially make or break one's reputation but they are certainly key to have.

One great way to incorporate solo guests' reviews is by providing a video. The video can essentially display the individual tours you offer for your solos.

TripAdvisor shares a variety of videos on their website and they too have started to incorporate the solo traveler, like the Grand Mumbai's TripAdvisor video. By displaying a video it will not only visually enhance your story but also entice your guests.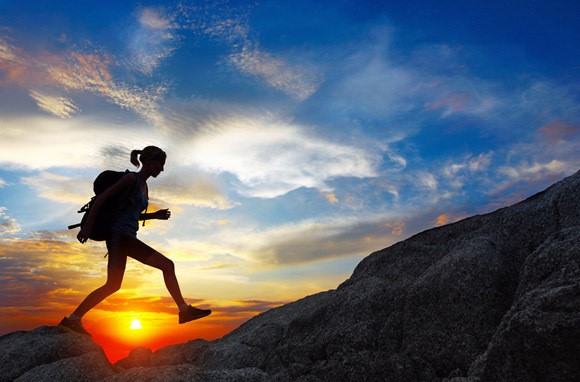 Solo traveling seems to be only trending upward, which means there are many great opportunities here to start including (if not already) these independent adventurers to your story.

And for those properties looking to reach the solo traveler with a compelling visual story, here's some great inspiration from our Success Coach, Lancel Graham.

"Authenticity is a great approach to the solo traveler. You want to let them know that their solo stay at your property could be fun and pleasant, not dull and isolating. [You want to] connect with the solo traveler on a personal level. The best approach to targeting the solo traveler would be to communicate how great the atmosphere of your space is, that memories can be made there, and good times had.

Lastly, represent yourself in a way that makes them feel less like they are being sold to, and more like you genuinely want them to stay with you—than you have won them over."

Want to learn more about how to find and tell your property's story to the solo traveler? Our very own Success Coaches share with us their 7 Steps to Hospitality Storytelling Success in this video.