All
Facebook: What's Changed (Again) and How it Affects You
---
There has been constant speculation regarding the organic reach of a brand's posts on Facebook and how it could be declining to the point where it will eventually reach zero.
According to a study conducted by social@Ogilvy, organic reach only accounted for 6% of brands' total reach, a 50% decline from just six months earlier. And it is projected that this will eventually hit 0%. Welcome to the brave new world of Facebook.
This change in the social climate may best be described as the new pay-to-play era. Marketers everywhere are scrambling to acclimatize to this revolution while wondering what it will mean for their 2015 digital marketing strategy. There's no need to worry! It just means you have to adapt and adjust to the new social regulations.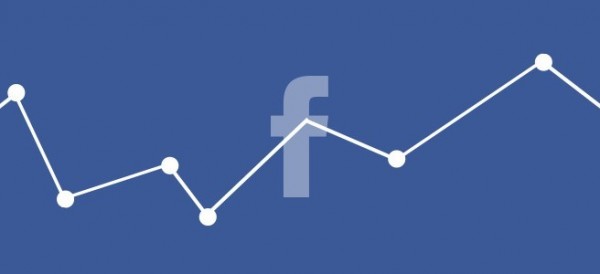 A Brief Overview
Change is inevitable in life. Remember the time when WiFi was a luxury, before OTAs increased the competitive nature or when digital travel shopping meant nothing unless you had the help of a travel agent? The digital sphere underwent an enormous makeover since 2004 and has played a major role in how we connect with each other.
Facebook's reach is one of its biggest advantages but it is also a massive factor in its shifting landscape. The short end of it is that there are over 1.39 billion monthly active users, 890 million daily active users and 1.19 billion mobile monthly users. That is an unfathomable amount of content being posted. A news feed is now a battlefield for your attention. It has become such a competitive place with a massive flood of content all fighting for better positioning in your news feed.
Here is what Facebook had to say about their updates.
Facebook's Official Responses: Update to News Feed & What it Means for Businesses
"Organic content still has value on Facebook, and Pages that publish great content — content that teaches people something, entertains them, makes them think, or in some other way adds value to their lives — can still reach people in News Feed." – Brian Boland, VP Ads Product Marketing
Why is organic reach declining? More and more content is being created and shared every day. There is now far more content being made than there is time to absorb it and Facebook wants you to see the most relevant content
Rather than showing people all possible content, your News Feed is designed to show each person on Facebook the content that's most relevant to them. Of the 1,500+ stories a person might see whenever they log onto Facebook, your News Feed displays approximately 300
"Pages still matter — a lot. They offer a free, easy-to-maintain online presence for people to discover and learn about a business." – Facebook for Business
One of the main reasons people come to Facebook is to see what's happening in their News Feeds. The goal of the News Feed has always been to show people the things they want to see
What many businesses may not realize is that Pages are an important destination for their current and potential customers
In October, for instance, nearly a billion people visited Facebook Pages. Of those visits, more than 750 million happened on mobile devices (remember SoMo?)
Many businesses also use Pages as a customer service channel. Businesses should think about their Page as a cornerstone of their online identity, not simply as a publishing service
6 Ways You Can Play the New Facebook Game…and Win
"Like TV, search, newspapers, radio and virtually every other marketing platform, Facebook is far more effective when businesses use paid media to help meet their goals." – Brian Boland, VP Ads Product Marketing
Unfortunately, the days of gaining social media reach completely organically may be moving into the rear-view mirror, simply because the massive influx of content being produced every day. Facebook still plays an integral role in any organization's digital marketing strategy, it just can be more difficult to fight for visibility when there is a sea of content being produced everyday. Instead of dwelling on the better days of the past, here are some great ways you can look to the future and still harness the power of this social giant.
1. Lose the Promotional Vibe
Facebook have been conducting ongoing surveys asking users how they feel about the variety of content in their news feed. Simply put, people want to see more posts about their friends and pages they care about. Unfortunately for the latter, a lot of the content coming from brands is dripping with promotional material. Facebook pages are still a very important destination for current and potential customers and is still a great avenue for creatively enhancing your hotel's story. This is your opportunity to entice a prospective travel shopper with your content and drive them back to your hotel's site.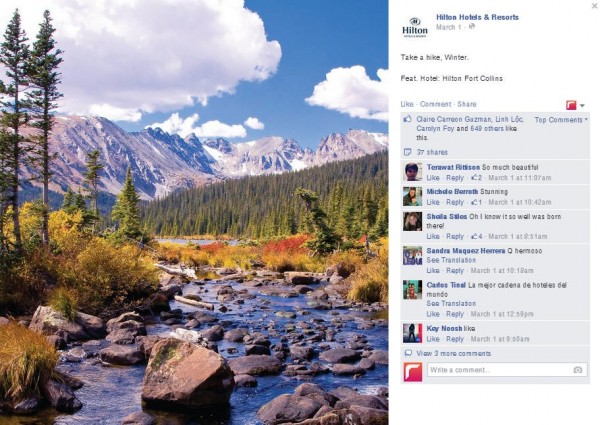 Hilton Hotels & Resorts understand the collective pain we all go through in the winter time, and share this gorgeous view highlighting good times ahead in spring.
2. Take Advantage of Facebook Page Insights
Facebook offers a free, built-in analytics tool to help you quantify and analyze your hotel's page metrics. This is a goldmine of data every marketer should be aware of to help facilitate and realign their overall marketing objectives and ensure their hotel story is actually reaching travelers online. Here are a few of the important points to know to help mold your posts in the future.
The new Insights section is broken down into six easy categories: Overview, Likes, Reach, Visits, Posts and People. From these tabbed areas, you can get an analysis of the following:
Active Users is the complete breakdown of people who have interacted with or viewed a page or its posts
Determine the feedback your posts earn and which ones are earning the highest impressions
Knowing your audience is the universal factor in any concrete marketing plan. Facebook Insights offers unbelievable demographic information to outline your audience's age, gender, language and location
In the Overview section, you can choose the time frame that you want data displayed for, and get an outline of your total likes, post reach and engagement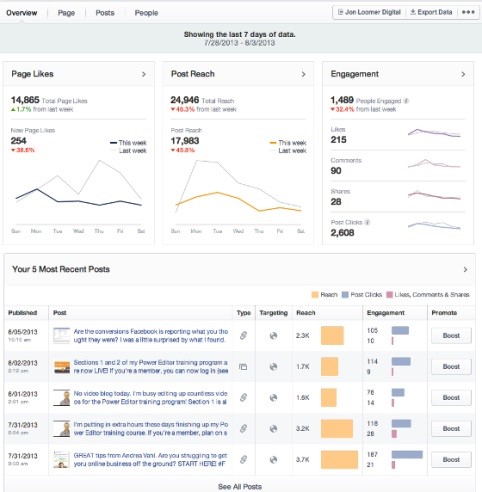 This is an example from the Social Media Examiner.
You can now benchmark your data to compare the performance of your page over time
You can view this by going to: Insights > Likes > Where Your Page Likes are Coming From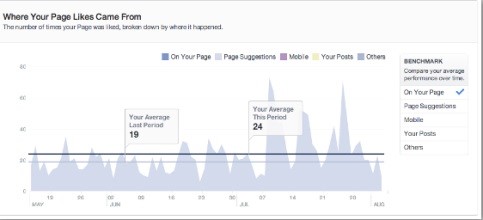 External referrers are very important to find out where users are coming from prior to your site
You can view this by going to: Insights > Visits > External Referrers
When your fans are online: Gain a stronger understanding about when to post by finding this important metric out
You can view this by going to: Insights > Posts > When Your Fans Are Online
Facebook's built-in analytics tool is fairly straightforward and is designed to be easy for you to view your page's metrics and frame your content strategy around this feedback. Take a bit of time and play around with this toy and get a better understanding on what types of content is working for you.
3. Multi-Channel Strategy
Marketers have been spoiled for quite some time now in terms of relying on Facebook as a main driver of social growth. They now have to adjust their tactics to assimilate to this new movement and really create a multi-channel strategy to include all the major social media channels.
Getting mentioned in a post by a local establishment will greatly help extend your reach, show up in more users' news feeds and help amplify your hotel's location. Connect with local businesses, restaurants or entertainment hubs where you can cross-promote each other's page. Facebook encourages this sort of activity, but make sure this partnership makes logical sense in order to earn this extra reach.
Remember to leverage the power of all your other social media platforms and cross promote your Facebook content in with Twitter, Instagram, Pinterest, etc. By having all of your social outlets cohesively work together, it can expand on your potential reach and helps boost your SEO ranking.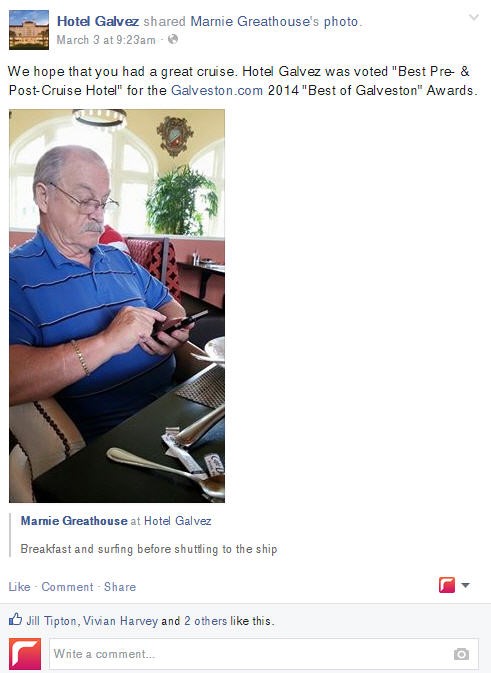 Hotel Galvez frequently promote local businesses and share people in their community's posts on their page.
4. Expand Your Hotel's Story Through Engaging and Entertaining Creativity
Great content that generates a high level of engagement spreads quicker and reaches more people. Facebook rewards posts that are engaging to users in the form of likes, comments and shares. If you can keep people engaged, you will ultimately be rewarded with further reach.
Your hotel's Facebook page needs to attract new and potentials guests with unbelievable content that originates from your story. If you want to create more engaging content, think about promoting the emotional drivers, themes, lifestyle and underlying connotation that ties into what your hotel resembles.
Are you sharing a behind the scenes tale or feel good story? Perhaps a funny anecdote or inspirational theme? Facebook has shifted its focus on what it quantifies as "high quality" content, so you will have to look outside the box and alter your approach to curating engaging content.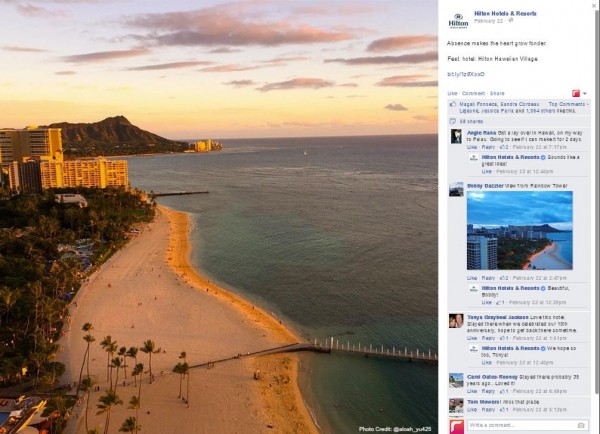 Hilton Hotels & Resorts main Facebook account frequently showcases spectacular views from their many properties and user-generated content that guests. It pays off with thousands of likes, comments and shares.
5. Visual Ecosystem
Facebook has also become much more visual. When photos are used correctly, they are extremely effective in terms of audience engagement and reach. The trick here is what types of photos are being used by brands. Overtly promotional photos do not align with the new algorithm, whereas "meme" photos might not be deemed as high quality content according to Facebook, but can still get good engagement from users.
User-Generated Content (UGC) is a phenomenal brand enhancer and authentic way to connect with your hotel's consumer base. This is a great way to expand on your story by way of a visual narrative and rich media. Remember to keep your photos original and accurate to your story in order to come across as true and to help extend your organic footprint.
6. Start a Conversation
In the old Facebook landscape, if you engaged with a friend's post by liking, commenting or sharing, it would subsequently show up in both new feeds, and for those who are tagged in with the post. And fortunately the new algorithmic regime is still the same.
Try starting a conversation. It's more likely your post will get pulled into other user's feeds. Maybe jump on a topic that's trending and get some user interaction. Facebook offers a "trending topics" section to show what the internet is talking about and a variety of content from other users and pages related to that story.
Try and keep it light. You don't have to be talking about American foreign policy or anything heavy, but rather something fun and quirky that would peak the curiosity of your online community.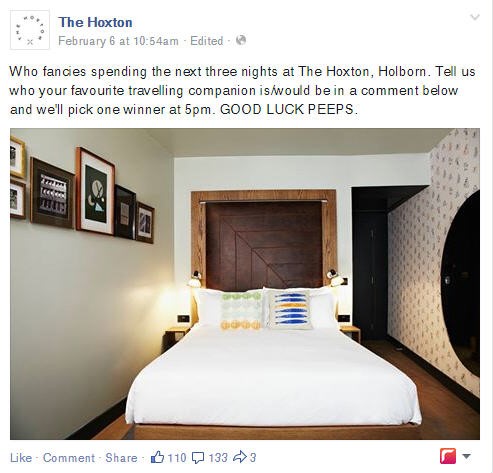 The Hoxton Hotel tie in user-generated feedback with a great contest idea to hear about what their followers think about a solid travel companion.
Change is constant at every level of life, so adapting to the shift in social media strategy is just something marketers everywhere will have to accept. There are ways to adjust to these new implementations that don't require getting shaken down for ad space. It just means designing a stronger, well-rounded digital marketing plan that isn't leaning on Facebook to provide most of the stability.
Check out How to Tell a Compelling Hotel Story on Facebook: Cheat Sheet for Hotel Marketers for ideas on how to take control in this new digital marketing era.