All
Hitting the Half-Way Mark: How Our 2015 Predictions Shape Up
---
If we had to sum up the first half of 2015 in one word, it would be "mobile." As Google recently announced, more Google searches take place on mobile devices than on computers in 10 countries, including the U.S.
Of course, increased popularity of social media goes hand-in-hand with increased dependence on mobile devices and with the rise of social media, marketers must be increasingly aware of their content. That bring us to the trends we predicted in our eBook at the end of 2014 – are they coming true?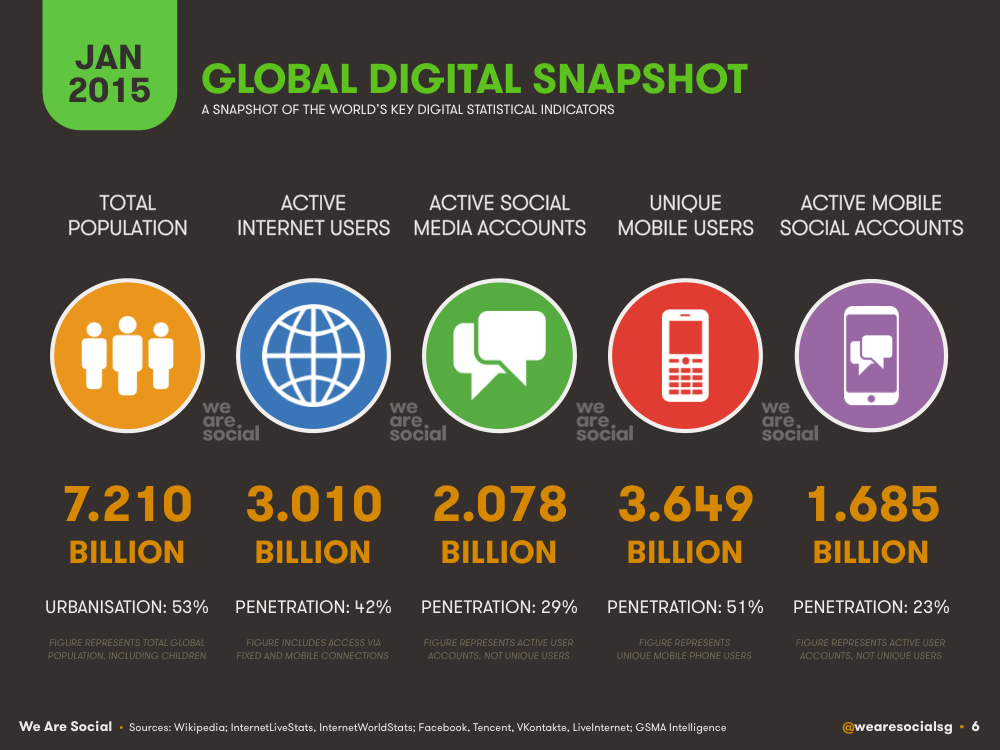 Source: Wearesocial.net
Prediction: Mobile, Mobile, Mobile!
More than 1.2 billion people worldwide use the web via their mobile device. So why is it that we so frequently find ourselves on a website that is not optimized for mobile use?
We predicted that mobile will play an increasingly important and key role throughout the entire travel shopping journey and so far it has proven to be true.
61% of mobile users abandon non-mobile optimized websites and it is because they do not want to have to pinch, zoom, and scroll through all the formatting that was meant for a much bigger screen.
In fact, mobile bookings are expected to make up to 58.7% of travel sales by 2018, so if you haven`t already done so, optimize now!
To give you yet another reason why mobile has played such an integral role so far in 2015, in April Google began verifying websites as mobile-friendly, as well as rewarding mobile-friendly websites with higher positions in mobile search engine results.
Prediction: Active Social Media Engagement is Key
It used to be enough to simply have a presence on social media. Now, you need much more than just a presence – you need engagement.
We predicted that social media engagement will increase this year. So far, we know that 80% of Millennials say that they want brands to entertain them and that social media referrals now lead to 30% of a website's overall traffic.
So, what can you do to take advantage of this?
Use hashtags on Twitter and Instagram: #travel reveals more than 19 million posts on Instagram
Encourage guests to participate in vlogs (video blogs): travel vlogs receive four times more social engagement than other types of travel content
Engage on Pinterest: Users referred by Pinterest are 10% more likely to make purchases than users of other social networks
Prediction: Content Marketing is King
We predicted that content marketing will grow in popularity tremendously this year – and it definitely has.
Content marketing is the art of communicating with potential customers without directly selling them something. It's an important balance and it's becoming a lot more popular. Why wouldn't it? It's common knowledge that travel shoppers like to read reviews and do plenty of research before booking a trip and with 80% of consumers appreciating learning about a company through content and 60% of people inspired to seek out something after reading about it, content marketing can open a number of doors for your hotel – literally.
If you want more information on content marketing and how it can help you in 2015, take a look at this eBook that we launched in January.
Were the Experts Right?
Six months ago, we asked experts what their predictions were for hospitality marketing in 2015. We received varying responses, from the importance of mobile for shopping and booking (from Expedia's Adam Anderson) to responsive mobile designs with customization and personalization (Digital Marketing Expert Robert Cole).
Needless to say, the experts are called experts for a reason – so far, they're right. Mobile booking has grown tremendously in recent years and is expected to account for more than 35% of all online hotel bookings by 2018. Also, a look at one of our Superstar Storytellers will show you the importance of mobile responsive websites.
The Next Six Months
So far, our predictions have been accurate and we are so excited to see what the rest of the year has in store for the world of hospitality marketing.
If you want to see our full list of predictions for 2015,download the eBook: The Most Important Hotel Marketing Trends to Watch in 2015.
What do you think the rest of 2015 will bring?