All
How to Regain Market Share with Interesting Stories and Powerful Photos
---
Storytelling is nothing new. We've been telling stories to communicate with one another since the days of the cavepeople. We love interesting stories.
Furthermore, using visuals to communicate isn't something that come along with the advent of technology – cave etchings, classical architecture, artistic masterpieces, illustrated picture books and even black and white family Polaroids – they're powerful and speak volumes.
Brands that are really rocking today (in and out of the travel industry) are the ones that tell interesting stories and leverage powerful photos. Airbnb is a prime example of this and hotels can take a page from their book to generate more interest and drive more bookings.
Tell stories.
Airbnb has reminded us that storytelling is everything. Stories are what fuel Airbnb – stories of the hosts and their places and of the guests who stay with them. From the images and videos to the descriptions and reviews, the stories are transparent, personal, unique, local and relevant, but most of all, they're about people, real people. That's the big thing that makes Airbnb different (and so successful).
"Airbnb believes in the power of storytelling because when people share stories, all of a sudden, they start caring more about each other and something magical can happen."
– Venetia Pristavec, ex-Creative Lead @ Airbnb (2009-2014)
In comparison to Airbnb, so many hotel listings and websites are generic, sterile, impersonal, but why? Hotels have so many stories to tell, even the 10-room motel on the side of the highway. All it takes is a little creativity.
Some boundlessly optimistic car-owner-slash-landlord is renting out the trunk of his Tesla Model S as a "two-guest private room" on Airbnb. For just $85 a night, you and a very, very close acquaintance can live in the lap of zero-emission squatter luxury . . . on a 36-inch-wide air mattress crammed into the cargo area of a Tesla in a one-car garage. Disruption!
The Airbnb listing rattles off all the luxurious amenities you'll experience while literally paying to sleep in the trunk of some stranger's car: Heat! Air conditioning! An audio/visual entertainment system with a 17-inch screen (that just happens to be the Tesla's center console)!
"How often do you get to sleep in a $118,000 Electric Car?" the listing asks, hinting that the price and propulsion of the car in question will somehow outweigh the bleak prospect of paying for the privilege of crashing in someone's garage bay.
Source – Booking.com
Source – Airbnb
Whatever your hotel story may be, tell it in a way that uniquely showcases your features including your specific amenities, local attractions and creatively portrays who you are – and why you do what you do – but make it fun, creative and interesting.
Show off.
Compelling, high-quality images and video can boost online engagement by over 300%. It's no wonder that visuals are a key component of any robust marketing strategy. They allow you to connect, inspire and engage with your target guests far more effectively than text alone ever could. A good visual appeals to your customers' emotions, making them feel a variety of sentiments and the motivation to act on them. Don't forget to put your visuals in context with eye interesting captions and written descriptions.  A well-told story by way of photos and videos ignites emotions that can compel travel shoppers to book a stay at your property. Creating this urge should be your underlying, driving force.
 "Visuals are much more universally understood. We make sure we have lots of pictures to set the proper expectations when guests arrive."
– Adele Gutman, VP of Sales, Marketing and Revenue at The Library Hotel Collection in New York
Be real.
Travelers love sharing stories, photos, videos and smart hospitality marketers are supplementing professional content with guest stories that unfold at their property. That's what travel shoppers ultimately want to see – real stories, not just staged hotel photos. Millennials in particular trust user generated content 50% more than any other type of media. This is a powerful phenomenon called "Social Proof." There's an endless supply of guest created photos and videos available for the sharing – saving you time and money to create your own.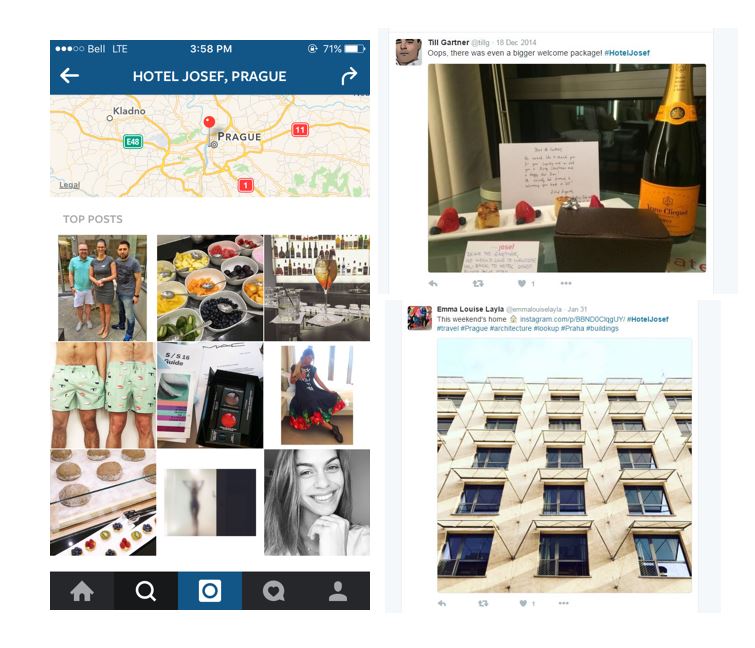 Medallia, a Silicon Valley data research firm, recently released a study that found a direct relationship between responsiveness to social media reviews and hotel occupancy rates. It showed that the properties that increased their responsiveness by more than 50 percent earned double the occupancy rate growth of those that didn't actively engage. According to new research on increasing "truthiness," the best way is to put a face to the words, because pictures were found to increase trust.
Stream it.
Video continues to dominate this year, particularly YouTube. In fact, we are now watching more video content on YouTube and other streaming platforms than on TV, with 50% of online video now accounting for 50% of all mobile traffic. This beast will only continue to grow. Consider investing in quality video that showcases your story.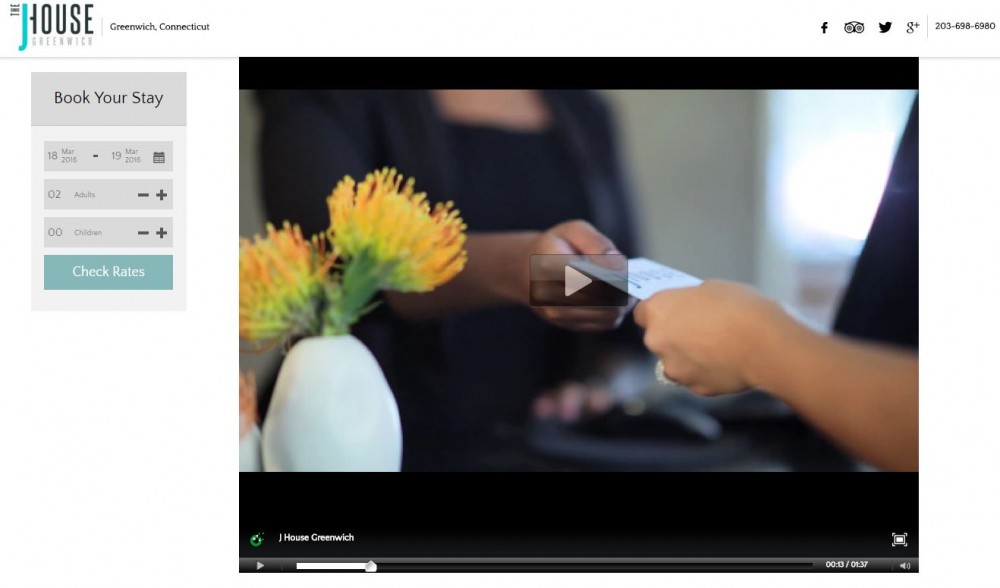 Source – J House Greenwich
"The cost associated with creating good video content is a challenge for hotels. The ROI potential is there if videos are engaging from a consumer standpoint, versus designed solely as push marketing vehicles. Too many videos feel like generic sales tools. Videos with hotel staff, local small businesses, behind-the-scenes vignettes at hotels, insider perspectives, etc. are popular and drive traffic. This is a huge trend and hotels should start experimenting."
– Greg Oates, Travel Industry Editor & Hotel Strategist
Implementing these strategies on your property website will not only improve the appearance of your website, it will give travel shoppers a strong idea of what your property looks like before they visit and ultimately, give them the confidence to book with you.
Ready to become a visual storytelling pro? Download our guide, Amplifying Your Hotel's Story, to find out how to tell an engaging story that'll put you on the road to increased bookings in no time.