All
How to Step up Your Twitter Game: Part 3
---
One of the biggest concerns for marketers today is how to accurately measure what you're doing. So you sent out a tweet, shared a photo on Instagram or updated your hotel's Facebook status – what happens next? How can you track if the content was actually relevant to your audience? How can you know if it's making a difference to your bottom line?
How can you make sure your unique hotel story is conveyed, in every tweet, pin and post?
Thanks to Twitter's analytics dashboard, you're not in the dark. Twitter's analytics platform was initially launched in the summer of 2014 and was recently revamped for a simplified and organized look at how well your tweets are performing. You can see what your top tweet was, who your top follower of the month was and the top tweet you were mentioned in. It also lists a summary of how many tweets you sent out, total impressions, how many people visited your profile, how often you were mentioned and how many new followers you obtained. This new format allows you to compare your metrics to previous months to track your progression. Most importantly, you can ensure that your posts reflect your hotel's story – what makes you unique and what features and experiences you can offer travelers.
Here are three tips to help you leverage Twitter Analytics and understand how reviewing your metrics can impact how well you tell your story within 140 characters.
1. Master Your Activity Dashboard
Twitter's activity dashboard is a summary of your hotel's activity and calculates the impressions on a day-to-day basis. You can change the period of days to which you want to measure to allow for a broader perspective and analysis. You can also export your data into a spreadsheet to allow for long-term tracking.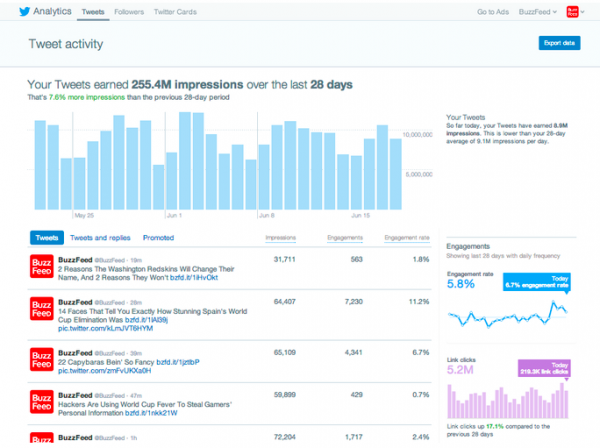 This is an example screenshot from BuzzFeed's Twitter analytics.
2. Key Metrics to Study
This is how you measure the health and quality of your posts and will help you refocus your overall story – if it's resonating with your audience or not and convincing them to visit your website or share your content. The anatomy of your tweet (as seen below) is broken down in a complete overview whenever you click on the tweet on your analytics page.
Impressions: The number of times users saw the tweet. You can now see how well your tweet has held up over time with the "Impressions Overview" outlining how well it did in the first and last 24 hours.
Engagements: Total number of times a user has interacted with a tweet. Example: any clicks on the tweet, hashtag, links, retweets, replies, follows and favorites.
Engagement Rate: The number of engagements divided by the total number of impressions. This is a very important metric because it essentially shows you which posts have resonated the best with your audience.
Link Clicks: How many clicks on a URL link.
Favorites: The number of times users have favorited the tweet.
Retweets: The number of times users retweeted your content to their followers. This is an excellent level of measurement because it shows that your content is being viewed as valuable enough to share with their audience.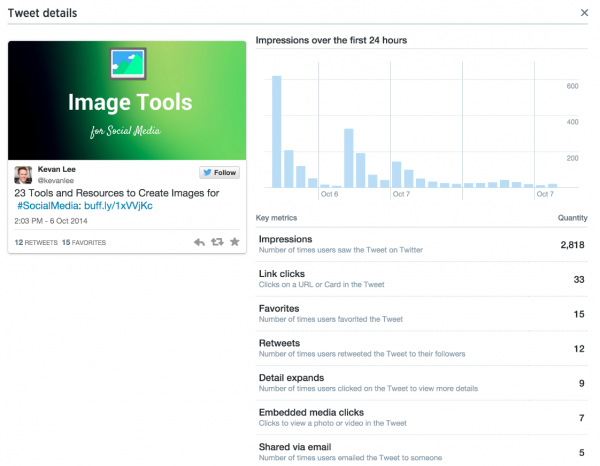 If you constantly monitor your analytics, you should begin to see a clearer picture of what style of content is catching on with your audience. What posts are being retweeted the most? Do humorous ones get more engagement? Are your links driving traffic back to your hotel's site? How does the timing of posts influence the performance of your tweets? How often are you utilizing hashtags or images?

Take a few minutes every week and document the top performing tweets and see what areas you need to improve on. If you don't take some time to measure how well your content is doing, you'll never be able to put forth consistent growth.

3. Analyze Your Demographics

Understanding your audience is a huge contributing factor to any proper social media marketing strategy. The "followers" tab at the top of the page will allow you to view the growth of your followers over the course of the last month.

Twitter breaks down the gender and top locations where your followers are located and categorizes them into countries, states and cities. One of the best features with this new tool is how it shows each of your user's information and displays their top interests. It outlines the top five most unique interests and the top 10 interests of your followers. Twitter officially describes it as, "the top interests that distinguish your followers from the Twitter average." You can start to see a pattern between what your followers are most excited about and what kind of content they might be looking for online.

You can also view the top accounts followed by your followers and use this data to build more key influencers into your repertoire.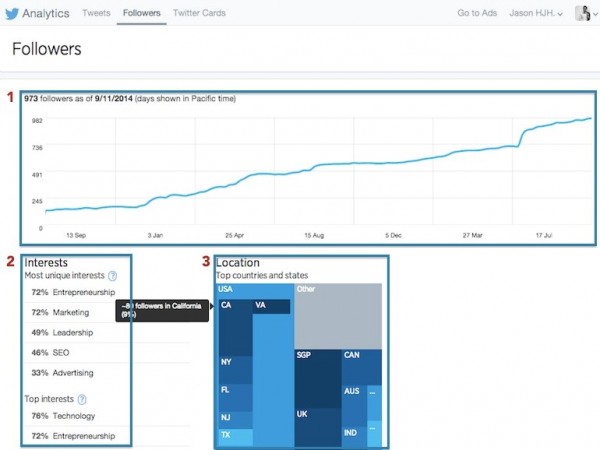 Let's come back around full circle to the high school analogy that described Twitter in the first blog in this series. Acquiring a diploma in any field requires a lot of hours, research and diligent learning to expand your skill set. It might seem like Twitter is an easy platform to simply post a tweet and automatically people will flock to your site and your rooms will magically fill up overnight. It requires attention to the intricate details, trial and error and keeping up with the trends in the social media sphere.

Twitter is a tremendous resource where you can consume quality information. This is your opportunity to stand out from the clutter and become a valuable and entertaining tool for travel shoppers.

This is the final blog in a series of three posts about taking your hotel's Twitter presence to the next level.

Get a more comprehensive look at what will put your social media strategy over the top by downloading our Cheat Sheet for Twitter.