All
How to Target Travel Shoppers Using Special Offers on Social Media
---
Social media has become an unbelievable tool for digital marketers to utilize the reach of their community.
As American marketing consultant and bestselling author, Jay Baer, said:
"Your customers are carving out pieces of their free time and giving it to you via social media. It's an incredible gift. And that's why it's imperative that if you're going to succeed in social media, you need to dig deep and communicate with your customers through authentic, human stories that are equal parts marketing and entertainment."
Hoteliers have the opportunity to take advantage of promoting their own unique special offers that can help drive bookings and traffic back to their site.
However, nowadays it seems that almost every company on social media has a special offer. So why is yours so special? The successful ones tie promotions into their hotel's story rather than just offer a generic coupon.
Special Offer Storytelling
If your strategy lacks a connection back to your hotel's story and is simply a "Get 35% off your next visit," type promotion, then that's all you will be to your online community. In the years since email marketing exploded, organizations have been looking to social media to extend the same type of offers. That's why it is more important than ever to stand out with a story, mixing information with emotion rather than appearing as just another coupon-spamming social feed. What makes social media so great is that it is an open platform for personal communication with prospective guests.
The Anatomy of Great Social Media Offers
To understand the framework of an effective offer and why it resonates with your audience, put yourself in the consumer's shoes. These are the integral steps to building an effective offer via social media:
Firstly, you need a solid offer for any kind of social media deal. A compelling offer that erupts off the screen, enough to evoke an impulse decision. Be creative, and have some fun with the design
A clear call to action with easy to follow directions
Utilize a sense of urgency and exclusiveness. Offers that are only exclusive to your hotel's Twitter followers tied in with a time-sensitive deadline helps with the expedited booking process
Consistent messaging across all platforms will help avoid confusion
A strong use of visuals goes a long way. Remember, people retain 80% of what they see and only 20% of what they read
For example:
The DoubleTree Resort Lancaster wrote the book on how to highlight special offers on social media, and making sure that they always tie back into their hotel's story so they don't come across as a one-off deal. Their Easter Package is comprised of all the ingredients to make for a perfect special offer recipe. They utilize concise bullet points to illustrate every detail of the offer. They use bold lettering on the permitted stay dates, its validity and any other pertinent information to make sure it stands out and to avoid any confusion. They even provide examples so families that are interested in booking can get a clear understanding of what the offer means for them, complete with a booking application to round out the effectiveness of the promotion. The DoubleTree Resort Lancaster provide an excellent template on how to design a compelling social media offer that is woven in with their hotel's story.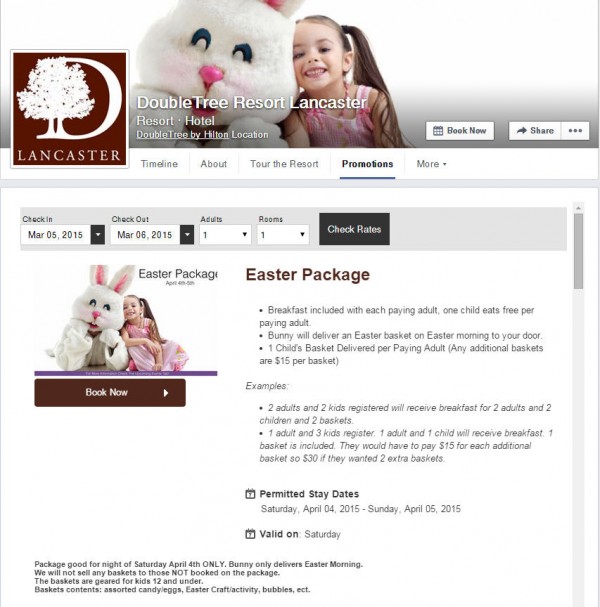 Hotel Josef has done a brilliant job in touching the base on every key element that goes into an effective social media offer. They get straight to the point with a great promotion and how you get one night free so the shoppers don't have to sift through sentences of redundant text. They remain consistent with their color scheme that holds true throughout their main website and on any other social platforms with a great visual to compliment the text. And to solidify the compelling presence of this special offer, they outline when it is valid and provide the booking application directly under the image. In less than four seconds, prospective travel shoppers have all the information they need to book directly with Hotel Josef.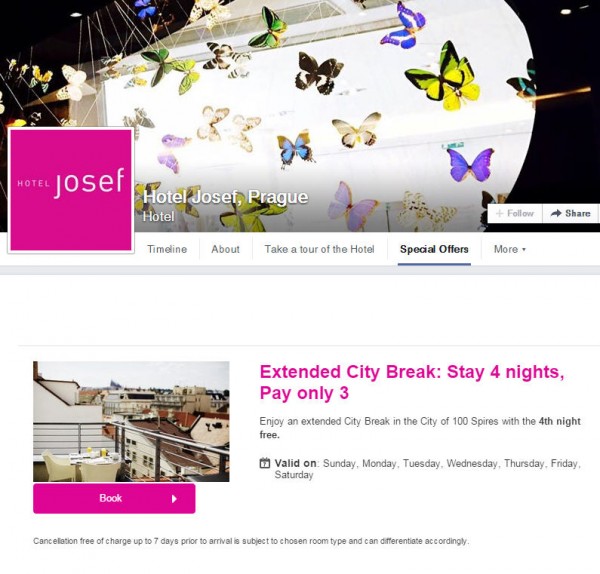 It's no secret that some consumers will follow a brand via social media solely to take advantage of special offers or take part in contests for free items. In fact, a study done by Syncapse on the reasons why people "like" a brand on Facebook found that 42% do it for a coupon or discount, while 35% do it to participate in contests.
These types of consumers are just coupon hunters. What is the point of increasing your total page likes if your entire social community is based on, "what have your done for me lately?" Be focused more with the quality of information and story you produce rather than the quantity of your audience. That way your special offers are woven in with your hotel's narrative and will have an authentic connection and engagement with your community.
How to "App-ify" your Facebook Page!
In addition to contests, you can also promote content – such as special offers – using paid advertising on Facebook. The key with any social media ad platform is selecting the right demographic groups to engage targeted ad messages towards. Facebook has many customizable ad features that allow your hotel to target traits such as age, gender, likes & interests, Facebook activity, location, job, friend connections, and relationship status (useful for hotels that cater for weddings).
You can target using their Facebook activity, but you can also engage them after they have already visited your content in the past (e.g. visited your website). These targeting methods are a great way to keep your brand fresh in the mind of your prospective guests and to appeal to relevant potential guests.
You might be asking yourself, "Why should I consider special offers if people won't use them?" The answer to that question is simply: your page has more to offer than just a discount. If your hotel's Facebook page has multi-media apps installed, they may not click on the offer but instead will start looking through your Facebook page to discover your property's apps that allow them to view the rooms, facilities, and dining areas that help travel shoppers grasp your story.
It comes as no shock that Facebook ads receive an average of 152% return on investment for retailers, and that 28% of Facebook users have purchased something via a Facebook link. The success it has provided for the retail product market has been impressive to say the least and travel-related companies whom are using targeted ads are experiencing significant return from their efforts.
Engage Consistently
Social platforms like Twitter and Instagram are the definition of snackable and visual avenues for your story. You can stretch your special offers across all your platforms, such as mobile and your website and not limited to social media.
Customers don't just want social media posts that are only dedicated to special offers. It loses the allure when discounts are pumped out on a daily basis and it seems that everyone can get one.
By establishing an authentic connection with your community, you are building loyal brand ambassadors and are adding value to your social community. Everyone wants to be a part of something. And when you share your story with those that truly believe in what you do, it makes sense to reward them for their support.