All
How to Use Social Media & Mobile to Make Your Job Easier: Q+A with Mark Hayward
---
It's no surprise that today's hotel marketers are busy – perhaps busier than ever before.
Between all the new social channels that seem to pop up every month to all the new devices coming out (first mobile just meant smartphone – now it also means tablets, wearables and technology like Apple Watch), it can seem overwhelming to try to keep up, let alone actually use these tools to reach more consumers.
The truth is, powerful tools like social media and mobile (SoMo) can help marketers everywhere, especially hotel marketers, have a bigger impact online – and ultimately, make your job much easier.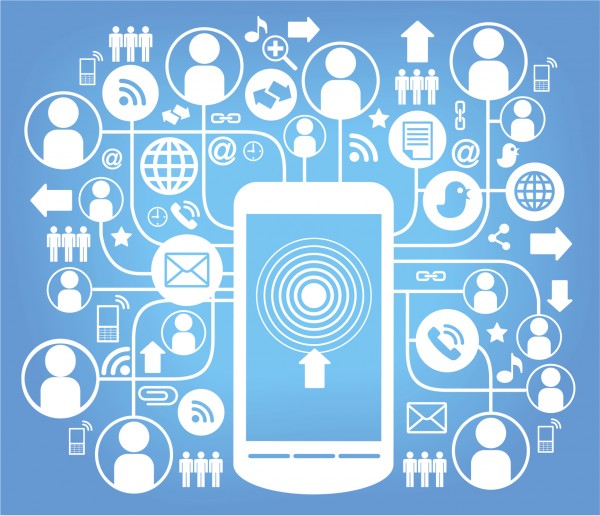 What is SoMo?
SoMo refers to the convergence of Social Media and Mobile and really has given consumers the ability to create SoMo content: Photos and videos taken on mobile devices and shared on social media channels.
There is much (and growing) research that tells us about the critical role SoMo plays in our daily lives as consumers. It is also creating new opportunities for companies and brands to market to and understand their customers.
We sat down with former hotelier and digital marketing expert Mark Hayward to understand how hotels can use the power of SoMo to maximize their time, budget and digital marketing strategy.
One of the benefits of SoMo is that hoteliers can utilize the content staff and guests create to boost their presence online. How can hoteliers encourage their staff and guests to take photos and share them on social media?
When sharing your visual story as part of a marketing strategy, coming up with ideas on what you should post can sometimes seem like a monumental task.
Fortunately, guests crave information and detail about the hotels and destinations they are researching. Regardless of how insignificant it may appear to you, no aspect of your property is too minute or trivial to be included.
Think about it: your prospective guests are, at some point in their pre-booking journey, wondering the following:
How do I get from the airport?
What happens at check-in?
Who is going to check me in?
What do the rooms look like?
What does the property look like from a guest's perspective?
Who is the head chef?
What's her signature dish?
What goes on behind the scenes?
All of the above queries and many, many more can be visual fodder for your SoMo content.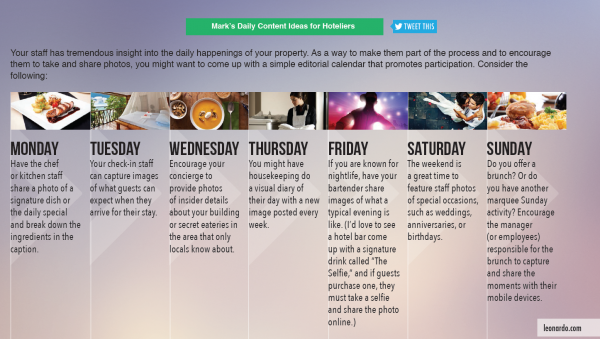 Thanks for the tip! We know that there are travel shoppers who are already on social media researching for travel inspiration and ideas – and maybe they've even stumbled upon your hotel. How can a hotelier find these discussions and partake in them?
As a former hotel owner, I can tell you unequivocally that when travelers are searching various platforms for destination information they are attentive, eager, and readily want to hear the most current and reliable input from you, the "expert."
In order to have the most utmost success when you begin joining online conversations – whether on Twitter, Facebook, or others – always remember, in the online "connection economy" world, trust is everything! A good mantra to follow is "teach, don't sell."
It can be mighty tempting to use a tool like Twitter search to help you seek out and spam individuals who are looking for information on your destination. On the surface, this methodology appears to offer you an easy opportunity to post replies, such as, "stay at my hotel" or "eat at my restaurant."
However, when building trust and interacting online the most successful properties strive to educate potential visitors who are asking questions, and they go about it in a non-spammy manner.
Simply put, focus on being an ambassador for your property and destination. Cultivating online relationships with empathy and transparency will pay off with customer loyalty in the long term.
SoMo is essentially fueled by user-generated content (UGC) – photos and videos taken by guests or even staff. Where can hoteliers find UGC content of their own hotel and use it to portray a real, authentic experience to travel shoppers?
The exponential growth of user-generated content on the web is staggering. When combined with the fact that 65% of millennials say UGC is more honest and genuine than other information they find online, you have the makings of a storytelling machine. Consider the following statistics:
The best way for hotels to ensure that they can find their guests' UGC related to their property is to encourage them to tag the property in photos, or to include the username if guests are Tweeting the content. This will make it much easier for you to reshare, like, re-tweet, and distribute your guests' images as part of your visual storytelling efforts.
When you consider today's mobile conscious traveler, it is truly an exciting time to be in the hospitality industry. Your guests now have the ability to publish to all their social media platforms with their mobile devices, and their habit of posting photos and video can provide you with an almost never-ending supply of shareable content.
Hotel Spotlight: The Standard High Line NYC

The Standard High Line NYC Hotel gives a fresh and authentic feel to their hotel story by displaying user-generated content (UGC) onto their webpage. In addition to featuring guests' photos, they have a streaming bar at the bottom with interesting quotes from travel review websites. The Standard High Line NYC Hotel is a great example of how you can utilize SoMo practices to tell your hotel's story more effectively than ever before.
Mark shared more tips on how hotels can use all this content to their advantage and you can access them in our new eBook, Get in the Know About SoMo: Unlock the Visual Storytelling Superpowers of Social Media and Mobile for Hotel Marketers.