Content Marketing
Inspiring Travelers: A Recap From Our Digital Marketing Summit for Hoteliers
---
Last week, Leonardo hosted our first ever Digital Marketing Summit for Hoteliers. We partnered with 5 leading technology companies in the hospitality industry (Flip.to, Sojern, SiteMinder, Triptease and TrustYou) to discuss the evolving travel shopping journey.
We broke down this journey into 7 critical phases – Inspiration, Research, Planning, Validation, Booking, Traveling and Sharing, and analyzed how hotels can influence each stage of the journey to drive more direct bookings. If you missed the event, or want a refresher, here are some highlights from our first presentation, "A World of Pure Imagination: Searching for Travel Inspiration."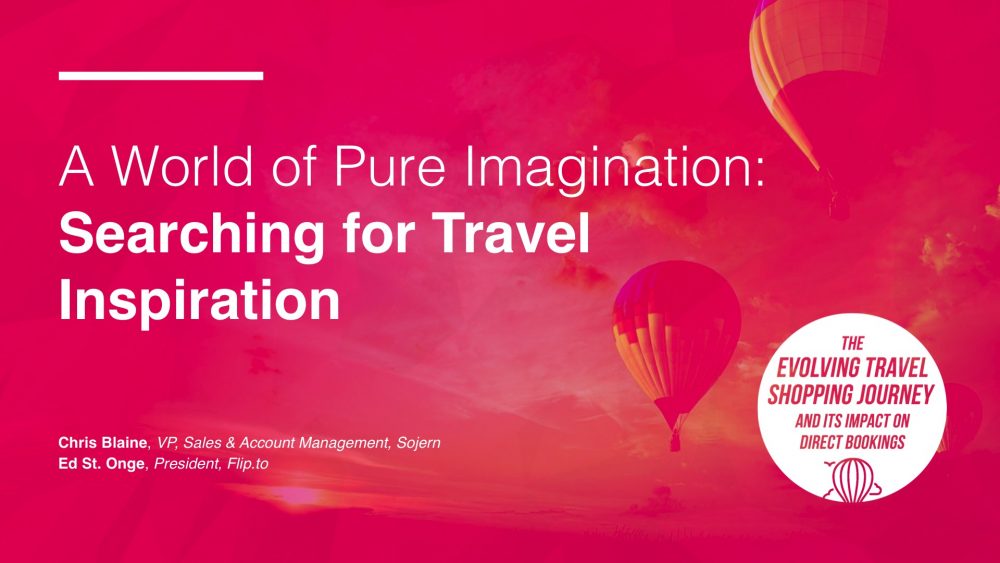 Identifying & Targeting Travelers
– Chris Blaine, Sojern
In today's complex digital world, the travel shopping journey resembles something more like a travel shopping maze. Whether a leisure traveler is looking for a destination, or a business traveler is searching for the best neighborhood, during the Inspiration phase travel shoppers are open-minded and not committed to a specific brand. Furthermore, they are highly involved in their search for accommodation. Travelers spend, on average, 25% more time deciding on a hotel than booking a flight.
But hotels can only inspire and influence travelers if they show up and compete. There are 3 main ways to reach travel shoppers online: Search, OTAs and display advertising. Chris' presentation focused on the latter.
Display Advertising Has Changed
Display advertising is no longer about bidding for impressions on a specific set of websites. It's become much more targeted and granular. It's now about targeting the individual traveler on the websites they're visiting.
"Programmatic display advertising" involves both prospecting and retargeting. It's bidding on an impression in real-time, to show one specific ad, to one consumer, in one specific context, at the right time. And it's big business. In 2016, it was a $22 billion industry.
So How Does Programmatic Advertising Work?
It starts with identifying users who may be in-market for a hotel; who have either visited your branded website or a relevant third party site (e.g. airline website). Say someone was researching for flights to Miami on AmericanAirlines.com. That user would then be "cookied," so you could follow them online. As they continue surfing the web, (say they're now on CNN.com) you can bid for impressions on this website and display ads for your Miami hotel. Inspired and still highly engaged on this topic, the user might then click through to your website to take a look.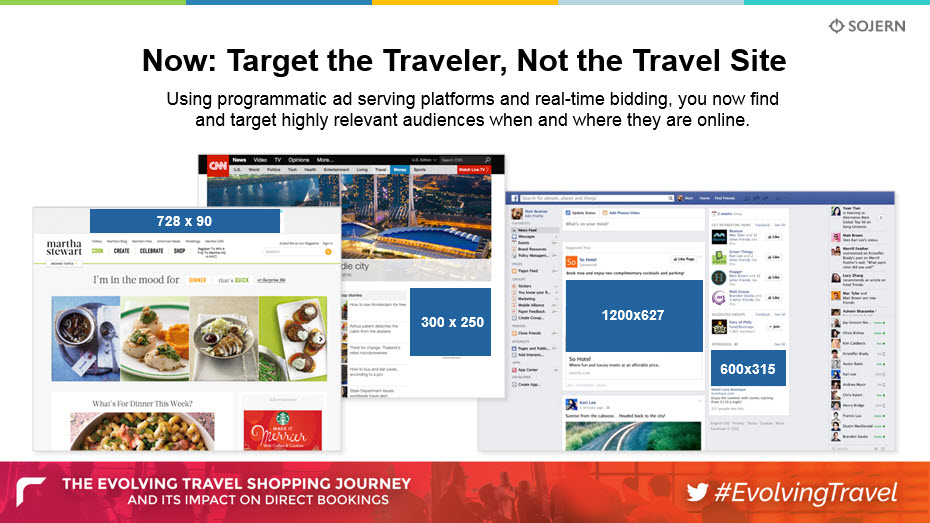 You now have an engaged visitor, but the reality is 98% of visitors will not convert on their first site visit. That's where retargeting comes in. As they continue surfing the web, you can continue to bid on impressions to reach them (perhaps spending a little more now as they have demonstrated engagement with your brand), leading them to re-visit your website and book.
Programmatic advertising is evolving the display advertising industry. It involves leveraging smart digital tools to navigate the travel shopping maze and inspire travelers in the context of their own browsing behavior.
Content Marketing Through Stories
– Ed St. Onge, Flip.to
In the second presentation, Ed discussed how to connect with and inspire travel shoppers through content. Travelers in the Inspiration phase are looking for an answer to Why. Why should I visit this destination? Why should I choose this neighborhood? Why should I stay with you?
Content Marketing – The Neglected Money Tree
Content marketing is a valuable way to answer these questions, but has unfortunately been the money tree hoteliers have neglected to water. Content in the Inspiration phase should be useful and informative to the consumer, not self-serving to the property. Winning the hearts and minds of travel shoppers isn't done through the Book Now button or coupons – it's done by offering compelling stories that speak to travelers and win them over.
Instead of strong calls to action and heavy branding, content should be authentic and informative; something that travel shoppers want to consume and share. It should help them learn something and become better travelers.
Most importantly, hotels shouldn't concede the battle of Inspiration to the likes of TripAdvisor and AirBnB, who leverage this phase quite a bit. There is a valuable conversation to be had with travel shoppers in the Inspiration phase, even if they are not yet ready to book. In fact, 67% of travelers are more likely to book with a travel brand that provides relevant information for the destinations they're interested in.
Inspiring Travelers Starts With Infusing Content Into Your Strategy
Content marketing is all about bringing true hospitality back to the forefront of your marketing strategy. Are you infusing content that tells stories? Are you selling the dream, or are you selling the "check-list"? Use calls to action that make sense during the Inspiration phase (hint: "Book Now" is not one of them). Instead, things like "Learn More" can help travel shoppers access better content. That's how to nurture people who have never stayed with you into becoming future guests.
Get all of Chris and Ed's insights on inspiring travelers by watching the full presentation on-demand.