Best Practices
Look Beyond Your Rooms to Drive Ancillary Revenue in 2017
---
With 2017 on the horizon, the thought crossing every hotelier's mind right now is, "How are we going to improve? What are we going to do differently next year to drive more revenue?" While there are many strategies a hotel can employ, there is one untapped opportunity that we believe will be crucial next year. It's called ancillary revenue; generating revenue from goods or services other than a company's primary product offering. For hotels, this means looking beyond the rooms and even beyond the guests.
The benefits of offering ancillary products and services include unlocking new and lucrative revenue streams and increased up-sell and cross-sell opportunities, which both contribute to your hotel's bottom line.
How do we know ancillary offers work?
If we look at other segments of the travel industry, we can see that ancillary services offer significant revenue gains.
Airlines
Ancillary services have established themselves as the bedrock of a financially secure airline industry. Ancillaries have become like merchandise; customer now have the opportunity to choose their specific experience based on individual needs. And it's working. In 2016, ancillary services contributed more than $50 billion in revenue for the global airline industry.
An example of one airline that does ancillaries very well is Jeju Air, based in Korea. They offer free in-city travel lounges (complete with free refreshments and Wifi) that specialize in the booking of commission-based services for travelers, like airport transfers, car rentals, accommodations, and sightseeing.
Cruise lines
The cruise industry has always generated a very large ancillary revenue stream from sales of excursions on-shore. Now they're getting more creative in what they're selling on-board as well to boost revenue.
Take Norwegian Cruise Line for example. They offer a variety of products and packages that travelers can buy before they even step foot on the ship. You can book dining, spa, romance and party packages, or pre-order products like wine and flowers that will be in your room upon arrival. They have even started to sell the necessities, like extra diapers and baby wipes for the little ones. Now no parent will be caught off-guard while on their cruise! It also allows for families to pack lighter and buy what they need on-board instead, while opening up a new revenue stream for the cruise line.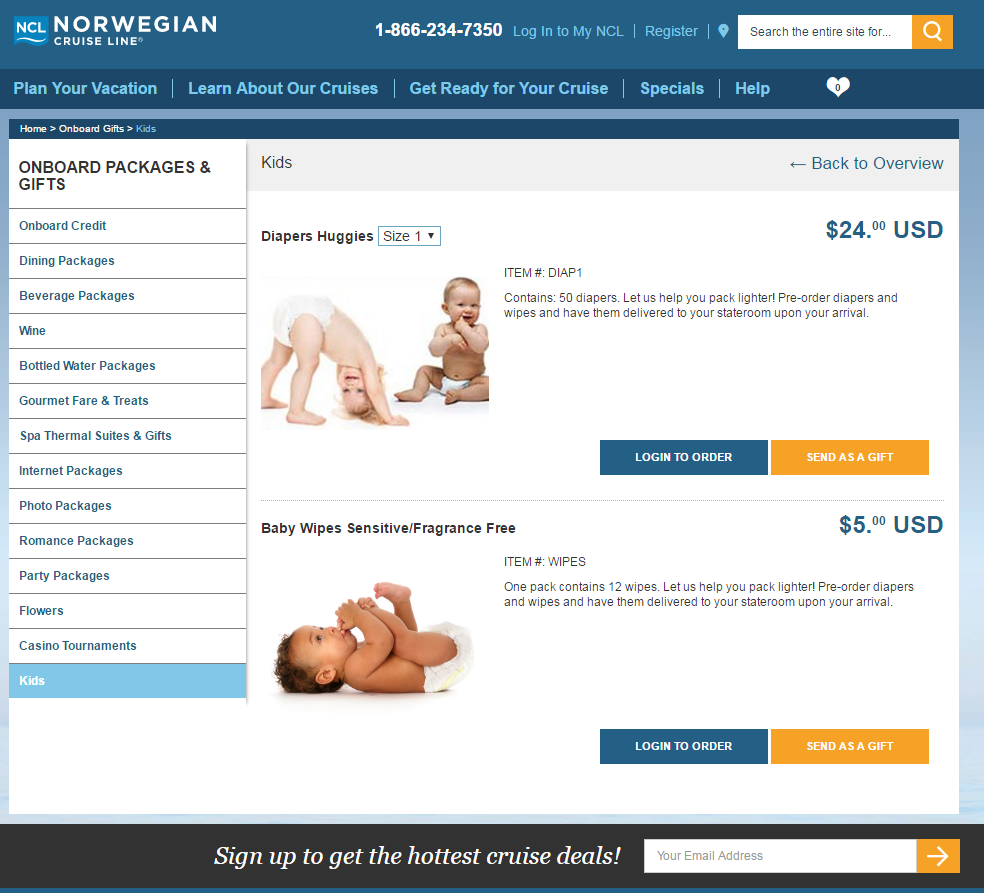 How to sell ancillary products and services in your hotel
So you know that ancillary services are your ticket to higher revenues in 2017, but how do you do it? As with all marketing messages, the where and when count. Take these scenarios:
A guest booked an executive room and checked-in after midnight; a quick tap on their mobile phone could order room service coffee for the morning
Guests who book family rooms may appreciate direct mobile booking for local amusement parks or family activities. Maybe even a reminder about the in-resort babysitting service and available (grown-up) dinner reservations
It's the night before check-out. The kids are hyped up on sugar and you're not even packed yet. Would express mobile check-out and a car to the airport tomorrow morning help?
"The one area where hotels [still] have the competitive edge over online travel agents is when the customer walks through the door. It's here, when the guest is immersed in the hotel experience, that hoteliers have a chance to upsell" (Eye for Travel, 2015).
Selling ancillary products and services on-property is smart and an important part of the strategy, but extending these offers to be available online maximizes revenue potential by reaching guests before, during and after their stay. In any and all scenarios, your ancillary offers need to be accessible and available on mobile devices.
There are ancillary revenue generation opportunities at every stage in the travel cycle. The chart below from PhoCusWright serves as a good reference for ancillary revenue opportunities before, during and after the stay.
Opportunities for Ancillary Sales at Each Point of Contact During the Travel Cycle
Before the stay
During the stay
After the stay
• Inspiration and planning
• Booking
• Departure
• Check-in/check-out
• Concierge services
• In-room services
• Services offered inside and outside the establishment

• Feedback form
• Loyalty program
• Customized email promotions

Think beyond your guests
Now that you're starting to think beyond rooms for revenue, start thinking beyond guests. Digital marketing gives you a big opportunity to reach people who aren't guests.
If you have an on-site restaurant or spa, leveraging offers for these things shouldn't be restricted to hotel guests. Attracting more non-guests to your property can be very lucrative. The most effective way to do this is by creating a dedicated website for your restaurant or spa and cross-promoting it with your hotel website.
Ancillary revenue ideas for hotels
Thanks to the availability of cost-effective and user-friendly technology, every hotelier has the means to sell ancillary products and services online. And individual properties are getting creative with it, selling wine, novelty items, murder mystery evenings, artwork, gift cards and much more, which we explain in this post.
There are a couple different approaches to offering ancillary products and services to generate revenue.
Provide ancillary offers involving your hotels' own facilities and staff – everything from on-site services like childcare, spa treatments or a shuttle to the airport
Partner with third-parties – like local attractions, restaurants and experiences
Or, you can do a mix of both. It really depends on your hotel.
On-site offer ideas
Promote special dining offers and events offered in your restaurant
Give guests the option to upgrade to extra luxury bedding
Make the art and décor in your guestrooms available for purchase
Offer cooking classes with your chef
Third-party offers
The Tropical Suites goes beyond offering typical day trips that guests would expect at a resort property. They've come up with some interesting offers, including yoga, art, cooking and Spanish classes that are led by local companies.
They also explain that the options on their website are just a small sample of what's available to guests. Their ancillary services can be tailored to personal preferences, whether that be exercise, adrenaline, culture, community, family, or just plain fun.
Below are some more suggestions from PhoCusWright on what ancillary services may work for your hotel.
Ancillary Hotel Offerings, By Category
Category
Examples
Additional Information
Food and drink
• Breakfast
• Meals
• Beverages
• Fruit basket
• Wine/champagne
• Birthday cake
• Mini bar

Breakfast often represents over 50% of total ancillary reviews.
Transportation
• Airport transfer
• Limousine service
• Bike rental
• Mass transit ticket

More attractive to leisure travellers than business travellers.
Business & entertainment
• Wi-Fi
• Use of business centre
• Meeting equipment (projector, microphone, etc.)
• On-demand films and games

Spa & wellness
• Treatments
• Massage
• Pool

Often run by a third party. The hotel receives a commission.
Upgrade
• Room Category
• Package

Sports
• Access to in-house sports facilities (tennis court, golf course, etc.)
• Classes
• Personal training session

Often to the public. Limited space.
Miscellaneous services
• Flowers
• Extra bed/crib
• Connecting rooms
• Personal butler service
• Valet service
• Animals allowed in the rooms

Some packages are offered subject to product availability (e.g., the romantic getaway includes flowers and champagne in the room).
Don't let all of these ideas overwhelm you. Starting small with ancillary products and services is better than not at all. It could be something as simple as making the same tea, coffee and personal care products from your guestrooms available for sale on your website.
You can do all of this and more with a Vizlly-powered website.