All
2 Ways to Use Online Reviews to Tell Your Hotel's Story
---
Online reviews. We know it's a love-hate relationship. Negative reviews can be biased and unfair. However, on the other hand, positive reviews can be very useful and give travel shoppers a glimpse of the experience they'll have and prompt them to make the booking.
Take Millennials, for example. Studies show that they trust authentic traveler reviews 50% more than traditional media such as TV, magazines and/or radio.
Reviews are not only great for building travel shoppers' confidence – they can help hotel marketers too.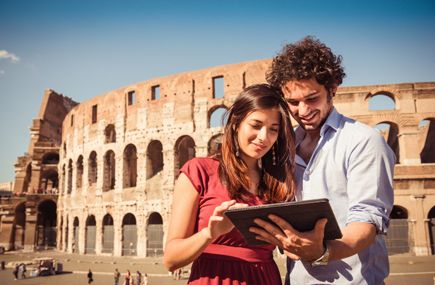 1. New Content Ideas
Some hoteliers feel that their hotel does not have a story – but this couldn't be further from the truth. Every hotel has its own unique story, no matter where it's located, or how big or small it is. If you need some help figuring out your hotel's special story, reviews are a fantastic resource.
Look up your hotel on a popular hotel review site, such as TripAdvisor, and read some of the things that guests complimented or enjoyed when staying at your hotel. Then, take these positive comments and turn them into content pieces – such as posts on social media or images/videos in your digital media galleries – that help tell your hotel story.
Did a recent guest mention that their kids had an amazing time swimming in your hotel's pool? Take a picture of your pool on a day it is filled with kids and upload it to your social media channels. Include a text description along the lines of: "Jane D. and her kids, from Ohio, loved spending family time in our heated, indoor pool – we're sure your kids would have a great time too! Our pool has three fun and fast water slides, as well as a waterfall."
A quick note: if taking a picture of guests (such as kids in a pool), make sure to ask for permission before posting it on social media; otherwise, make sure nobody is identifiable in the photo.
The InterContinental Hong Kong is a great example of a hotel that uses online reviews to think of content to include within its visual story. Take a look at this review: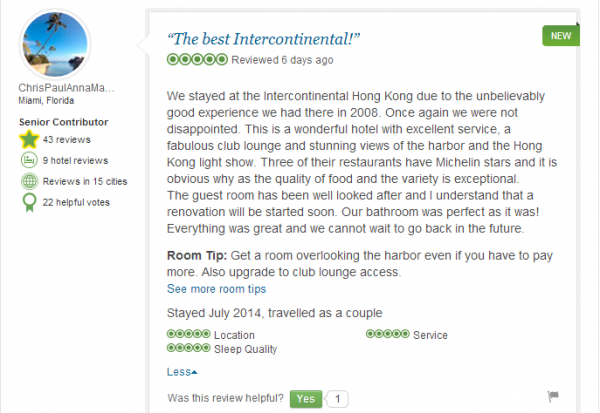 The reviewer talks about how rooms overlooking the harbour provide an excellent view of the nightly Hong Kong "Symphony of Lights" laser show. InterContinental Hong Kong knows that this is a popular compliment that it receives and makes sure to promote it on their Facebook page for travel shoppers. They also make sure that their VBrochure player is filled with images of rooms that have a beautiful harbour view – perfect for watching the light show.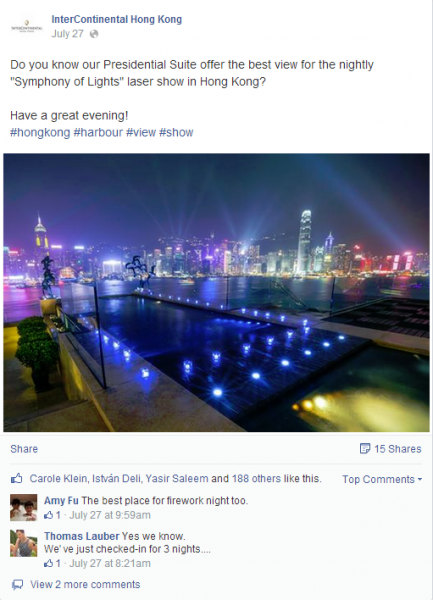 With so many different reviews, there are a lot of unique things about your hotel that your guests enjoy and admire – some things you may not have even noticed or have thought about if it weren't for the guest reviews available! Take all these individual preferences and comments and you have content ideas, for your hotel, to last a lifetime.
2. Make Your Reviews and Your Facebook Best Friends
TripAdvisor, which is a part of Leonardo's extensive VNetwork of travel websites, has more than 800,000 hotel reviews and opinions from travelers all around the globe.
Therefore, it comes as no surprise that TripAdvisor is a very influential site for travel shoppers everywhere. In fact, according to a PhoCusWright study, 87 percent of users say TripAdvisor hotel reviews help them feel more confident in their booking decisions.
Hoteliers can take advantage of the site's new widget for Facebook, which allows guests to post a TripAdvisor review directly on the hotel's Facebook page, without having to leave the social media site. Hoteliers can use this feature and make sure to include these reviews in the hotel story they're sharing on Facebook.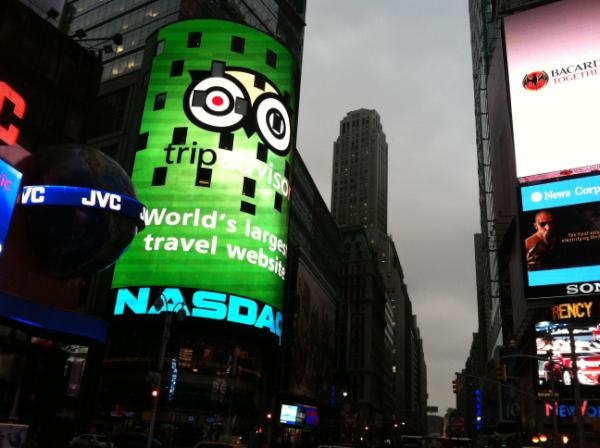 The Waldorf Astoria New York hotel is an example of a hotel which has installed TripAdvisor's Facebook widget directly onto their Facebook page. They can amplify their hotel story further by taking a look at the features travelers are mentioning and highlighting them on their hotel Facebook page. For example, they've received five stars for location, so they can consider showcasing this feature further by adding pictures or short videos of some popular local attractions on their Facebook page.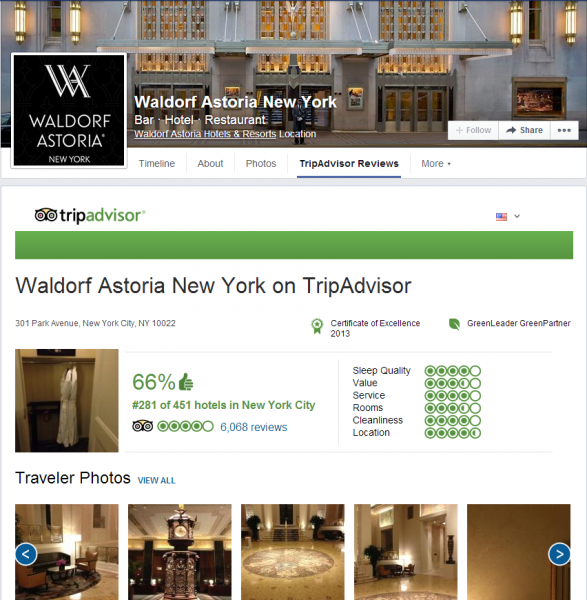 Reviews don't have to be intimidating – it all depends how you look at them. If you use reviews as a tool to help you with your hotel's digital marketing strategy, and enhance your hotel story, they can become a hotelier's best friend.
If you would like more information about how reviews can help tell your hotel's story, watch this one-minute video with travel industry specialist, Ellis Connolly, Executive Vice President of TrustYou, an online reputation management company for the hospitality industry.