All
Q+A: How the Cedars of Williamsburg Bed and Breakfast Made 2015 a Record Year of Revenue
---
The Cedars of Williamsburg Bed and Breakfast is an award-winning property that merges its historical, colonial design with modern-day comforts. Owners Bob Tubbs and his wife Grace have a "do it yourself" attitude: they handle everything from check-in to online marketing and planning guest events.
But as online technology kept changing, Bob realized he needed a better solution to help him showcase everything the B&B had to offer.
We spoke to Bob to learn about their online strategy and how their Bed and Breakfast found success in the ever-changing digital marketing world.
Q: Thank you for joining us, Bob. What made you decide to open a B&B?
A: We come from a corporate background. We have a nice combination of marketing, technology, management and operations. Our background afforded us the opportunity to start running our own B&B.
Q: That's certainly a great background to have. Could you tell us a little bit about your property and your online strategy?
A: Our rooms are set up so that they're uniquely styled and actually take the name of historical characters in Williamsburg, like George Washington, Martha Washington and Thomas Jefferson. Each room is completely different from the others and the amenities are also very different.
The technologies we use, InnLink and Vizlly, allow me to format my room descriptions and make configurations with the pricing and photos. I'm able to set it up once and it's perpetuated across the major sites we use in the same manner.
Q: I love that you integrate history into every room. What are some issues you had to consider with your online presence?
A: We had to start thinking about being compatible with smartphones and other mobile devices. We had to consider being able to have photo albums and video (on our website). Social media has evolved and keyword embedment started to become restrictive.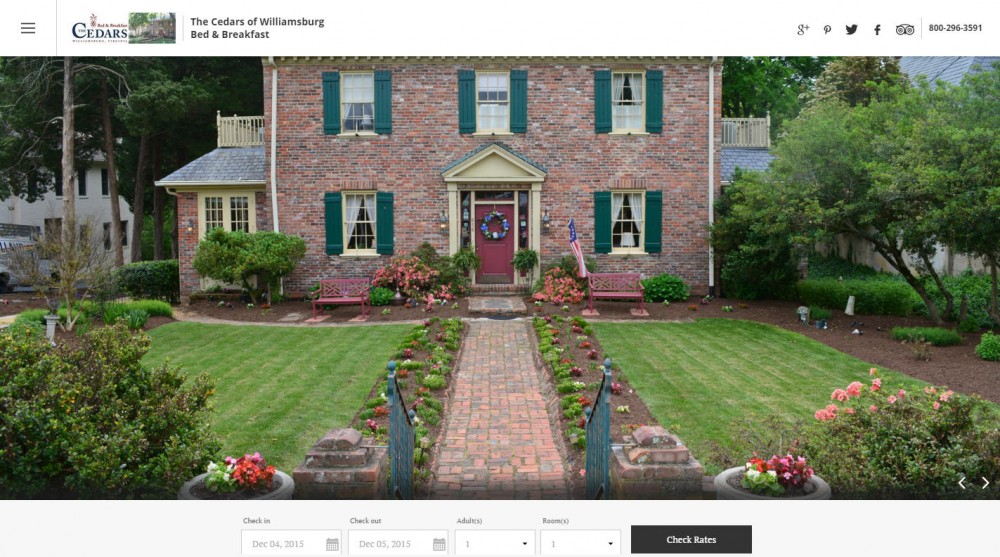 Q: That must have been difficult for you. How did you cope with all these restrictions?
A: Before we went with the Vizlly website, I had invested in a Microsoft solution. It was state of the art in its day, database driven and there were thousands of pages of content. The strategy during that time was twofold: our website wasn't about the Bed and Breakfast, it was more about the region. Then, we would overlay second level things on the site like activities that we have here. That site had some limitations as things evolved and they do evolve quickly in this space.
Q: I agree, the online landscape is constantly changing. What made you switch to Vizlly, our Multi-Channel Digital Marketing System?
A: Today the solution that we have is multi-channel and multi-platform.  Vizlly addresses all the issues I mentioned before. It accommodates mobile, tablet and desktop. It can be consumed no matter how people choose to engage it.
Q: The ability to create and manage your own website with multimedia stories all in one place, across multiple platforms, will definitely make things easier for you. What type of results have you seen?
A: We're having a record year. This website has helped us get deeper and farther reach to our guests. We've also seen a 15% increase in traffic. It's all because today's technology is being used to its fullest potential.
Thanks again Bob for sharing your story with us. To hear more about the Cedars of Williamsburg Bed and Breakfast and the results they've had, read their full case study here.