All
Q+A: How the Hillard House Inn Increased Bookings from Business Travelers by 20%
---
In the past two years, over 1,000 hotel rooms have been added to the Wilkes-Barre, Pennsylvania area where the Hillard House Inn is located, which is why showing travel shoppers what they have to offer and why they should choose them over the competition is their biggest challenge.
We spoke with owner Cecilia Williams to find out how she keeps herself up to date with technology and digital marketing changes – and how she's refocusing the property's marketing to reach a new demographic.
Q: Tell us how you came to own the Hillard House Inn.
A: My husband and I bought the Hillard House in 1999 but did not start operating it as a Bed and Breakfast until the end of 2006. We were looking for a way to utilize this large and lovely home and to supplement our retirement. We love to stay at B&Bs when we travel and were staying at a place in Newport, Rhode Island very similar in style to our house. The owner obviously enjoyed what he was doing and Gordon and I looked at one another over the breakfast table and agreed that "we can do this!"
Six months later, we were up and running as Hillard House Inn with two guest accommodations. Currently, we have three guest rooms and a suite. We were able to convert our house into a bed and breakfast without very much remodeling.
Q: You took the plunge! How did you start attracting travel shoppers to your property? Did you have any help learning about hospitality marketing?
A: I am self-taught in the technology area and primarily use the trial and error method. I try to attend every webinar that is offered pertaining to the hospitality industry and I have found that I always take away some small bit and sometimes a very large chunk of useful information. I fully appreciate that our business would not have succeeded without the internet. Ninety percent of our customers find us online and the balance are local referrals and placements.
Our online presence is our most important marketing expenditure.
Q: Of course – what were some of the first steps you took?
A: First, we needed a website. Our first website was designed by a family member and was attractive and adequate for the time (2006) but compared to websites today, it was very basic and had a limited number of pictures, no video, no map and no booking button. Our next big advance was adding a booking engine.
My previous hosting site began to offer a free website building program with a variety of templates and designs so I began to use one of the templates. I found the program difficult to work with but persevered because I knew we needed an up to date website.
Customer support was relatively nonexistent although it did improve over time. But it seemed as if every change or adjustment I would try to make was just a little beyond me. Once I figured it out and had to perform a function again, the experience was fine but it was the time and effort it took to get there that was so frustrating.
Before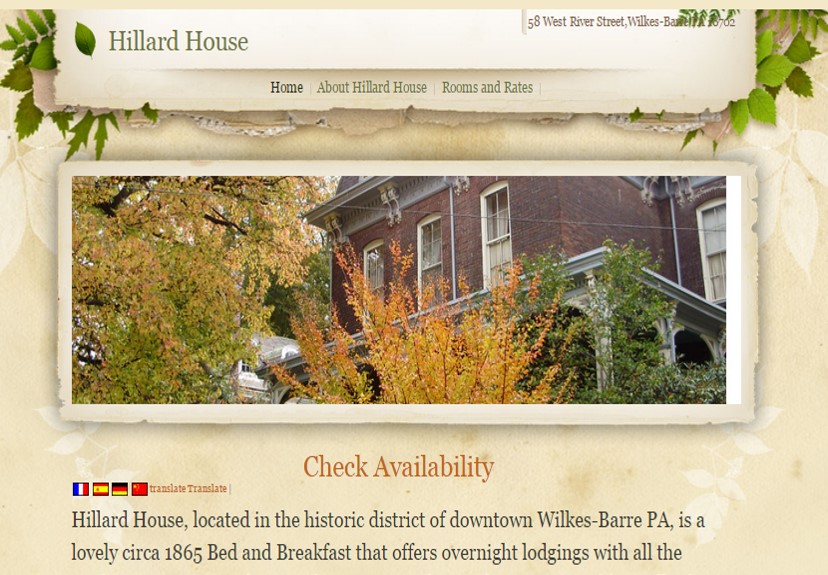 Q: Hospitality websites have certainly changed dramatically since 2006. Recently, you switched to an even more modern website with Vizlly, our Multi-Channel Digital Marketing System. What convinced you to do that?
A: I started to notice that travel related websites that I viewed online began to look cleaner with larger pictures and less text. Our site was looking a little dated and it took a lot of time to edit the website.
Q: You've also told us that you wanted to improve your presence across multiple channels. What were your main goals?
A: I had three goals when it came to online marketing:
An updated, clean, visually-oriented website that kept and/or improved my mobile site
A method to access and update social sites and OTAs quickly and easily with information changes and offers
A system that was user-friendly but gave professional results and provided personal support to me in a timely and consistent manner
Q: That brings us to your new visually-driven, up to date website. What do you like best about it?
A: The visual approach is just the way to go. Pictures have always been a vital feature in promoting and selling the Bed and Breakfast as a way to stay. Hotel and motel chains have recognizable features that they market but B&Bs are individuals and the traveler is anxious to see what your house looks like. They like to be able to picture themselves on your front porch, seated at your dining room table but most importantly, they want to imagine themselves in your bedrooms and suites.
In the last two years, a thousand new hotel rooms have been added to our local inventory. I need an effective way to show why people should stay with us at Hillard House Inn.
The Vizlly website is a professional looking website. It's easy to add pictures and make updates. There's a nice variety with the website templates. It's a nice, clean look.
Vizlly has opened up marketplaces that I wouldn't be able to reach before. I update my digital brochure once and it goes out to all the OTAs. It's a big time saver that you make the change once and it occurs across the board. Vizlly is a complete package.
After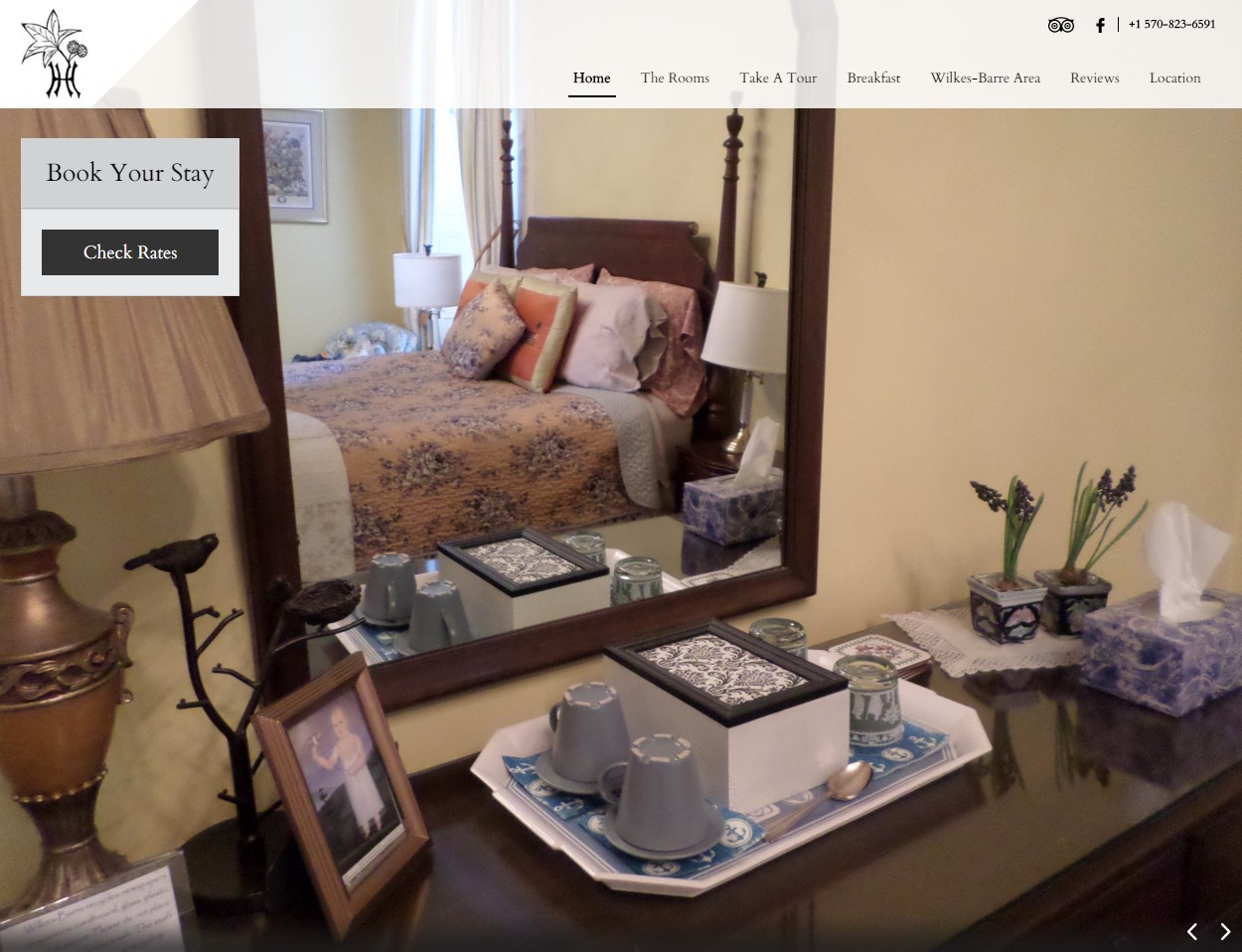 Q: You've been working closely with your Success Coach at Leonardo – provided to every Vizlly customer. How has that experience been?
A: The dedicated Success Coach is the most attractive feature of my new website and marketing program with Vizlly. My Success Coach has been wonderful.
First of all, she is available during working hours to answer questions, give advice and deal with problems. She responds to emails and follows through on any issues I might have – truly professional. Secondly, it is fantastic to be dealing with one person consistently, especially when it is a complicated issue. No more having to explain each time the entire history. I also think the video tutorials are well done. They are not overly complicated and do not presume you know how to do something. Their proficiency level seems a perfect fit for me.
Q: We'll pass along the positive feedback – our Success team loves to hear it! What type of results have you seen since switching to Vizlly?
A: In three months, we've seen about a 20% increase in bookings from business travelers. That was one of our goals – the business travelers fill up the rooms on weekdays and leisure travelers on weekends.
Q: Thanks for sharing, Cecilia. What are some marketing tips you can leave us with for other B&B Innkeepers?
A: To your future guests, your website is their first impression. Make it as pleasant and as comfortable as your bed and breakfast. Use quality photos which have never been easier to take. Use a web design that is simple and clean. Put a booking button on every page.
Plus, time is your most valuable asset – use it wisely. Take advantage of a professional's expertise and programming knowledge so you can spend your time on what you do best – taking care of your guests.
Thanks for sharing, Cecilia! To learn more insight about how Cecilia increased direct bookings from business travelers since switching to Vizlly, check out the full case study here.