All
Run Your Own Race with your Customer
---
Hoteliers aren't strangers to new channels entering the market. The space is constantly evolving and requiring hoteliers to continually adjust. As for Airbnb, we shouldn't be surprised that consumers have fallen in love with them because they've embraced a visual storytelling philosophy that sells.
Stories make life interesting, but they're also useful because they give people a way to connect, which is the part of magic behind Airbnb. But hotels can do the same. Stories are told at the property level and marketers can compete in this movement towards a more personalized experience and expand their footprint. The democratization of online marketing is lowering the barriers for more people to participate.  It's entirely plausible that a small independently run hotel in Charleston can have a website that mirrors a bespoke version like Airbnb but at a fraction of the cost.
My message is to relax and take a deep breath. The reality for all hotels is that you have a built in story like nobody else and your experts at knowing what it is that your guests love about you, so you still have a lot of control over your own destiny.
The name of the game in today's online first travel shopping journey is to 1) Be found and 2) once found, sell the shopper on you – what makes your property & experience unique. So instead of worrying about what Airbnb, Google or TripAdvisor is doing, concentrate on you. Identify those characteristics that make your hotel unique, craft your story, give shoppers an immersive visual tour of your property and focus on your target markets. If you do those things, as channels and new entrants come and go, you'll keep and win your fair share of the business.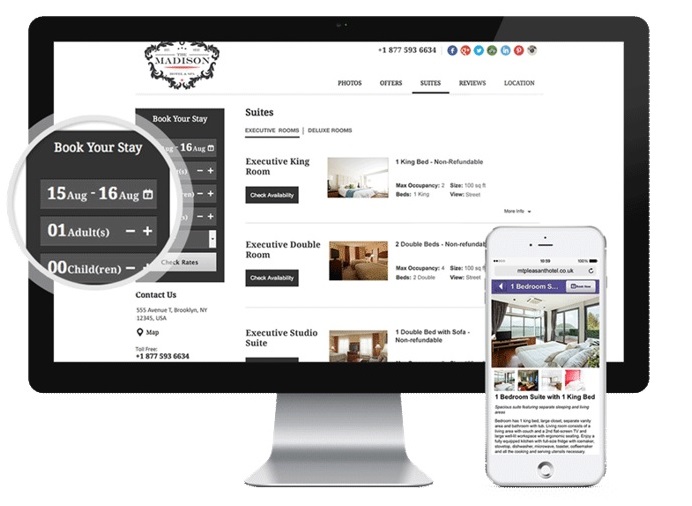 When you run your own race and obsess on what matters most to the guest you can shut out a lot of the noise that is distracting to your marketing strategy. Independent hotels certainly don't have deep enough pockets to compete head to head with Airbnb, OTAs, Google, and others entering the space and neither do brands. Putting focus on the individual property is the perfect catch 22 because fundamentally you want a website that is easily found by search engine bots and has the rich content that consumers are looking for providing the triple benefit of higher rankings on SERPs, a reduction in bounce rates and most importantly, more direct bookings.
At Leonardo we offer hotel marketers a better way.  Just over a year ago, we launched a Digital Marketing System, Vizlly that is revolutionizing the way hotels manage their online marketing. Today over 4,000 hotels have found a better way to manage their online marketing by subscribing to Vizlly.  This simple software solution has found the formula for managing online marketing that works and is proven to improve the results you get from your digital marketing investment.  It's really inexpensive.  It's easy enough to use that hoteliers are throwing out their high priced agencies and taking back control of their digital marketing.
Join us on March 23 for our next Webinar Strategies to Improve Hotel Direct bookings to hear more about the importance of digital storytelling in driving customers to your website.