All
Superstar Storyteller: Blue Bay Inn
---
You have a story to tell, a mission statement, a feature, a location or an experience just waiting to be shared. Every hotel is unique and should use its voice to communicate with travel shoppers.
If you're looking for charm, convenience and a scenic escape, look no further than the Blue Bay Inn. Located in the Atlantic Highlands, a small coastal town that sits right on the edge of the New Jersey Shore, this cozy inn is the perfect place for guests to eat, sleep, drink and do business.
The path to purchase can be complex. To engage travel shoppers and fill rooms, today's marketers must keep pace with changing best practices while still showcasing what makes their property unique. For their compelling storytelling and digital marketing strategy, the Blue Bay Inn is our Superstar Storyteller of the week.
Visual Triumph
Taking a visuals-first approach, the Blue Bay Inn's website features an array of engaging imagery. Visitors are immersed in this hotel's story as well as the guest experience. From key room features, onsite dining to the "See & Do" page that highlights the latest attractions and events around town, travel shoppers are consistently informed and inspired.
Your vanity or independent website is what makes your property stand out. To amplify your property's story and reach your desired guests, start showcasing the unique experience that your property offers. The Blue Bay Inn utilizes the power of Vizlly, a Multi-Channel Digital Marketing System, to create a vanity website with enticing images, persuasive descriptions, easy navigation and a sleek design.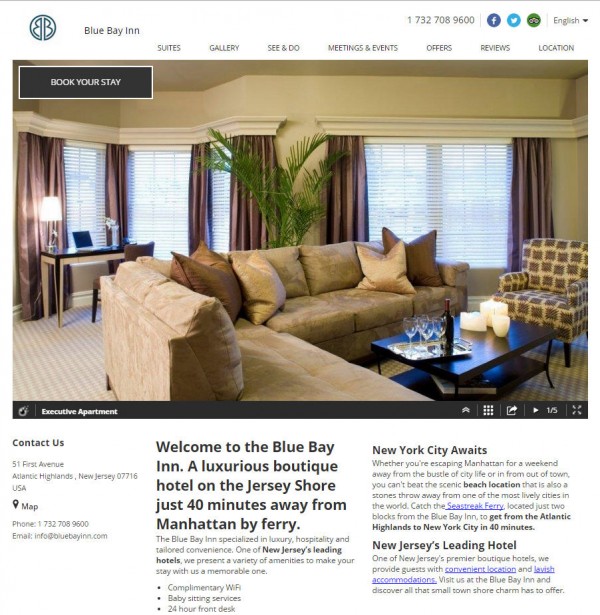 Social Media Hero
To target new segments and expand your brand's online presence, think beyond your homepage and engage your future guests on the devices and social channels they are using. The Blue Bay Inn is a marketing machine, using multi-media Facebook Apps to keep their audience updated and start new conversations.
When researching trip information, travel shoppers use a variety of devices and platforms before coming to a final booking decision. The Blue Bay Inn's Facebook page is an extension of their vanity site, allowing travel shoppers to browse photo galleries, plan a corporate event, learn about special offers, and book a stay directly on their page.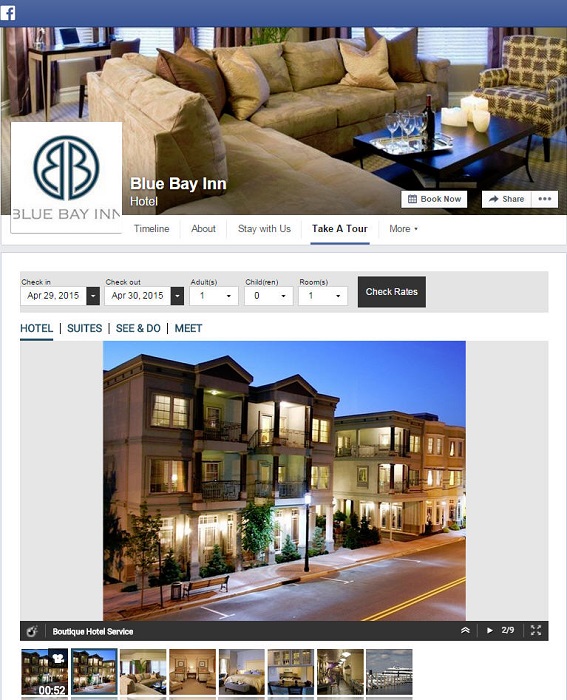 The Blue Bay Inn understands the importance of engaging travel shoppers and the power of visual storytelling. Through rich media and enticing descriptions they're not only inspiring travel shoppers, they're showcasing the guest experience and converting site visitors into bookers. From their website to social pages, this Superstar Storyteller tells a consistent story that's both creative and compelling. Congratulations, Blue Bay Inn!
Want to know what it takes to become a Superstar Storyteller? Check out our eBook: Leonardo Best Practices: Multi-Media Guidelines for Hotel Marketers for the latest tips and tools.