All
Superstar Storyteller: citizenM
---
You have a story to tell, a mission statement, a feature, a location or an experience just waiting to be shared. Every hotel is unique and should use its voice to communicate with travel shoppers.
From New York to Rotterdam, citizenM Hotels are putting their stylish mark on the global hospitality industry. They call themselves "a new kind of hotel" and for good reason. With contemporary designs, advanced technology, and note-worthy digital marketing, citizenM has no problem impressing online travel shoppers and guests.
With citizenM being a trendy and tech-savvy hotel brand – it's certainly not a surprise that Millennials come from all parts of the world to stay in these hotels. With futuristic technology such as self check-in via sleek, electronic kiosks, to modernly-decorated lobbies and rooms enough to make any IKEA jealous, these hotels have quickly become a favorite of the Millennial travel crowd.
If their innovative hotels are any indication, it's that citizenM wants to differentiate itself from other hotels out there – and it does.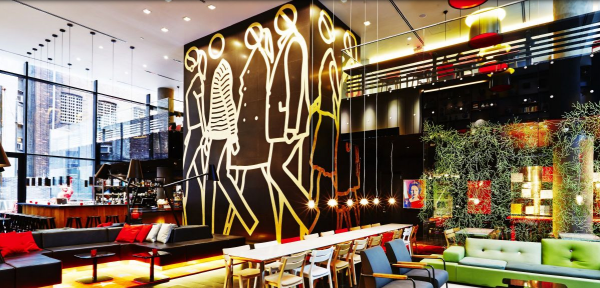 Visual-First Hotel Story
citizenM knows it has a beautiful visual story to tell and that's the focus in their digital marketing strategy. As you can see below, their entire website is dominated by large, captivating images that show off the unique features of the hotel – from bold furniture in their living room-like lobbies to their advanced technology. This helps grab an online travel shopper's attention right away. They go even further by showing off what makes them unique in a short, "snackable" video, which takes travelers through the chic hotels – a great way to impact online booking. In fact, 52% of consumers say that watching a video makes them more confident in online purchases.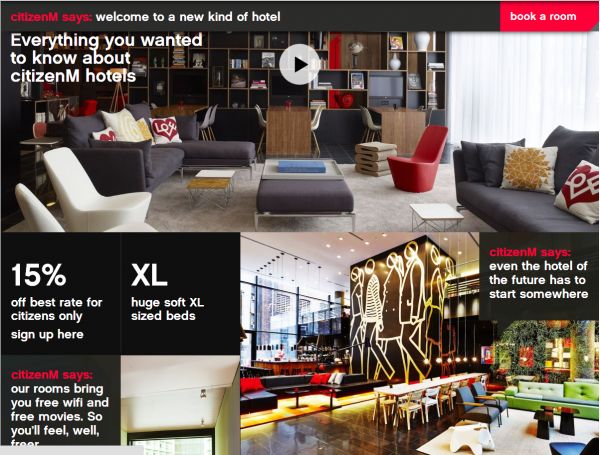 However, citizenM's online visual story doesn't end at their website. They make sure to show off all their beautiful hotels through their online digital media player, VBrochure. Each hotel has its own VBrochure player that displays all the individual hotel's media content in a compelling way. Below is a photo of citizenM New York Times Square's VBrochure, which holds visuals that show off every aspect of the hotel – from the pink showers to the lime-green Mezzanine to their savoury breakfasts.
Having a visually-dominated digital marketing strategy is extremely important to attract travel shoppers. It turns out, 67% of consumers feel that descriptive images carry more weight than product information or consumer ratings!
Multi-Channel Digital Marketing Strategy
Part of citizenM's digital marketing strategy is to make sure their story is being consistently told on every travel channel that travel shoppers use. By having their VBrochure media players syndicated to VNetwork, as well as creating a mobile-optimized website and being active on social media, they make sure they're sharing their visual story effortlessly – reaching thousands of online travel shoppers, no matter where they are located in the world.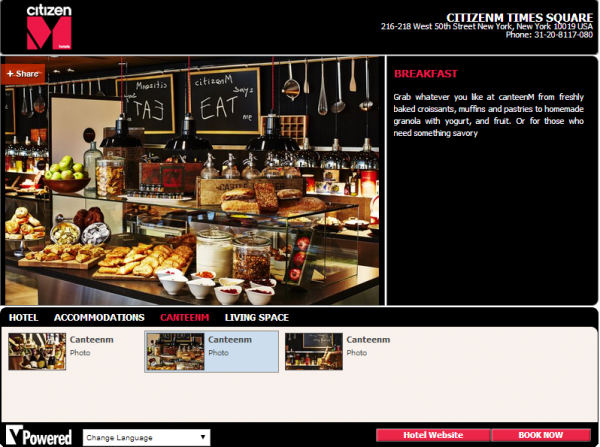 Social Media Maven
A well-known fact about Millennials is that they love their social media. According to Pew Research, 89% of people aged 18-29 used social media in 2013! With Millennials set to take over the travel market soon, it's more important than ever for hotels to be on social media– and citizenM is certainly no exception. Looking at their Facebook page, once again, it is dominated with eye-catching visuals that are bound to please Millennials who are active users of the social site.
However, it is important to keep in mind that social media isn't just for Millennials. Looking at the Pew Research again, 74% of all online adults use social networking sites – making social media even more vital for your hotel.
citizenM understands that social media can be an excellent visual storytelling tool for hotels. While many hotels on Facebook post pictures on their homepage timelines, citizenM takes it a step further by frequently posting entire albums filled with images of popular events in the various hotel areas – like the Commonwealth Games, held this year in Glasgow, where one of the citizenM Hotels are located. Including visuals of the area surrounding your hotel is a great way to enhance your hotel's visual story.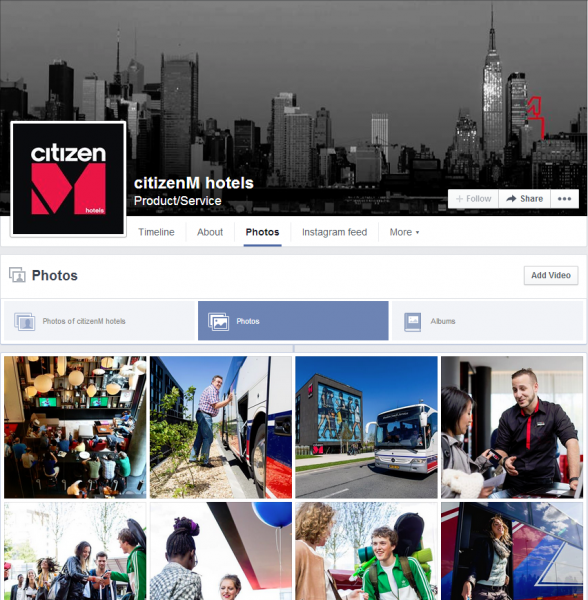 citizenM is an industry-leader when it comes to hotel visual storytelling. They have a beautiful story that is displayed seamlessly and consistently throughout their various digital marketing tools such as their online and mobile website, use of third party travel websites and social media channels.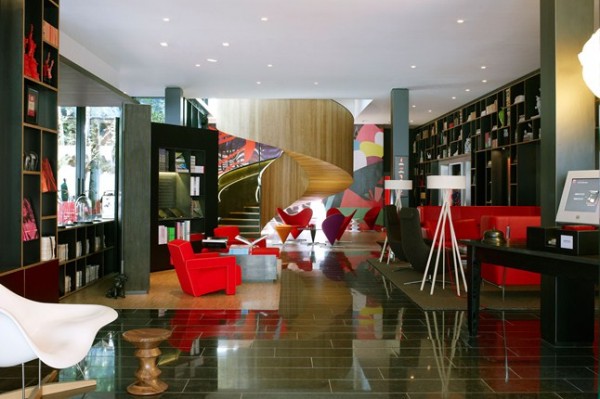 Learn how to create compelling online media that sets your hotel apart by watching a recording of a recent webinar "Creating Online Content That Converts Travel Shoppers".