All
Superstar Storyteller: Corinthia Hotel St. George's Bay
---
You have a story to tell, a mission statement, a feature, a location or an experience just waiting to be shared. Every hotel is unique and should use its voice to communicate with travel shoppers.
It's a special time of year and no doubt your hotel is decking itself out in the festive holiday spirit, with Christmas trees, perhaps even a resident Santa and holiday decorations galore. Have you thought about showing off your festive holiday spirit to prospective guests online?
The Corinthia Hotel St. George's Bay knows how to use the holidays to show travelers a new side of their hotel and they showcase this aspect of their hotel story to travel shoppers online by updating their website and Facebook page with relevant and festive information showing travelers why they should choose to spend this special time of year with them – including in this great holiday-themed video:
Draw Guests In
The Corinthia Hotel St. George's Bay's knows that it's a special time of year, so they took the time to update their website showing travelers they can feel the wonder of Christmas and the New Year at the property. What sets their story apart? Their motto "The Craftsmanship of Care" elicits their genuine caring nature for all their guests, especially during this time of year, and dates back to the roots of the hotel as a family-inspired business. They put it eloquently:
"From the genuine warmth of our welcome to the meticulous crafting of our menus and festivities, our caring nature shines through. Our heritage as a family concern underpins this spirit. Fifty years after our founder and his family started the Corinthia enterprise, we remain true to our roots as a family-inspired business. Join us this winter and let us craft the ultimate Christmas and New Year experience."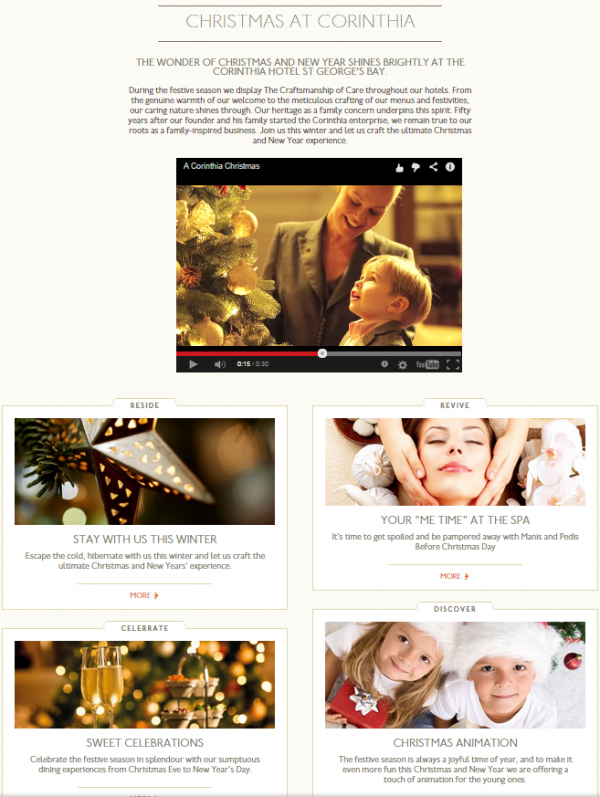 Social Media Spirit
They don't just leave it to their website to promote their holiday content, they also feature it extensively on their Facebook, Twitter, and Instagram pages to reach more travel shoppers and make sure their hotel story is consistent wherever travelers are browsing.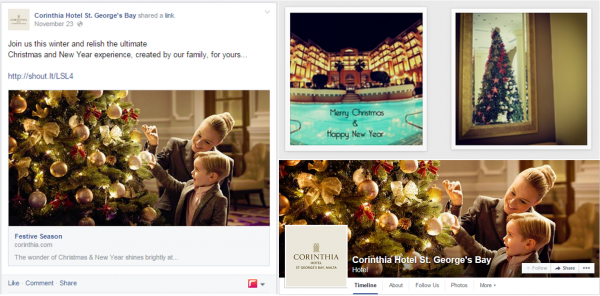 Expressing and displaying a festive spirit during the holiday season is an excellent way to draw in guests – if it's genuine, of course. Be sure to show travel shoppers what the holiday season means to you so they can be assured you'll make their stay a memorable one during this time of year.
Congratulations, Corinthia Hotel St. George's Bay, on becoming our newest Superstar Storyteller, and Happy Holidays!