All
Superstar Storyteller: Doha Marriott
---
You have a story to tell, a mission statement, a feature, a location or an experience just waiting to be shared. Every hotel is unique and should use its voice to communicate with travel shoppers.
They say don't judge a book by its cover – but when that cover is a visually enticing TripAdvisor award-winner, go ahead – judge away. A hidden gem in a convenient location, the Doha Marriott in Qatar provides elegant accommodations and luxurious amenities for its guests. However, they stand out for more than just their offerings; the way their offerings are displayed is what makes this storyteller a superstar. Adopting a visual-first approach and engaging on social media are how the Doha Marriott attracts travel shoppers from the get-go.
Striking Visuals
90% of all information that gets transmitted to our brains is visual, so it is extremely important to keep this in mind when creating a customized website for your property. That's why one of the first things that you see upon arriving at the Doha Marriott's website is a beautiful series of photos that showcase the experience you can expect – they tell the hotel's story.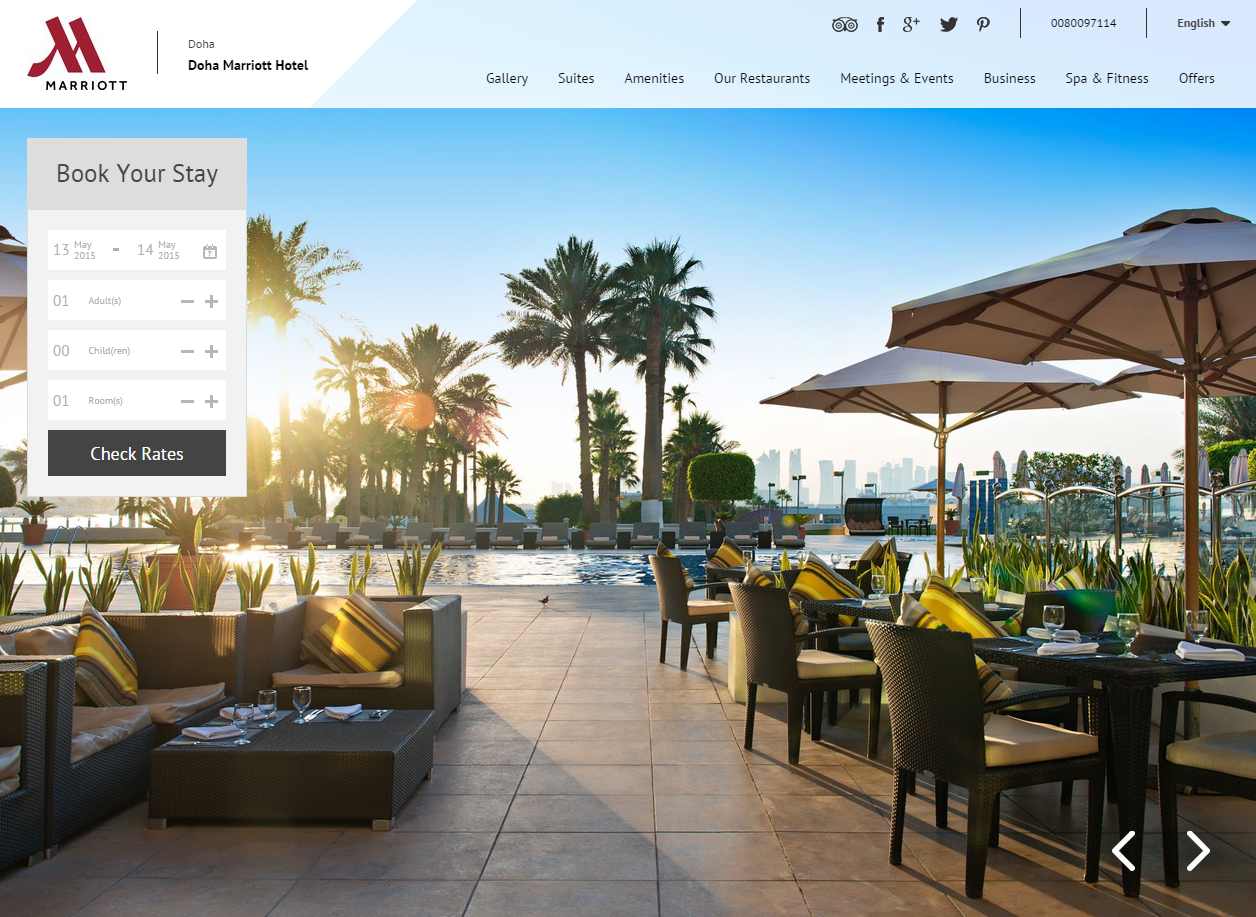 Travel shoppers are transported momentarily to the Doha Marriott – they are able to navigate the website and explore the suite options, amenities and more. All of this was created with today's travel shopper in mind: a multi-screen shopper who wants to know how you can provide them with a unique travel experience.

Social Butterfly

Social media is one of the best ways to engage with your audience and to reach more potential guests than ever imaginable. The Doha Marriott is active on many social media networks, including Facebook, Twitter, Pinterest, and Google+, in order to tell their story consistently and visually across multiple platforms and reach out while generating more exposure.

Their Facebook page provides a unique experience for potential, future and returning visitors alike. By posting a variety of photos and videos consistently and frequently, as well as using Facebook apps to provide reviews, tours, and more, guests are given the royal treatment without ever having to leave the popular social media platform.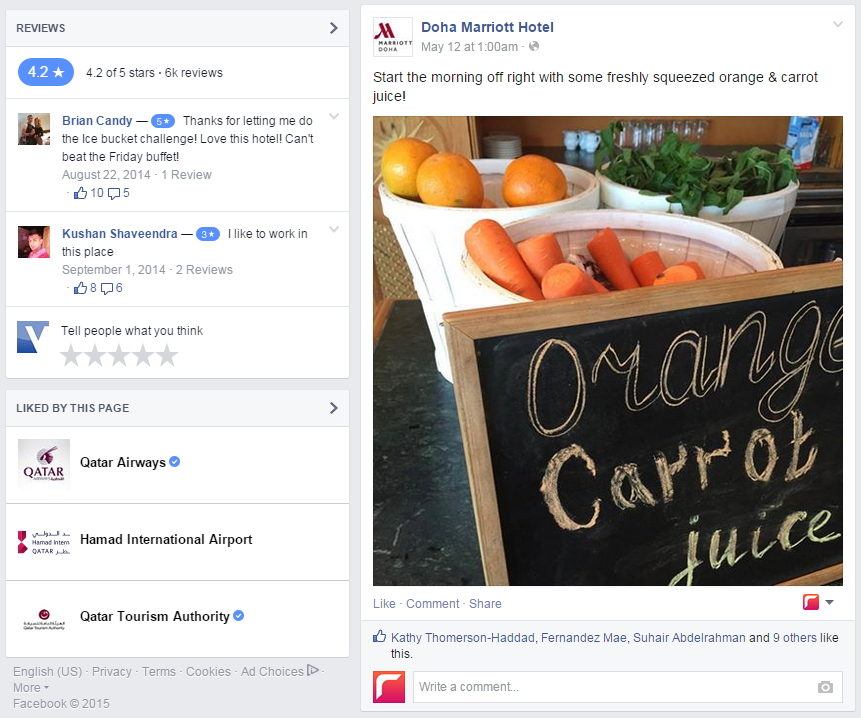 The Doha Marriott is also able to effectively use the rapidly growing Pinterest in order to display alluring photos grouped into categories. One thing this allows them to do is showcase food from their award-winning restaurants in an elegant way.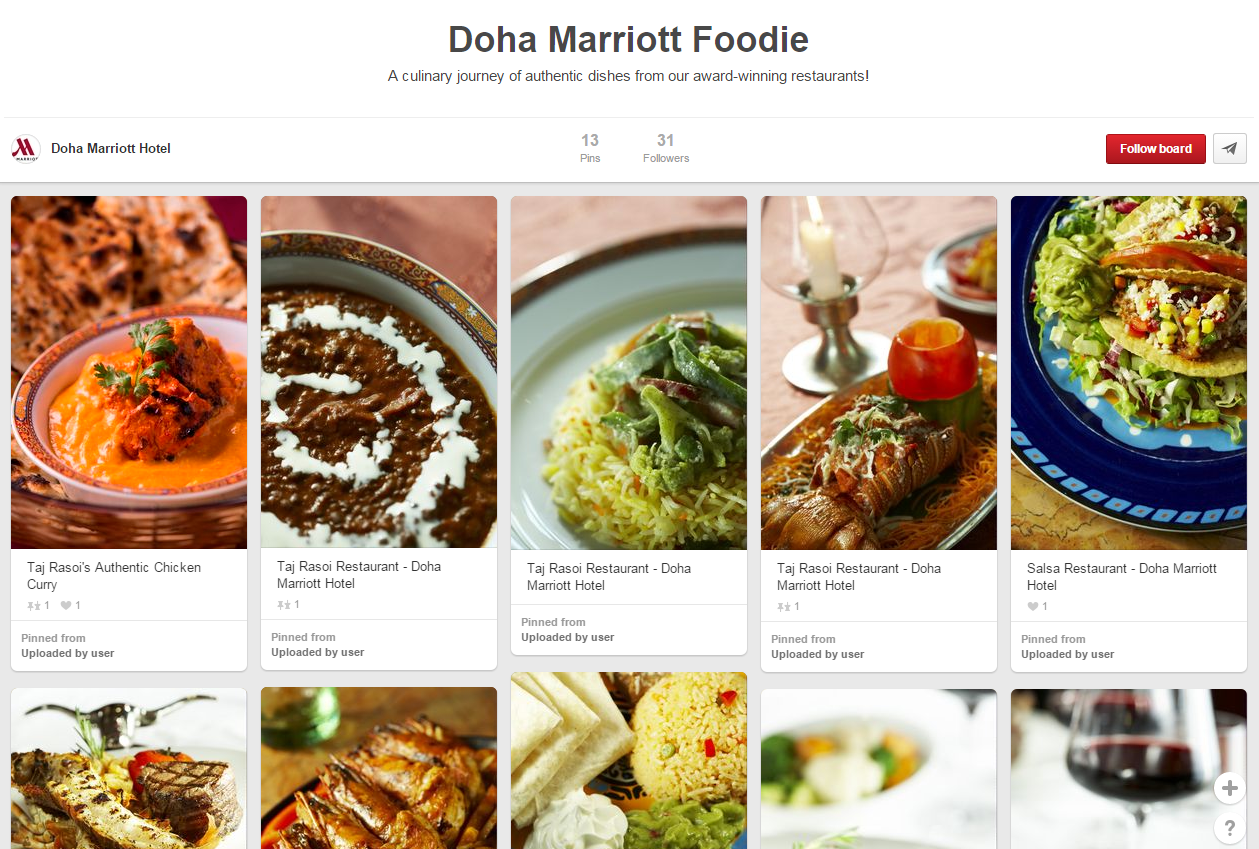 Amazing work, Doha Marriott!
By concentrating on visual appeal and participating actively on social media, the Doha Marriott was an obvious choice for our newest Superstar Storyteller.
Is your property's website as visually-compelling as the Doha Marriott? Put it to the test with our Scorecard!