All
Superstar Storyteller: DoubleTree by Hilton Bethesda
---
You have a story to tell, a mission statement, a feature, a location or an experience just waiting to be shared. Every hotel is unique and should use its voice to communicate with travel shoppers.
The DoubleTree by Hilton Bethesda is a modern luxurious hotel located just outside the heart of Washington D.C., just a half hour away from the White House. They offer a high quality experience for guests by providing technology-friendly rooms with Wi-Fi and high definition TVs, as well as exquisite dining experiences with a wide variety of options. But it's how they effectively communicate these features in their hotel story that makes them our new Superstar Storyteller.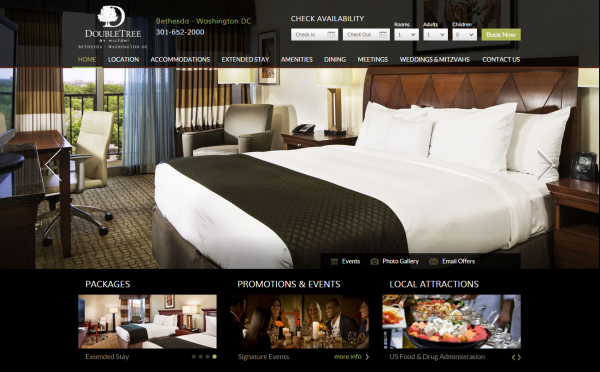 Visually Enticing
From their visually-compelling website, to their visually-appealing Facebook page, the DoubleTree by Hilton Bethesda is an exemplar visual storyteller. The DoubleTree by Hilton Bethesda makes their hotel story on Facebook compelling by featuring their rooms and dining facilities in their cover photo, which are the top two hotel images that travel shoppers want to see.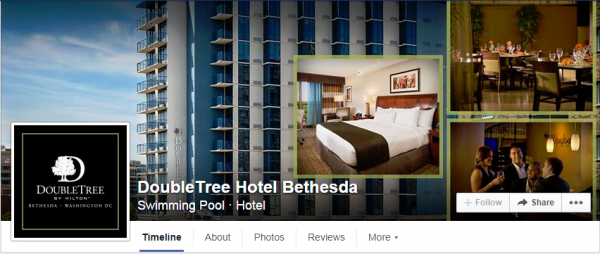 Their hotel stands out by including people in the photos they share on social media and their hotel website which allows travel shoppers to envision the experience they'll have at that hotel.
Invite Travel Shoppers to the (Local) Party
Exciting events and fun parties are in the DoubleTree by Hilton Bethedsa's DNA, with themed parties ranging from Havana Nights to New Year's Eve! The DoubleTree by Hilton Bethesda does a great job of sharing updates on local events which lets travel shoppers know what's fun and exciting in the area and allows travel shoppers to imagine where they will adventure off to, or what events they can see themselves at, and give them a reason to book with them.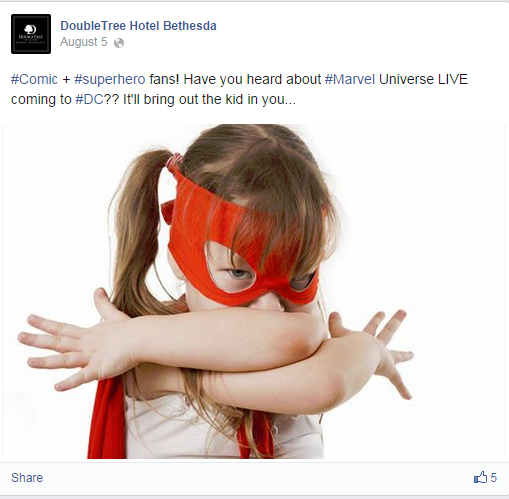 Travel shoppers have an App-etite
They're also using Facebook apps to showcase their amenities such as their guest rooms, event rooms, and business facilities. Are you a business traveler looking for a great place to host your next conference? Look no further than DoubleTree by Hilton Bethesda's Meet app on their Facebook page. You can browse through their state-of-the-art conference facilities which are showcased elegantly through their multi-media Facebook Apps. Considering 74% of all online adults use social networking sites, Facebook apps can help you stand out from the competition and put your hotel story front and center where travel shoppers are researching and booking.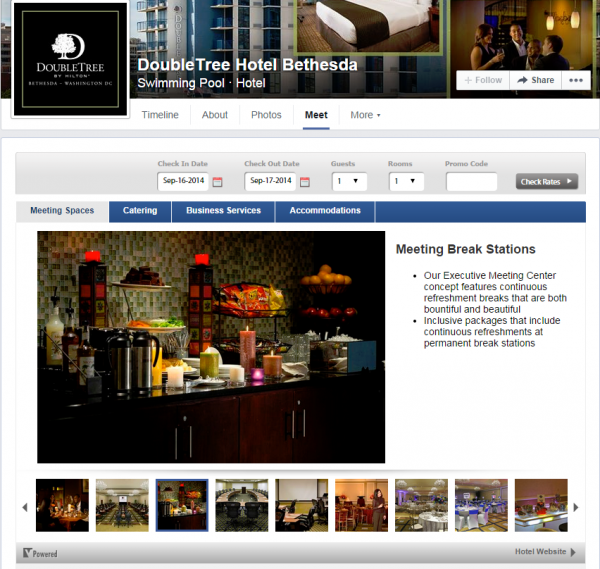 The DoubleTree by Hilton Bethesda has done a stellar job at utilizing their digital marketing efforts to tell their hotel story to travel shoppers. Their creative and exciting approach to telling their hotel story through the use of their Facebook and website makes them our newest Superstar Storyteller!