All
Superstar Storyteller: DoubleTree by Hilton Hotel & Conference Centre Regina
---
You have a story to tell, a mission statement, a feature, a location or an experience just waiting to be shared. Every hotel is unique and should use its voice to communicate with travel shoppers.
Modern, sleek, warm, convenient. These are just some of the adjectives that can be used to describe the DoubleTree by Hilton Hotel & Conference Centre Regina. Located in the heart of Regina, it is the perfect hotel for guests who want to explore Saskatchewan's capital city and for business travelers – since the property is located just steps away from major head offices and companies. It is also the perfect hotel to use as an example for impressive visual storytelling – which is exactly why they are our latest Superstar Storyteller!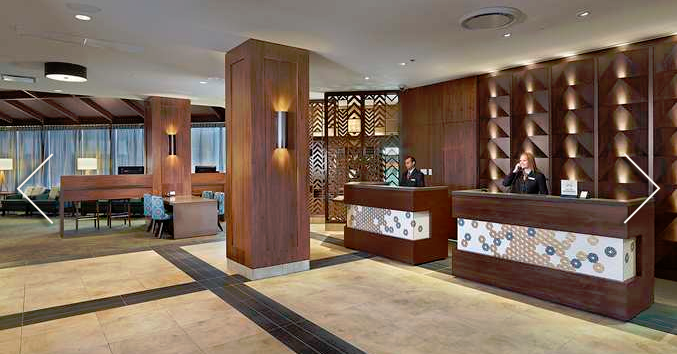 DoubleTree by Hilton Regina does a great job taking their VBrochure player and making it their own. VBrochure is a platform that displays hotel's visual stories in an attention-grabbing way. The hotel property  tells their story to travel shoppers online by highlighting their own specific and unique hotel features (see a picture of their VBrochure below). They achieve this by including descriptive photos and customized text and tabs within their online digital media player.
To appeal to one of their target demographics, the business traveler, the DoubleTree by Hilton Regina includes many captivating and expressive photos of their meeting facilities, instead of just the typical pictures of the lobby and guest rooms. The hotel also decided to take it one step further by including images of the different array of snacks and drinks a business traveler can expect to have when attending a meeting there.
For DoubleTree by Hilton Regina, it's all about telling their unique visual story online in a creative way. They've noticed that a customized visual story can help separate a hotel from a busy online crowd. That's why they customize their digital media player's tabs. Instead of just saying "Gym" or 'Fitness Centre," they named their workout facility tab as "Stay Fit." This helps grab attention and induces a travel shopper to click on the tab to see exactly how they can "Stay Fit" when they stay at the hotel, on business or pleasure.
There are many benefits of having a well-told visual story on the web. It can help your hotel gain awareness and, more often than not, increase bookings. These benefits are magnified when your story is not only beautiful, but unique and customized as well. When a hotel property includes many customized photos and tabs, like DoubleTree by Hilton Regina does, it allows travel shoppers to better understand all the great experiences that they can expect when staying at their hotel. Don't be afraid to show off every aspect of your hotel's unique visual story – even the snacks!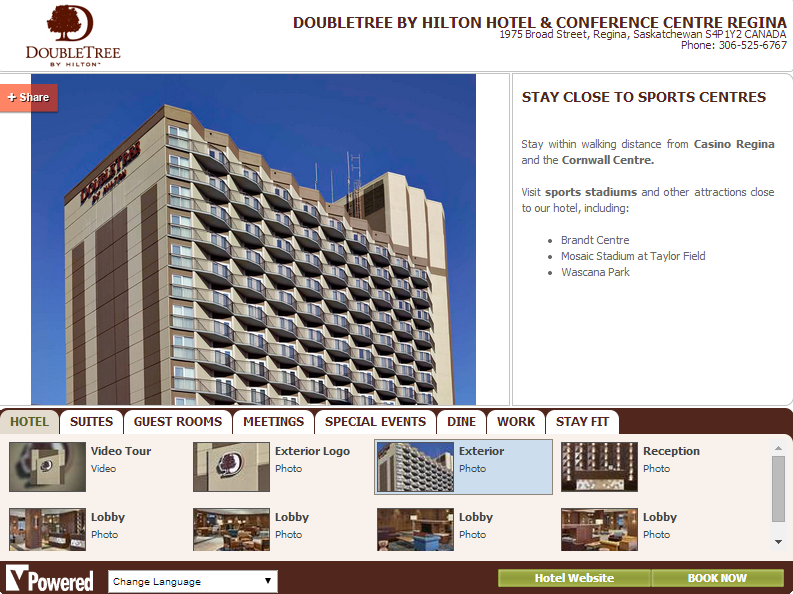 DoubleTree by Hilton Hotel & Conference Centre Regina also is a social media guru. They definitely know how to make use of VBrochure's Facebook Apps feature, which allows hotels to further customize their online visual story by placing individualized icons directly on the hotel property's Facebook page. DoubleTree by Hilton Regina has done a beautiful job stylistically incorporating Facebook Apps onto their Facebook page to increase travel shoppers' engagement. They even include an app that highlights their on-site restaurant, even though the restaurant has a Facebook page of its own. Why not get double the exposure if given the chance? Thanks to Facebook Apps, this bonus digital marketing is possible.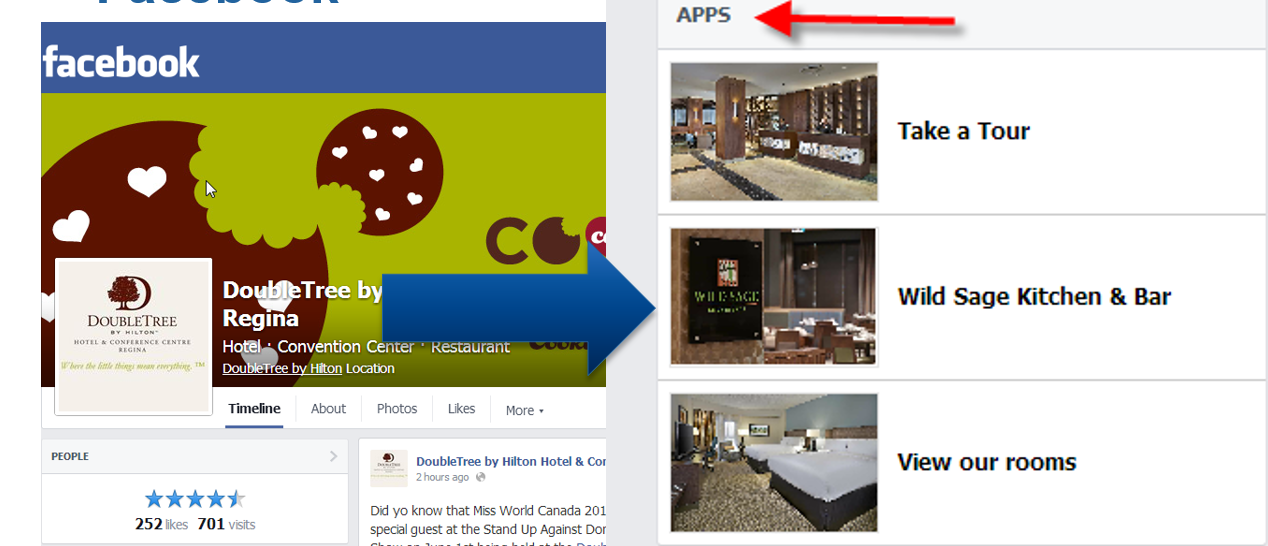 DoubleTree by Hilton Hotel & Conference Centre Regina knows how to command attention online. With their creatively done VBrochure player, they are able to seamlessly broadcast their hotel's visual story to travel shoppers everywhere. Whether someone is looking at the hotel's stunning images and videos through their VBrochure player or admiring their informative Facebook Apps, DoubleTree by Hilton Regina is one step closer to securing a booking.