All
Superstar Storyteller: Grant Hall Hotel
---
You have a story to tell, a mission statement, a feature, a location or an experience just waiting to be shared.  Every property is unique and should use its voice to communicate with travel shoppers.
A building, like a good story is built with a strong plot and intricate details, which can stand the test of time. The Grant Hall Hotel, nestled in Saskatchewan, Canada's third largest city, Moose Jaw, is both.
The Grant Hall Hotel opened its doors in May 1928 and was modeled after the CPR hotels of the time. In 2001, this landmark property's infrastructure was brought up to date with green initiatives and has evolved into the perfect stay for not just corporate travelers and leisure guests, but celebrities and royals, as well.
The Grant Hall Hotel's online story is complemented with compelling website images, strong social media presence and highlights their unique dining experience.
Once Upon a Time. . .
The Grant Hall Hotel's original website had a single image, which although bright, doesn't exemplify the warmth of their small town hospitality and all the amenities it has to offer.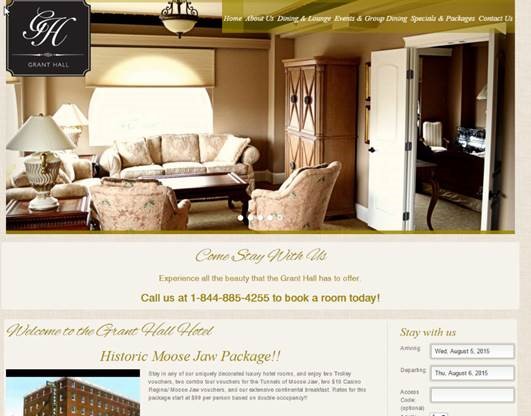 Before: The Grant Hall's website before switching to Vizlly, Leonardo's Multi-Channel Digital Marketing System
The Apex of the Story
To tell a better story, Grant Hall needed a visual website that showed travel shoppers everything they have to offer. Now the Grant Hall Hotel utilizes the must-have features for a visually-compelling website, including:
Key images displayed prominently on their homepage
Easy to navigate and customized pages
Booking engine accessible on every page
Here you can see the Grant Hall Hotel integrating multimedia and strong visuals in every aspect of their website, all while giving their guest the ability to book their stay or check rates whether they're checking out the hotel's Dining Room & Lounge scrumptious menu by their award winning Executive Chef, Roger Joharchy, or the Grant Hall Hotel's Reviews as the number one hotel in Moose Jaw.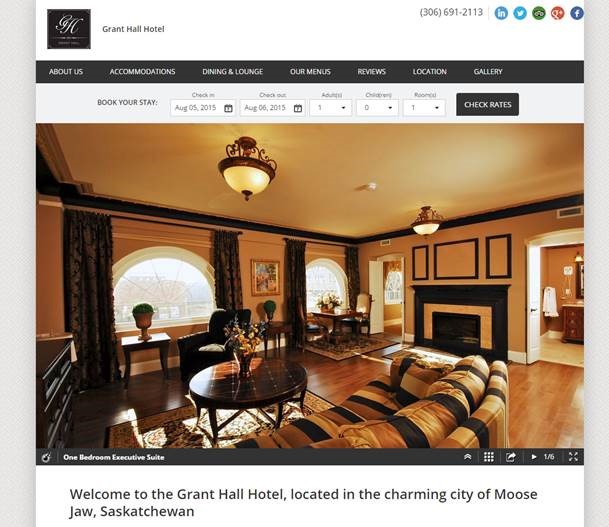 After: The Grant Hall Hotel's website after switching to Vizlly, Leonardo's Multi-Channel Digital Marketing System
Plot Twist
90% of consumers say enticing visuals are the most important factor in their purchase decision.
By using multi-media Facebook Apps, Grant Hall allows travel shoppers to take a visual tour of the property when travel shoppers are browsing their Facebook page and gives them the ability to check rates.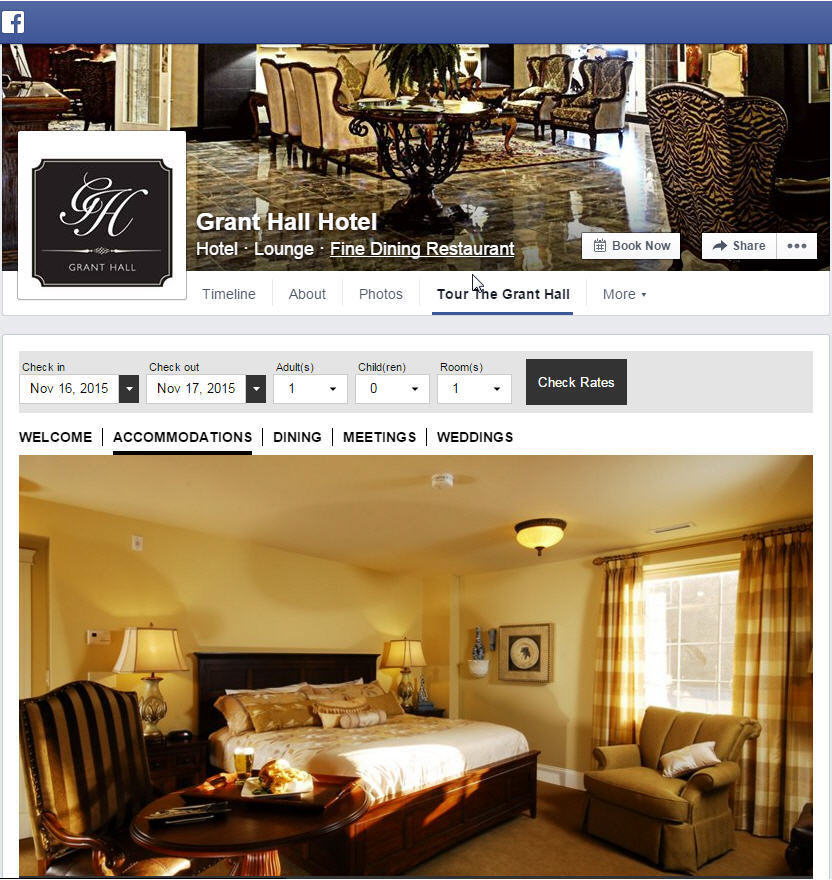 Congratulations, Grant Hall!
The Grant Hall Hotel shines as this month's Superstar Storyteller! They tell a consistent narrative across multiple platforms, including their website and social media platforms, which makes travel shoppers want to come visit.
Does your hotel, inn or B&B's website capture the imagination of your guest? Check out our scorecard and find out if you're Creating Visually-Compelling Websites That Drive Bookings.