All
Superstar Storyteller: Hampton Inn Vancouver Airport/Richmond
---
You have a story to tell, a mission statement, a feature, a location or an experience just waiting to be shared. Every hotel is unique and should use its voice to communicate with travel shoppers.
A common theme we hear from many hoteliers based around airports is that they have a difficult time comprehending what their story is. Every hotel, no matter the size or location, has a story embedded in their roots.
The Hampton Inn Vancouver-Airport/Richmond has done a magnificent job establishing themselves as a central and convenient hub for business and leisure travelers in the Greater Vancouver area. Creating a vibrant visual presence with Vizlly, Leonardo's Digital Marketing System, combined with dynamic media galleries and a Facebook page-turned booking machine, are only some of the reasons why this Western Canadian hotel is our latest Superstar Storyteller.
Vizlly Visionaries
Utilizing Vizlly, our new Multi-Channel Digital Marketing System, the Hampton Inn Vancouver-Airport/Richmond have designed a visual-first website, telling their story with well targeted images of their rooms and amenities – sticking to the basics and giving travel shoppers exactly what they're looking for.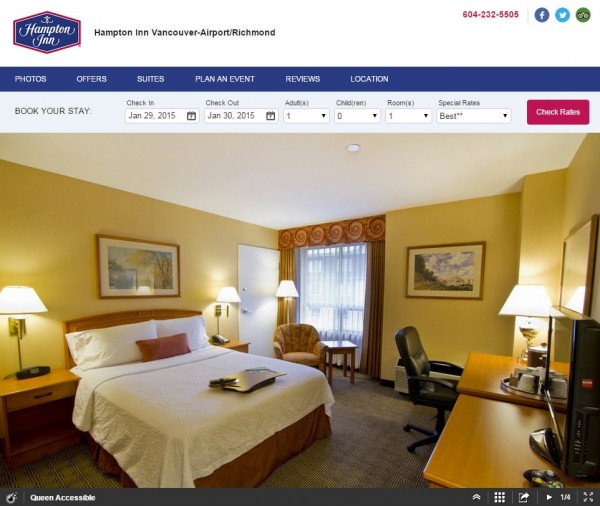 People retain 80% of what they see and only 20% of what they read and it's quite evident they are well aware of this statistic by the overall layout of their website. Remember the analogy about why the "upper fold" of a newspaper is so effective? The upper half of the screen is a massive visual because that's the first thing people see and that's also why they've effectively placed their booking engine and links to their social media pages within easy first sight.

The text and bullet point descriptions effectively outline the nearby attractions, meeting spaces, workout facilities and their 100% guarantee of satisfaction. They don't mask their amenities with paragraphs of redundant details and the media galleries aren't oversaturated with a redundancy of images. Each one holds a specific purpose by letting the travel shoppers visualize their stay.

Facebook Conversion Machine

The Hampton Inn Vancouver-Airport/Richmond take a solid approach by showcasing local content on their Facebook page, providing a range of ideas for guests fresh to the area. They don't stop by being content curators, however.

Essentially, their Facebook page is an extension of their website and acts as a funnel for prospective guests looking to book. Their apps outline Trip Advisor reviews, special offers, details outlining their rooms and even a built-in booking engine. You can also request for a price range just by clicking on their link and they get right back to you with the required information.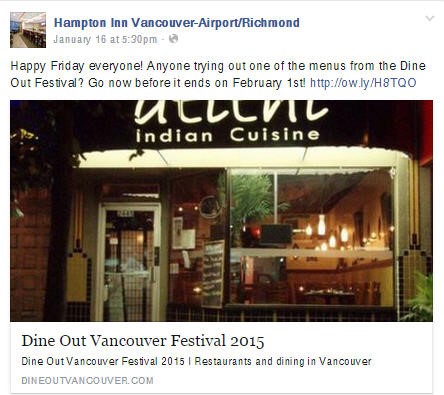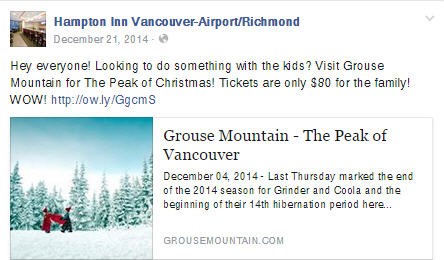 Mobile Movements
Realizing the power and massive brand recognition the Hilton umbrella holds, The Hampton Inn Vancouver-Airport/Richmond not only made sure their smartphone and tablets were optimized, but that they remained consistent with the Hilton templates.
The Hampton Inn Vancouver-Airport/Richmond have cemented themselves as effective storytellers by telling a compelling narrative by keeping it simple. They understand what prospective shoppers are seeking in a hotel and provide that information in a neat layout designed to help with the process. Taking a page from an efficient content marketer's script, they help and not hype.

Interested in what the key ingredients for a Superstar Storyteller are? Check out our eBook: Content Marketing 101 for Hotels: What, Why and How to learn how you can create content that tells your hotel's story.