All
Superstar Storyteller: Holiday Inn Chicago Mart Plaza River North
---
You have a story to tell, a mission statement, a feature, a location or an experience just waiting to be shared. Every hotel is unique and should use its voice to communicate with travel shoppers.
Located atop the Chicago Sun-Times building, the Holiday Inn Chicago Mart Plaza River North overlooks the city with breathtaking views. More importantly, the Holiday Inn Chicago Mart Plaza River North does an excellent job of telling a compelling hotel story with rich visual content. They also allow travel shoppers turn the pages of their story through their extensive presence on social media channels that immerse travel shoppers in their hotel and city experience. Their story doesn't stop there though, they also utilize the extensive power of the VNetwork to spread their story to thousands of third party travel websites. Learn how to effectively attract travel shoppers with great digital marketing tools from this Superstar Storyteller.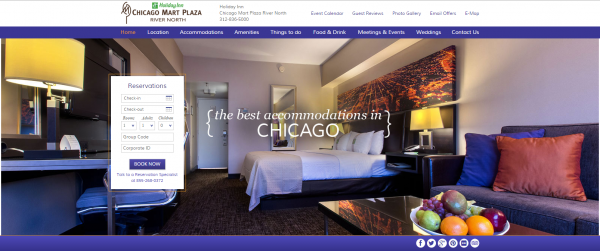 A Visual Masterpiece
Visuals are the focal point on the Holiday Inn Chicago Mart Plaza River North's website. Each website pages includes rich visuals that highlight their amenities, such as their spacious rooms, dining facilities, pool, and wedding rooms, as well as local attractions and city views. Featuring a wide variety of visuals of your property and city is a great way to immerse travel shoppers in your hotel's experience. Considering 90% of information sent to the brain is visual, it would be safe to say that a visual website would be far more memorable to the travel shopper than a text-heavy one.

A Social Media Butterfly
The Holiday Inn Chicago Mart Plaza River North utilizes the power of social media through six channels that have extensive reach and range. Not every hotel stays active on multiple channels, but this Superstar Storyteller keeps their hotel story fresh on Facebook, twitter, Instagram, Flickr, Pinterest, and Google+.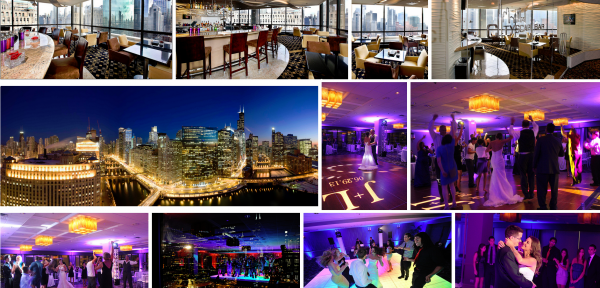 They also follow the best practice of keeping their story consistent on their social media channels by re-purposing content across their most active pages, such as twitter, Facebook, and Google+. It's a great idea to re-purpose content and keep your story consistent to travel shoppers on social media, as a large amount of travelers are using various social media platforms for vacation inspiration.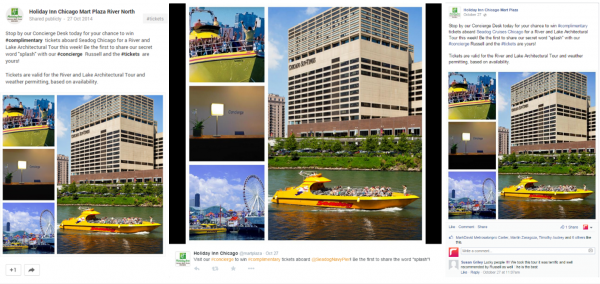 Not only do they do an excellent job of keeping travel shoppers up to date with all their content, they also utilize Facebook Apps such as special offers that help drive direct bookings as well as a customized Facebook app that features a multi-media player that is jam-packed with high quality photos and 360° tours.
Mobile Friendly
The Holiday Inn Chicago Mart Plaza River North knows travelers are using mobile to research for hotels online (52% of luxury travelers and 29% of all travelers are likely to book on mobile) and their smartphone and tablet optimized website is filled with rich visuals, easy navigation and a booking engine. The mobile optimized website is organized with the same tabs as the desktop version, but is appropriately sized and formatted so that travel shoppers can easily browse and discover the hotel's story through their mobile devices. They understand the growth of mobile, as searches on mobile is set to outpace desktop by 2015! Mobile is only growing, and understanding the importance of having your hotel's website mobile-optimized will only set you apart from the competition and allow for more traveler shoppers to discover your story.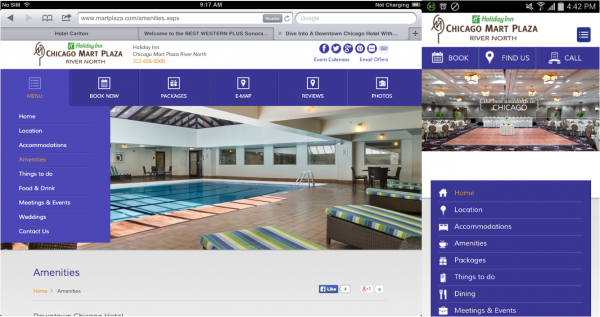 The Holiday Inn Chicago Mart Plaza River North's online presence truly speaks for itself – from their compelling website to engaging social media presence, they're truly enticing travel shoppers to pick them. Congratulations on becoming our latest Superstar Storyteller!
Want to learn some excellent tips to amplify your hotel's website and become a Superstar Storyteller like the Holiday Inn Chicago Mart Plaza River North? Read: The DOs & DON'Ts Of Effective Hotel Websites.