You have a story to tell, a feature, a location, or an experience just waiting to be shared. Learn from our Superstar Storytellers who are using their unique story to stand out to travel shoppers.
When your B&B is rated number #22 out of 50,000 in the USA, and #1 in your area, you must be doing something right. Malolo Bed and Breakfast is a charming property nestled in the quiet community of Marshall Heights in Washington DC, and a labor of love for owners David Alaga and George Lopez.
Guests experience firsthand the care that goes into everything, from the cozy rooms to the elaborate meals, complete with authentic Hawaiian entertainment. Malolo means 'to rest' in Samoan, and that's exactly what guests do when they're at this property – it's a little slice of Hawaii in Washington DC.
David and George's impeccable attention to detail has earned them a TripAdvisor Traveler's Choice Award and very high ratings on TripAdvisor. By leveraging guest reviews and showcasing their unique story, Malolo B&B's website has become a direct booking machine – one that's reduced their reliance on OTAs by 25%.
Let's take a closer look at what makes Malolo's hotel website so successful.
Visually Stunning
Malolo Bed and Breakfast has a visually-stunning homepage, which immediately conveys their value proposition without visitors having to read a word of text. They lead with images of their hearty breakfasts, comfy beds, Hawaiian-themed rooms and the friendly owners themselves! Travel shoppers can see instantly that this property is unique, and is run by two people who care about their guests' experience.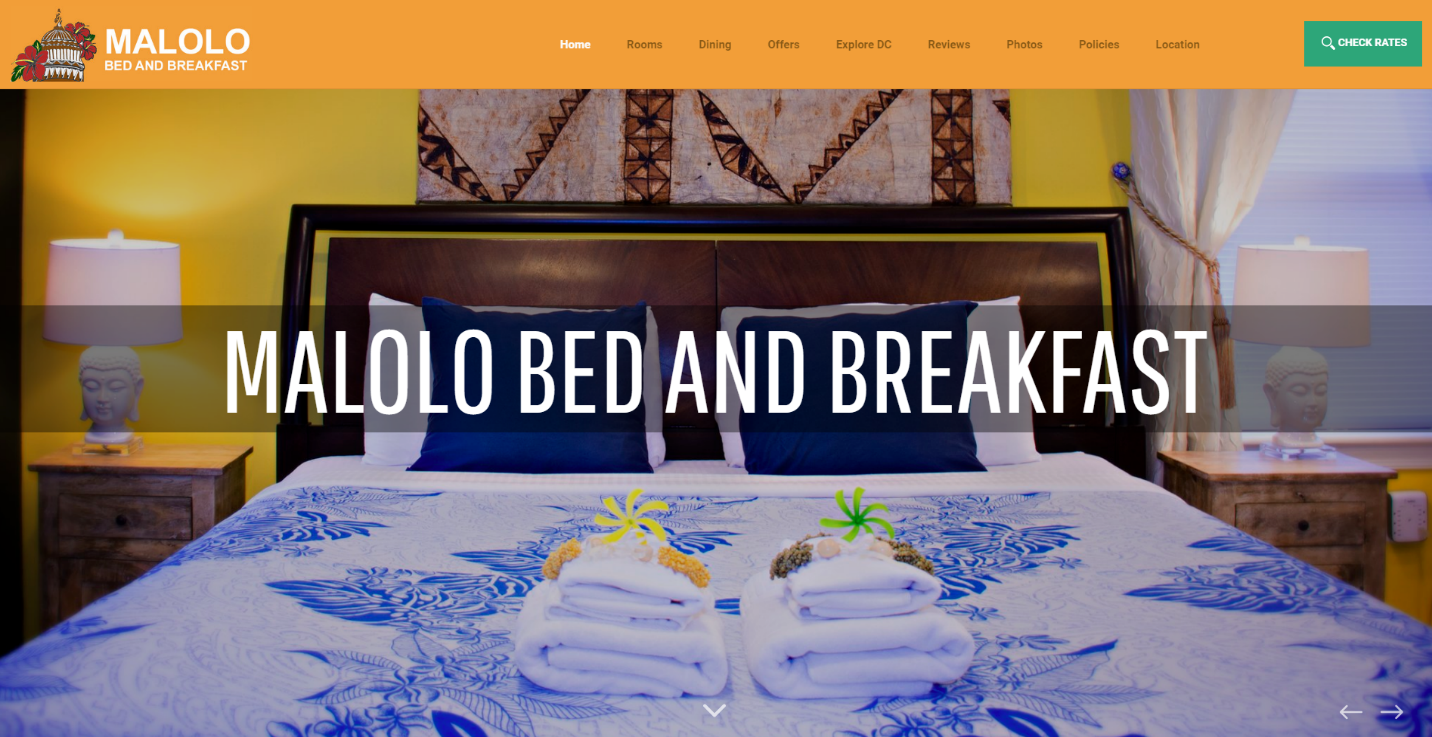 Galleries Galore
Their attention to detail is everywhere, including their online gallery. Photos are organized and categorized with the travel shopper in mind. Notice the titles for their galleries, "Spacious Accommodations," "Yummy Breakfasts," "South Pacific Hospitality" – David and George use enticing adjectives to draw the travel shopper into their world.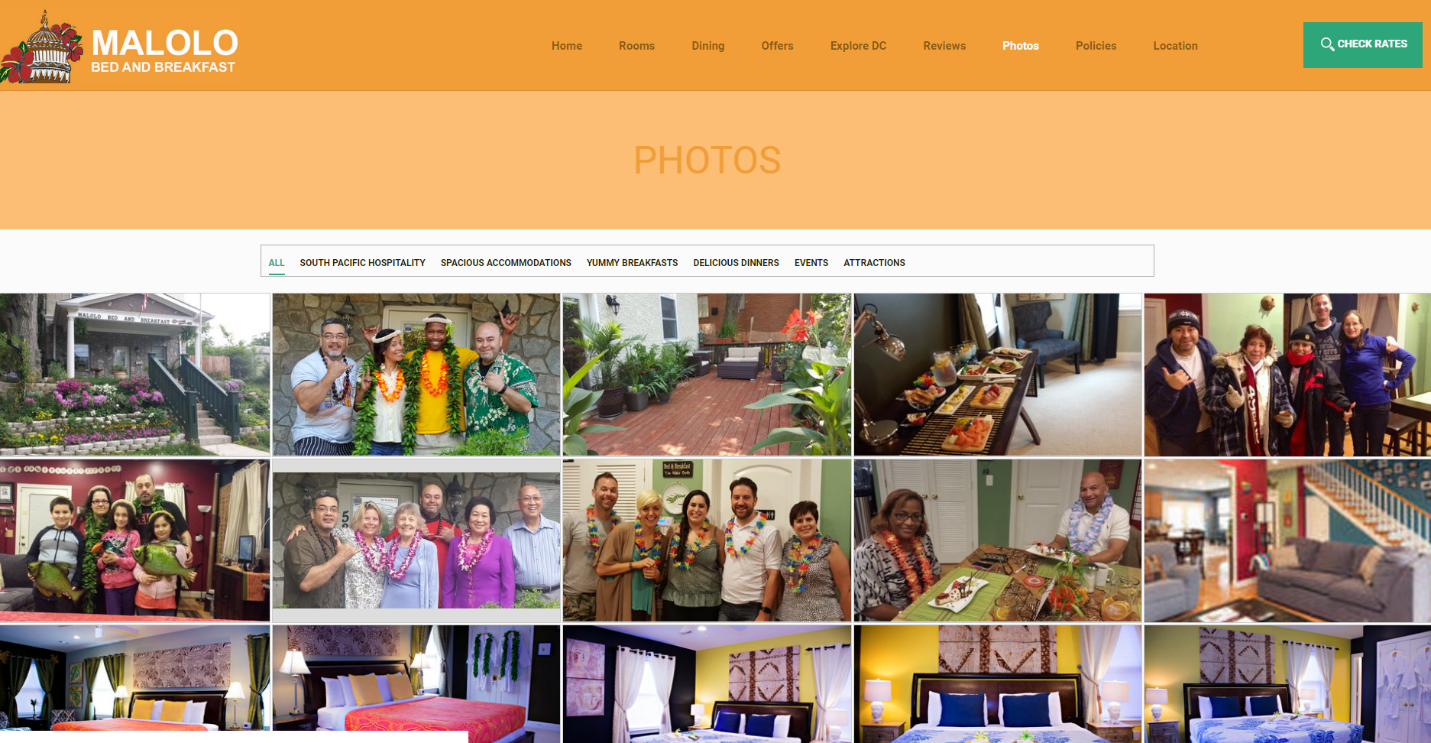 A Room with a View
It's hard to decide which room to choose – they all look so beautiful! Each of Malolo's 4 bedrooms are accompanied with beautiful hi-resolution images, taken from multiple angles, to convey their spaciousness and relaxing atmosphere. The inclusion of bathrobes hanging on the door is a nice touch, so travel shoppers can see what's included without having to read about it.
That said, their room descriptions and captions are excellent, painting a picture through words of what guests will experience. "Get a great night's sleep in the comfortable king bed and wake up with a big appetite. Join us for a delicious made-to-order omelette which is sure to satisfy your hunger. In the evenings, when you return to your room after a hectic day, take a soothing shower in your private bathroom, wrap yourself in a bathrobe, and unwind by using the free Wi-Fi or stream some Internet videos."
Notice the use of bold words, so visitors can skim through quickly and still get all the main points.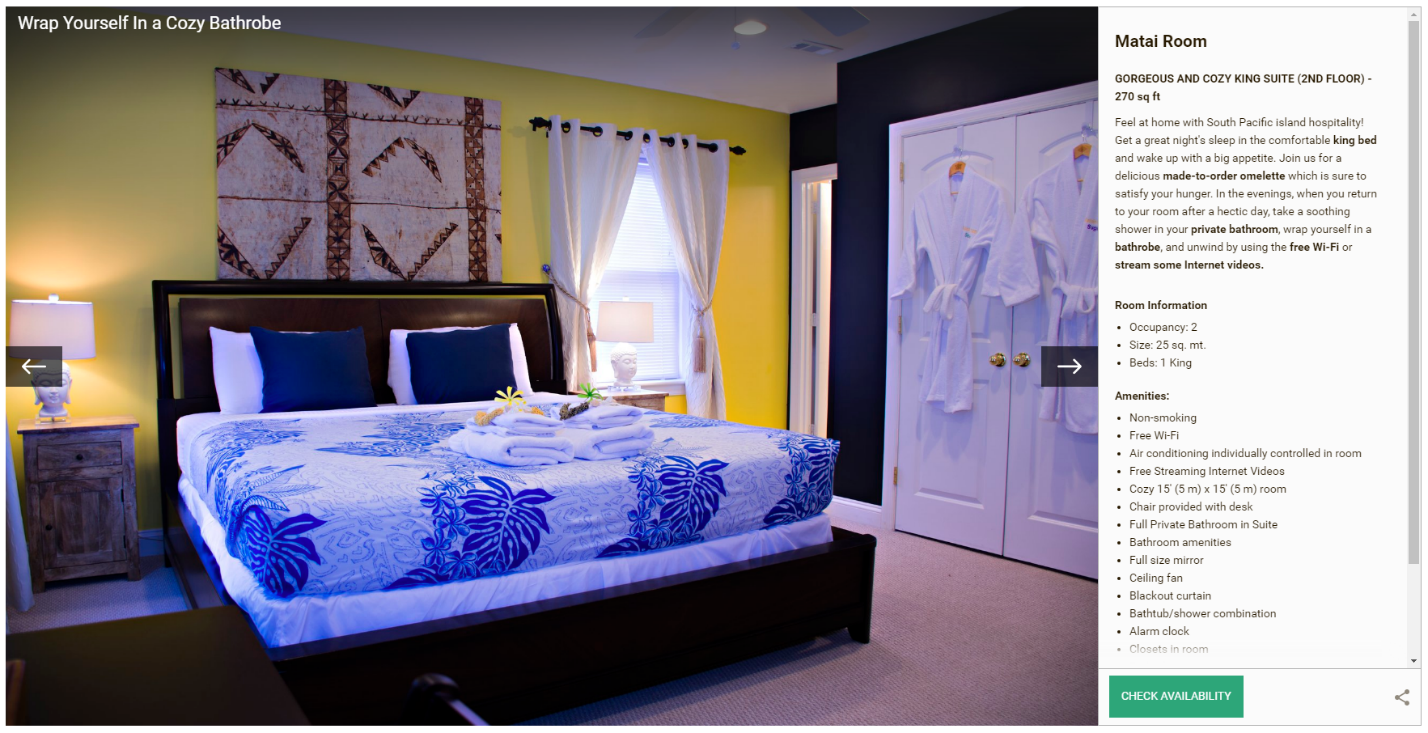 Unique Special Offers
Yes, travel shoppers want to see special offers, but Malolo Bed and Breakfast has taken it a step further, partnering with local business like the Big Bus Tour so guests can purchase tickets in advance. They even have their very own airport shuttle service – a great way to earn ancillary revenue while catering to their guests' needs.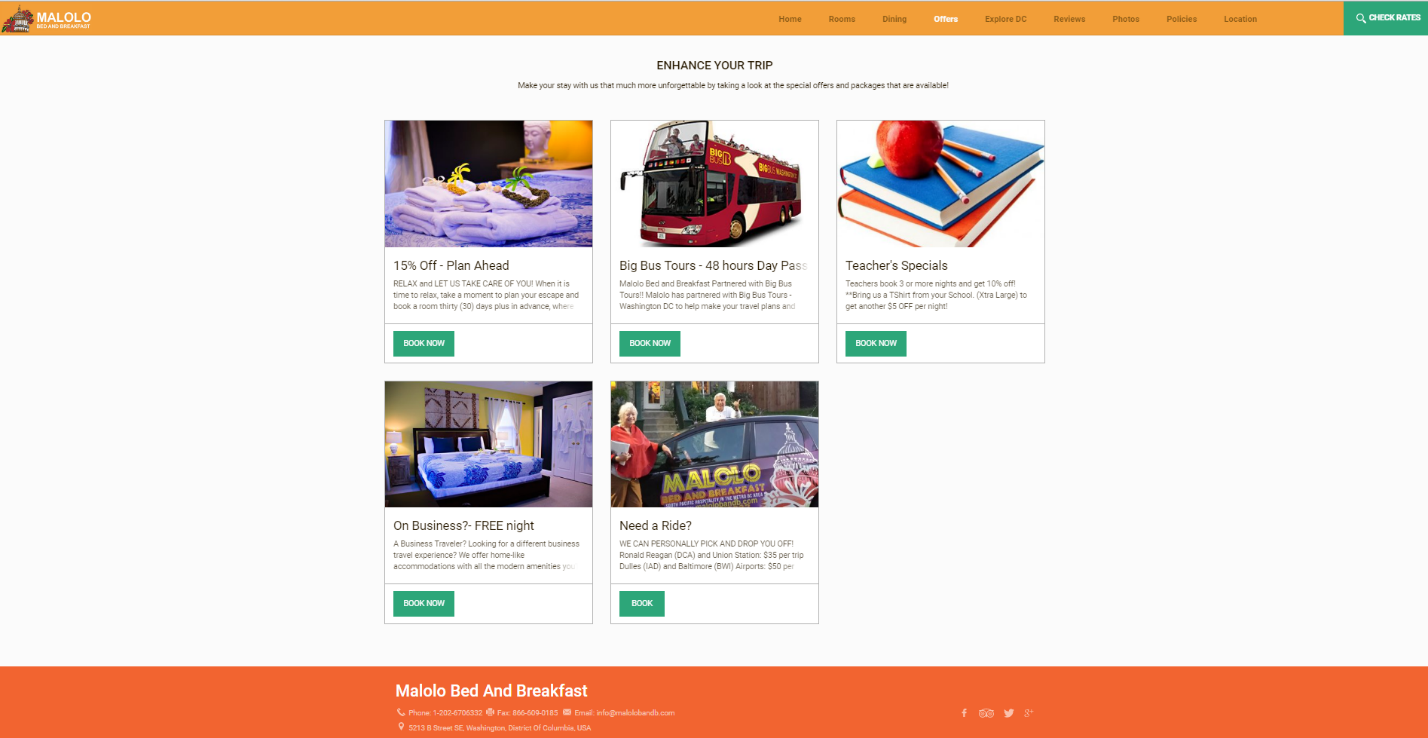 Location, Location, Location
Not sure what to do in Washington DC? Malolo Bed and Breakfast has you covered, highlighting its local destination on a standalone page, which is easy to find from the top menu navigation. Keeping travelers top of mind, they identify how far the property is from leading attractions and how to get there, with external links to help travelers plan their trip.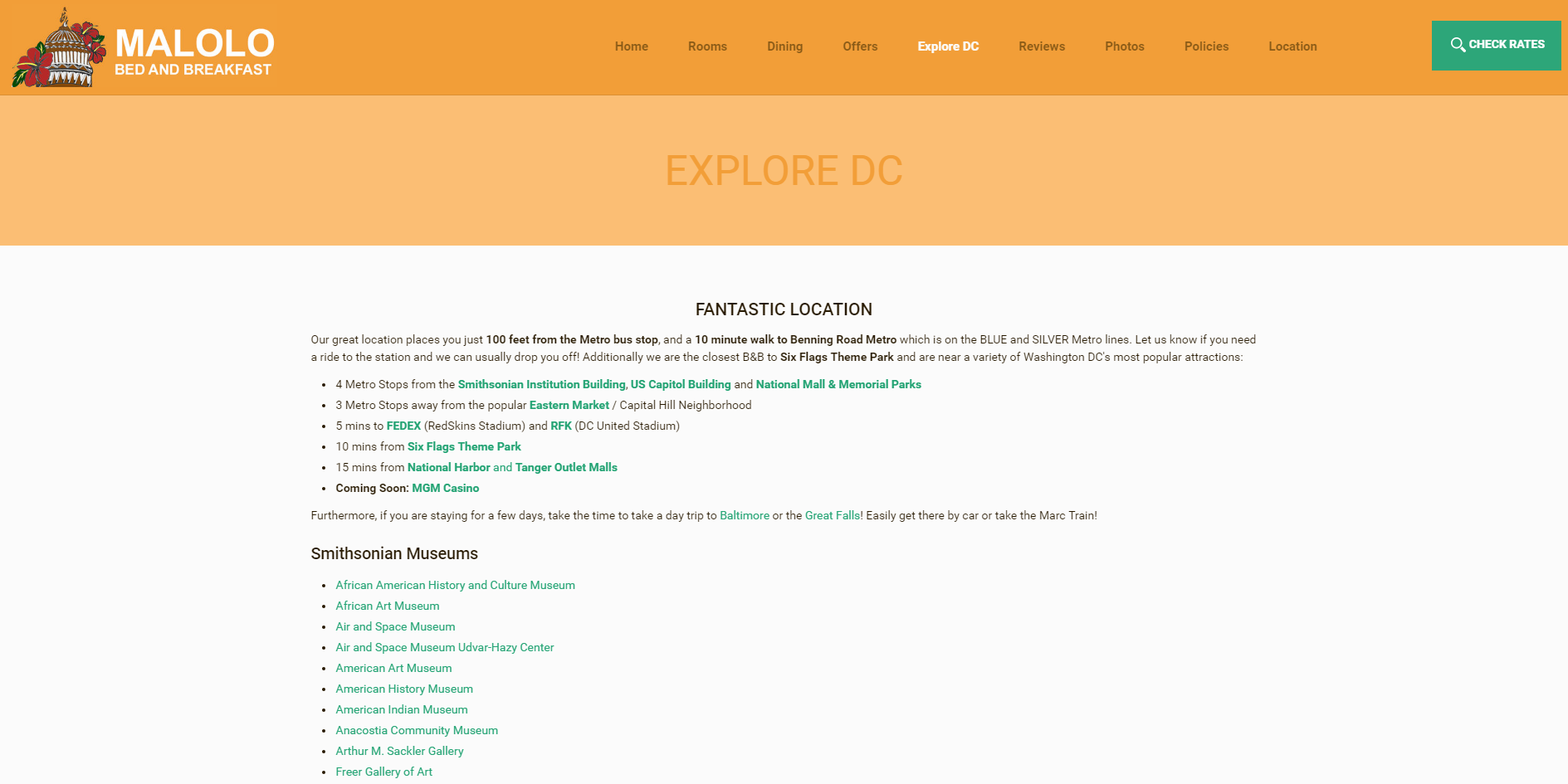 Keeping it Social
Finally, Malolo B&B is very good at highlighting guest reviews, both on its website and on social media. They recognize that guest reviews heavily influence a purchase decision; potential guests want to know what other guests think. Their Facebook profile picture therefore shows off their TripAdvisor Certificate of Excellence, and they've embedded their TripAdvisor page onto their Facebook page. It makes for a pretty compelling reason to book!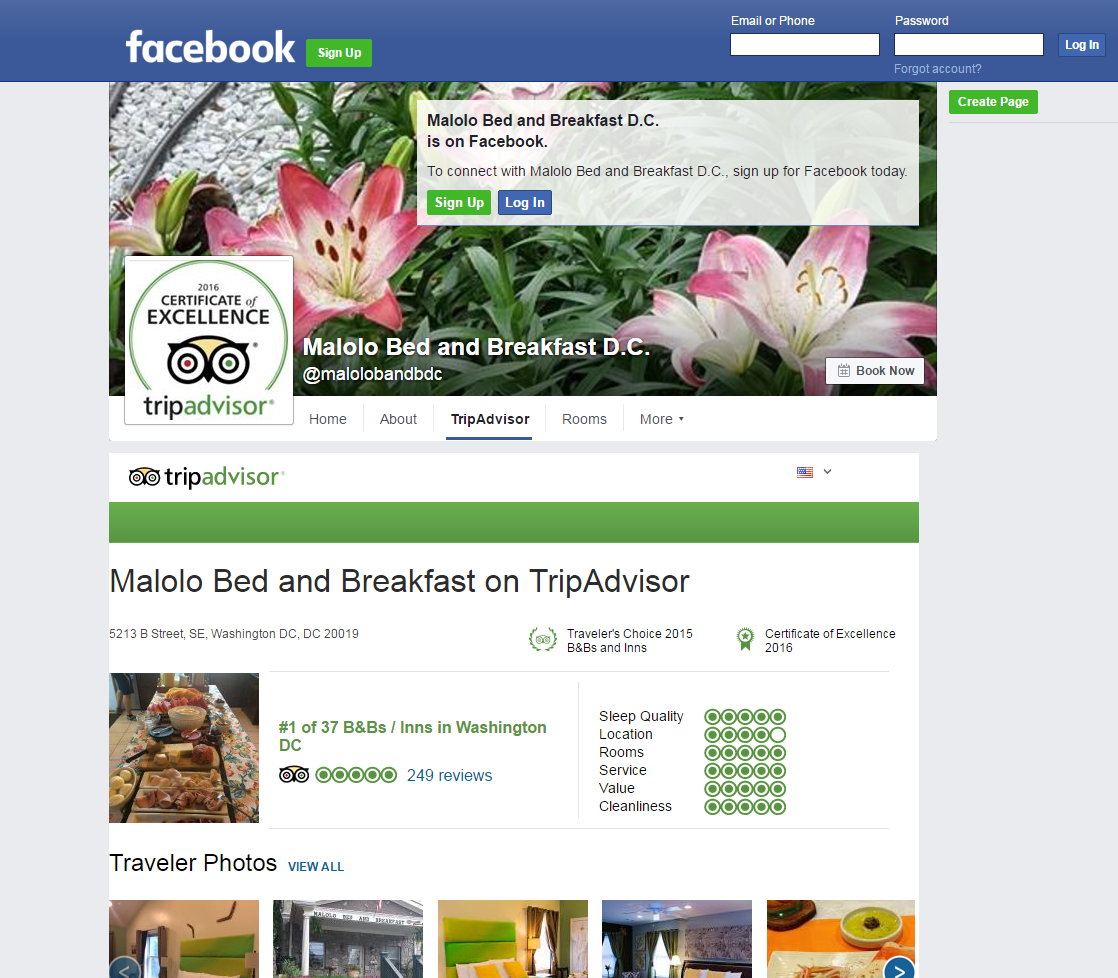 Keep up the great work Malolo Bed and Breakfast!
By leading with visuals, compelling copy, unique special offers, and incredible guest reviews, Malolo B&B is setting itself apart online, and has us seconds away from clicking "Book Now!"
We're so pleased they partnered with Vizlly, our Multi-Channel Digital Marketing solution, to help tell their story.
If you'd like to learn more about their experience using Vizlly, and how they decreased their reliance on OTAs by 25% in 3 months, check out their case study.