All
Superstar Storyteller: Manhattan Beach Marriott
---
You have a story to tell, a mission statement, a feature, a location or an experience just waiting to be shared. Every hotel is unique and should use its voice to communicate with travel shoppers.
It's not all about the guest room; travel shoppers want to see what they'll be doing outside of their rooms while on a trip. One of the best ways to capture this is by emphasizing the location of your hotel or resort. This Superstar Storyteller Manhattan Beach Marriott, located in Manhattan Beach, California, uses their close proximity to local culture paired with their massive acreage to capitalize on the amazing activities guests can do when they leave their room!
An exciting and effective way to offer insight into your hotel and the surrounding area is to organize still photos and short videos in a web gallery, posted on your hotel website and Facebook; these visuals can then be shared on other social platforms like Twitter, Instagram, Pinterest, or Google+. Observe how Manhattan Beach Marriott allows travel shoppers to visualize themselves right in the middle of the action while amplifying local attractions of the sunny surfer community.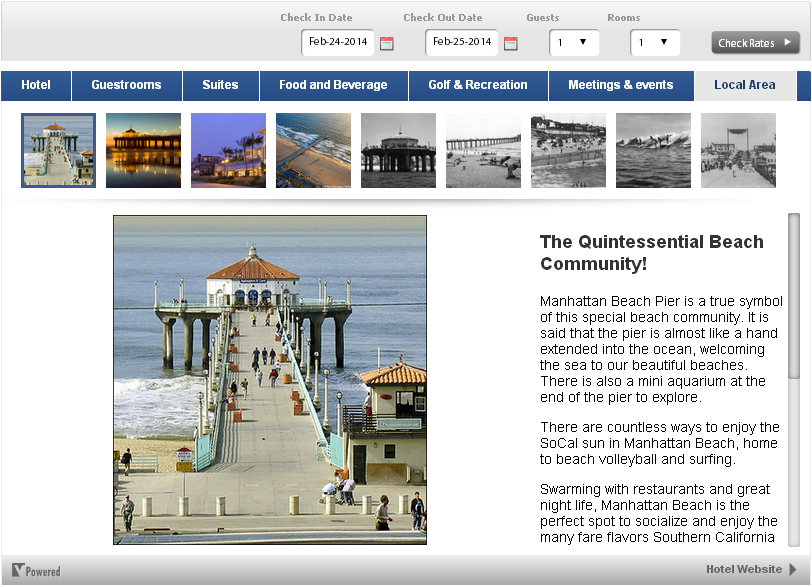 Visitors to the Manhattan Beach Marriott are welcomed with a relaxed, worry-free California vibe and are encouraged to unwind and relax. The resort sits on 26 acres of land, taken advantage of with 373 rooms & 12 suites, newly renovated health club, nine-hole executive style gold course, and a heated outdoor pool complete with a fitness center, sauna, and whirlpool- which is all amplified on their VPowered Multi-Media Web Gallery!
All of these incredible features of the resort are a mix of pleasure and productivity which entice travel shoppers to book by showing them everything the resort has to offer in a simple and easy way. Once travel shoppers feast their eyes on this Superstar Storyteller's amazing visual storytelling, they're able to check booking availability right from their web gallery, taking them directly to the resort's booking page.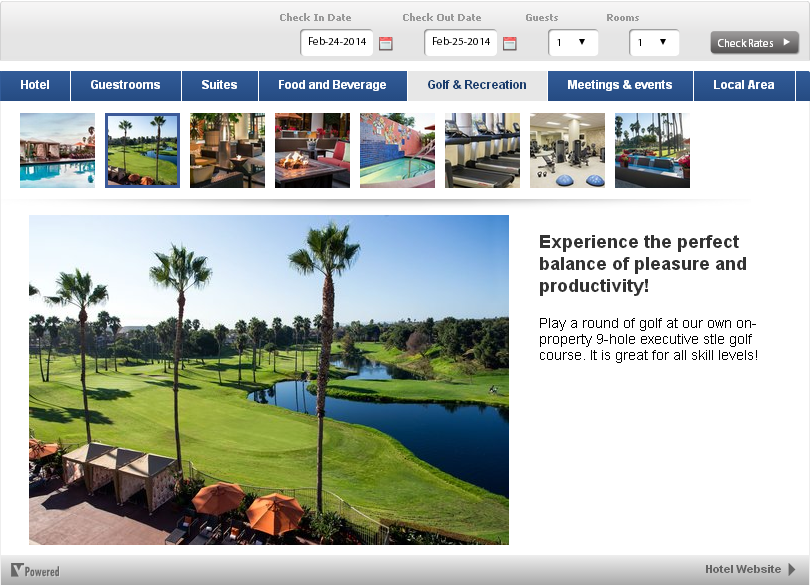 With multiple segments of travelers, hotels strive to identify different needs for different guests; for example a business traveler may have different priorities than a leisure traveler. Whichever type of traveler, it can be a refreshing change for guests to feel encouraged to leave their room. What the Manhattan Beach Marriott strives to do is take travelers out of their room and into a comfort zone that spans the entire resort community. This large resort presents over 23 meeting rooms and 25,000 square feet of total meeting space. Not only can business travelers benefit from the endless amounts meeting space, but they can also take advantage of the extensive golf course. Not an ounce of property is spared as the Manhattan Beach Marriott effectively uses their web gallery to customize tabs and make features like 'Meeting & Events' easily readable and clickable!
The Manhattan Beach Marriott doesn't just want you to stay at their resort; they want you to experience the Manhattan Beach culture, in its entirety. By using visuals of Manhattan Beach from as early as 1924, this Superstar Storyteller takes online travel shoppers on a journey through time and space- as guests are able to see all of the resort's stunning features in a few simple glances.
Who wants to stay in their guest room when such exciting opportunities are to be had on the property of the Manhattan Beach Marriott? Become a Superstar Storyteller like the Manhattan Beach Marriott and customize your web gallery with pictures of your hotel as well as exciting attractions, tourist destinations, and local history. Guests don't just want the four walls of a hotel room, they want to whole picture- so paint it for them.