All
Superstar Storyteller: Sierra Suites
---
You have a story to tell, a mission statement, a feature, a location or an experience just waiting to be shared. Every hotel is unique and should use its voice to communicate with travel shoppers.
Tucked away in Sierra Vista, Arizona, the Sierra Suites is a charming hotel surrounded by museums, fine dining and rocky canyons. But the attractions are not the only reasons this property stands out. In a competitive hospitality landscape, this Superstar Storyteller is targeting their ideal guests with the right message. Online, the Sierra Suites is applying several content marketing best practices to attract their target demographics. Using rich media to educate and engage, potential guests are immersed in the unique experience the Sierra Suites offers.
Customized Content
Business travelers are an important group within the hospitality industry. With 482.2 million business trips made globally in 2014, hoteliers can capitalize on this growing market. Business travelers are more likely to book with hotels that recognize and speak to their personal needs and preferences.
The Sierra Suites takes this a step further and created a customized digital brochure using Vizlly to market their property to corporate travelers as well as meeting and event planners with content that addresses their needs. Never missing a booking opportunity, their digital brochure is syndicated to business and meetings sites like Concur and Cvent.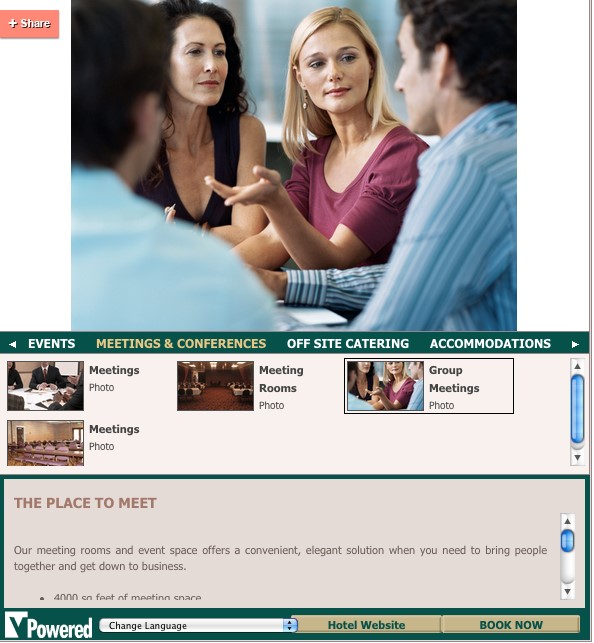 Travel shoppers can seamlessly browse their digital brochure, viewing quality images and snackable descriptions. Divided into four tabs, Events, Meetings & Conferences, Off Site Catering and Accommodations, this digital brochure is easy to navigate and speaks to corporate guests.
Facebook App-reciation
Facebook functionality is important for any hotelier that wants to broaden their audience. On their Facebook Apps, travel shoppers can learn about local events, historic landmarks worth visiting, read guest reviews and book a stay directly from the page. Showcasing their versatility, the Meetings tab also promotes the various amenities and spaces perfect for any business traveler.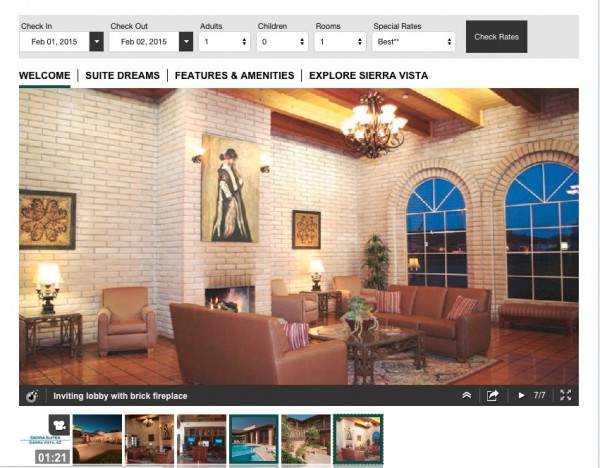 The Sierra Suites is a one-of-a-kind hotel, producing compelling content that appeals to the right audience. On their corporate channels, potential guests are informed of key features important to busy business travelers.
A look through their social pages shows exactly how their message relates to every kind of travel shopper. From the daily quips on social pages to a digital brochure filled with visuals and complimentary descriptions, it's easy to see why their audience is so engaged. For their compelling storytelling and targeted strategy, we name the Sierra Suites a Superstar Storyteller.
To learn more about targeting and how to attract specific guests, download the eBook Everything You Need To Know About Targeting Your Ideal Guest.