All
Superstar Storyteller: Tiki Moon Villas
---
You have a story to tell, a mission statement, a feature, a location or an experience just waiting to be shared. Every property is unique and should use its voice to communicate with travel shoppers.
When you're located in one of the top 25 destination spots in the United States of America, how do you stand out to travel shoppers and set your property apart from the competition? With stunning visuals, creative navigation and captivating local storytelling, Tiki Moon Villas has a recipe for success.
After looking at their website, travel shoppers feel like they are part of the magic that the resort emits. The stunning visuals that are front and center on the homepage and throughout the website allow travel shoppers to imagine themselves relaxing in the Hawaiian oasis.
The user-friendly navigation peaks the travel shoppers' curiosity with creative page names such as "Your Perfect Day." And finally, the captivating local storytelling gives travel shoppers the ability to let their imaginations run wild and plan the experience that will accompany them on their trip.
For these reasons, it's not surprising that we chose the Tiki Moon Villas as our latest Superstar Storyteller.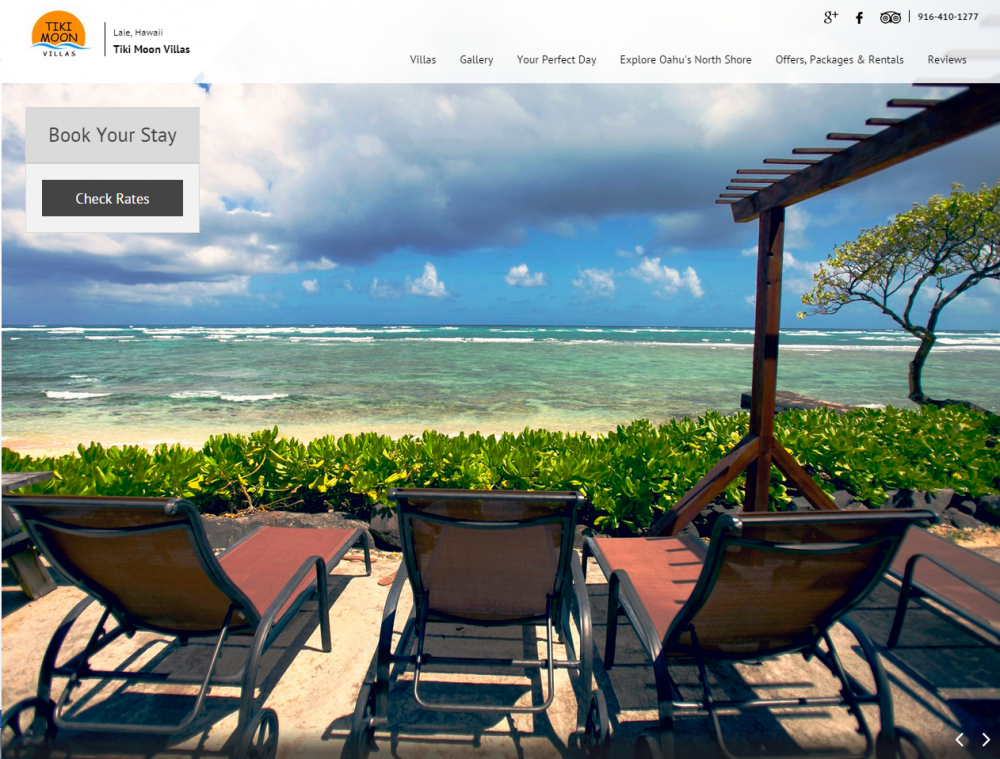 Striking Visuals
On any page you explore on Tiki Moon Villas' website, you will find yourself surrounded by a cornucopia of photos and videos that not only follow best practice guidelines, but also tell an amazing visual story.
The sub-sections within the gallery are split up into sections such as "Welcome to Paradise" and "Say 'I Do,'" and feature images that include vibrant beach sunsets, comprehensive room photos, wedding scenes, shots from around Oahu and much more.
Travel shoppers can take themselves on a journey from arrival to exploration to extra activities and beyond simply from viewing Tiki Moon Villas' gallery. The photos are even accompanied by snackable captions to give travel shoppers just enough information and context behind the photo.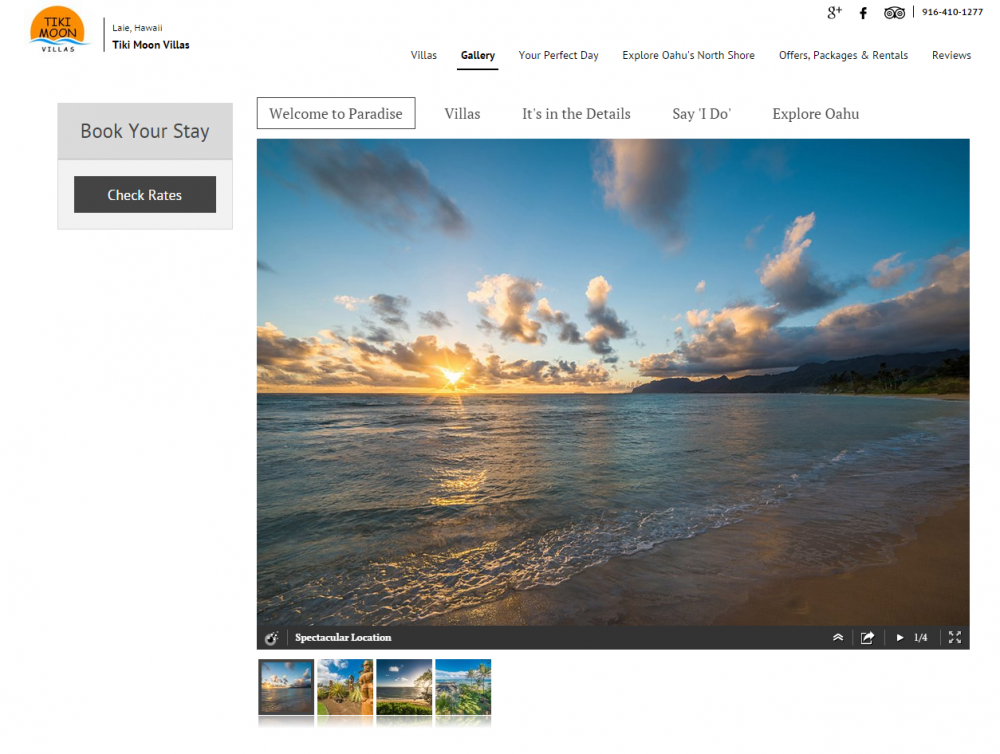 Sleek Navigation
What good would a series of visual-first and informative pages be on a property website if a travel shopper is unable to find them or not enticed to explore them?
Tiki Moon Villas understands this and places an emphasis on their navigation with a sleek design coupled with creative and comprehensive page names. From "Your Perfect Day" to "Reviews," travel shoppers can access everything they need in the top right corner of the website.
Going even further with their sleek design, Tiki Moon Villas always ensures that they incorporate a booking widget on each page so that no matter where the travel shopper is in their travel shopping journey, they have the ability to book a Villa.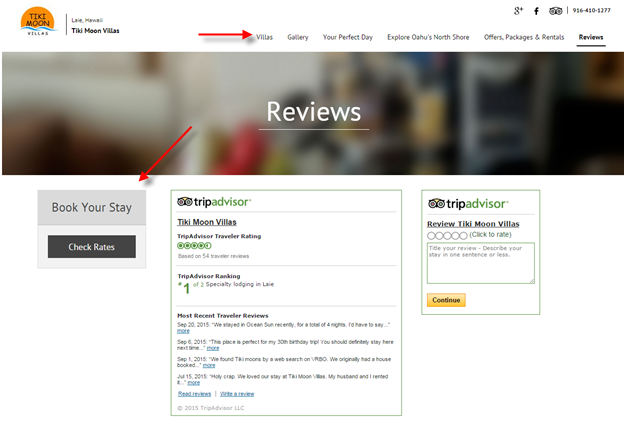 Local Storytelling
It's no secret that travel shoppers generally want an entire experience during their travels – not just a room to sleep in. You can set yourself apart from the competition by providing ideas of what they can do and see during their stay with you.
On their page, "Explore Oahu's North Shore," Tiki Moon Villas lists an abundance of things that will help keep travel shoppers of all ages busy during their stay (if they're not relaxing on the dreamy beach, of course). Thrilling attractions, luscious trails, unbelievable experiences and more await travel shoppers when they book a visit to Tiki Moon Villas. All are listed in a visual manner and many with their approximate distance away – no page is left unturned.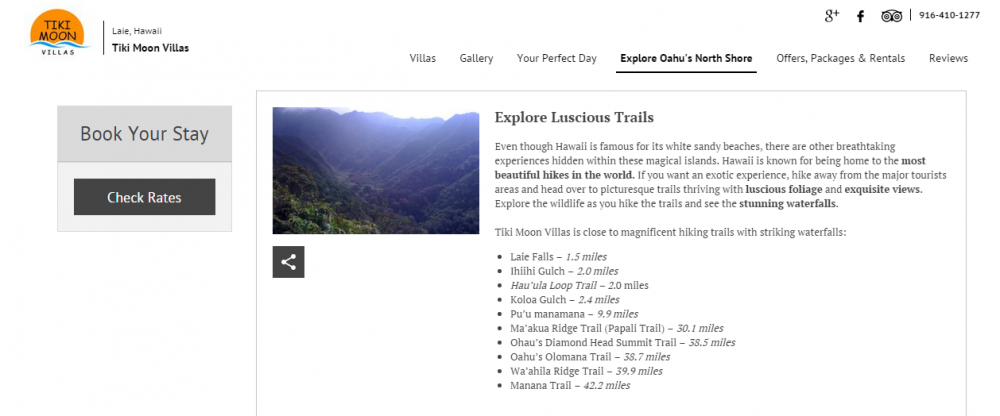 Keep up the great work, Tiki Moon Villas!
Through their use of great visual content, user-friendly web design and dazzling storytelling, Tiki Moon Villas is a Superstar Storytelling in many ways.
If you are interested in putting your website to the test and seeing how it measures up, check out our website scorecard: Creating Visually Compelling Websites That Drive Bookings.