All
Superstar Storyteller: San Juan Water and Beach Club Hotel
---
You have a story to tell, a mission statement, a feature, a location or an experience just waiting to be shared. Every hotel is unique and should use its voice to communicate with travel shoppers.
San Juan Water and Beach Club Hotel is located right on one of the hottest beaches in Puerto Rico. Shades of intriguing blues encompass both the inside and outside of this tropical hotel.
There is no doubt that the beautiful location and cool design of the hotel bring in many travelers each year. However, these aren't the reasons why we chose this hotel as our latest Superstar Storyteller. We admire the fact that San Juan Water and Beach Club Hotel isn't afraid to show off its personality online!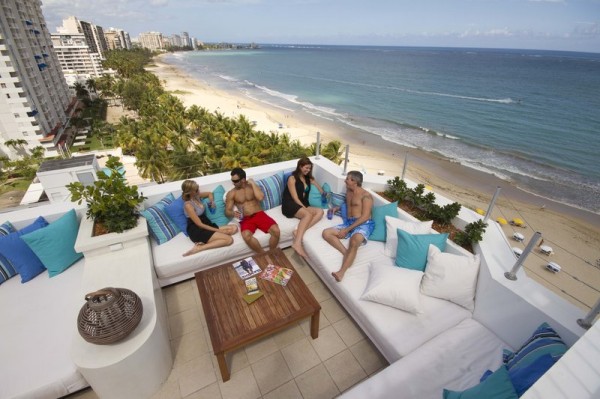 They know exactly how to showcase their fun persona through their digital marketing tools – which help them tell their hotel's unique story online.
Media Gallery Gurus
Looking at San Juan Water and Beach Club Hotel's media gallery, it is easy to see that this is a hotel with a lot of great personality. They do this two ways. The first way is by including many exciting photos (featuring real guests) that show what their hotel is all about – having fun! Looking at all these inspiring visuals, which travel shopper wouldn't want to end up in this Puerto Rican hotel?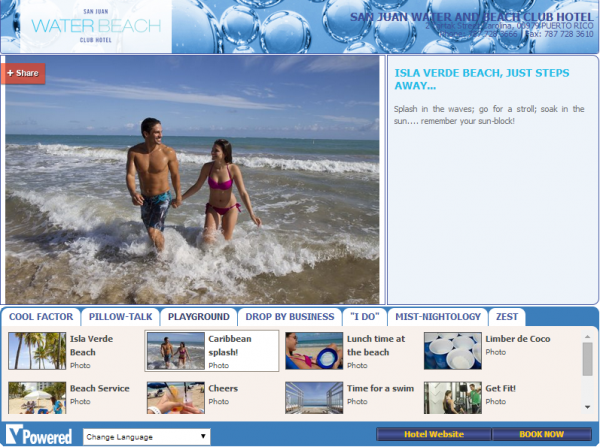 The second way this hotel shows off its personality is by making sure all these captivating visuals are found under customized tabs. Instead of labeling the section of the gallery which displays all the different rooms "Suites" or simply just "Rooms," they named it "Pillow Talk." Fun in the sun activities are cleverly labeled "Playground."
In addition to the tabs, each of their photos and videos also have their own short and sweet personalized descriptions – which help catch the travel shopper's eye.
The personalized tabs and descriptions, with a hint of fun and humour, help this hotel show off its own personality more than photos alone could.
Social Media Superstars
Facebook is an important tool for hotel marketers. In 2011, Facebook surpassed TripAdvisor in percentage of referrals which led to hotel bookings and it's grown substantially since then!
To reach more travel shoppers, they target their desired customer segments on social media, including brides-to-be. On the hotel's Facebook page, they've made it easy for prospective guests to imagine themselves getting married at this venue. Using customized Facebook Apps, the hotel shows off their wedding receptions, ceremonies, guestrooms and bridal suites, including a happy bride-to-be. Facebook Apps help San Juan Water and Beach Club Hotel show another angle to its hotel's story – the breathtaking wedding services which they can provide to travel shoppers!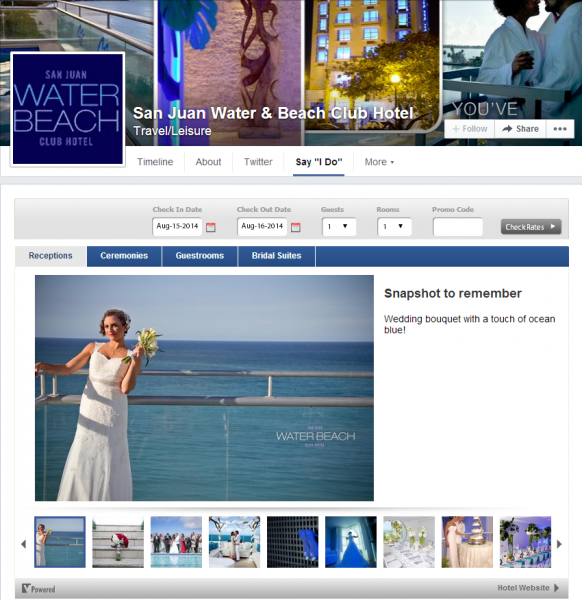 San Juan Water and Beach Club Hotel also makes sure to use Facebook Apps to show off many other features, such as their special offers and business amenities. These Facebook Apps, linked with their VBrochure media player, offer a booking widget at the top of each App. This makes it easy for the social media travel shopper to book directly from their Facebook page.
Show off Your Hotel's Personality
Showing travel shoppers your hotel's own distinctive personality is attention-grabbing. After all, that's what telling your hotel's story is all about!
Media galleries filled with colorful photos, creative tabs and fun descriptions helped this hotel show off its playful personality. This allows travel shoppers to get a sense of the vibe they can expect when staying at this lively hotel.
If you liked this article, you'll like this one too: How Can You Choose Content to Tell Your Hotel Story?