All
Targeting your Hotel's Digital Content for the SHE-conomy Part 2
---
Recently, we wrote about how to target your hotel's digital content for the She-conomy. Now that we have deeper insights into the leverage these travel decision makers have, let's talk about how to target women more effectively through visual storytelling to win their attention, loyalty and as a result, their wallets.
TrustYou recently analyzed 50 million hotel reviews in order to break down the difference between what men and women actually want when searching for a hotel. It turns out that both genders gave comparable review scores, but women focused more on the friendliness of employees and hotel ambience, whereas men noticed the hotel facilities (old/new) and building maintenance.
Another interesting distinction is that females in this study were more focused on entertainment options, the pool, shopping, alcoholic drinks, and desserts (didn't need a study to tell me this…)  Males, on the other hand, were more tuned into high speed internet/Wi-Fi, TV, and getting value for their money.
These nuances may be subtle, but successful hotel marketers recognize the value in tweaking their messages to hit the right chords with the valuable female traveler.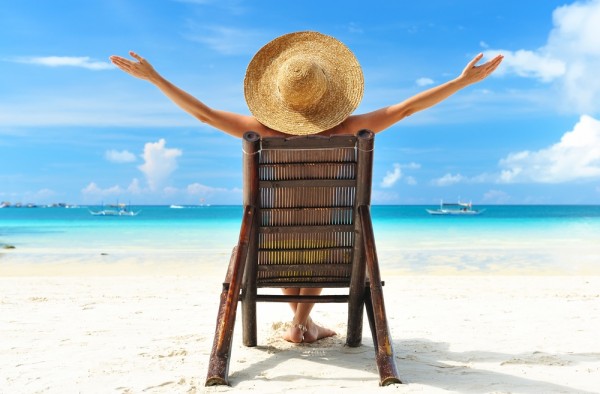 Practical tips
Use photos and videos to tell your story by presenting the ladies with an alluring and expressive glimpse into what their experience will be.  Highlight your outdoor water features, nearby shopping and dining spots and your lounge areas.  Accent the media with attention grabbing captions and short descriptions.
As we discussed in our eBook on multi-media best practices, both captions (3 words or 30 characters) and short descriptions (90 characters) have parameters that should be followed as illustrated below.  Complete the story in your long descriptions with the language and style appropriate for your brand and hotel personality.  Consumers scan for information online so use visual writing techniques like bolding, italics, bullets and short paragraphs, making it easy for them to select your hotel based on their requirements.
Here's what we mean:
Pools, spas, outdoor areas
Caption:  Peace & Quiet
Short Description:  Dad's got the kiddos, now it's Mommy time! Onsite spas, pools and more.
Caption:  In the Hood
Short Description:   Exit lobby. Turn right, drugstore & coffee. Turn left, quick lunch & adorable boutiques.
Caption:  I'm Starving…
Short Description:  Best part about dinner?  Dessert.  Join us each night for good food and sinful sweets!
Caption:  Cheers! Salute! Saludos!
Short Description:  Drop by our friendly lounge and enjoy your favorite vintage or martini concoction. 
The modern day hotel marketer has access to a lot of intel about how women and men shop for travel.   The important take away here is to understand is that today's hotel consumer (both sexes) is looking for information wrapped in an engaging and compelling narrative.  Source, curate, publish and amplify your story from your guests' perspective and they'll be inspired to choose you.
For more interesting reads about this topic:
Mining online reviews to find out what women REALLY want on a trip
Give Me Light, or Give Me a New Hotel Room
Creating Value for Women Business Travelers
Hyatt Brings its Brand Experience to Life