All
The 3 Mobile Trends Hospitality Professionals Need To Leverage Come 2016
---
Chances are, you're either reading this post or first saw it on your mobile device. And that wouldn't be a shock at all.
More people own mobile phones than toothbrushes, you host more devices in your home per night than guests and it takes 26 hours for the average person to report a lost wallet, but a lost phone will be reported in less than 68 minutes.
Okay great, those statistics show that mobile is an important part of our lives, but what about the hospitality industry? Well…
Mobile will represent more than half of all online travel bookings in 2016.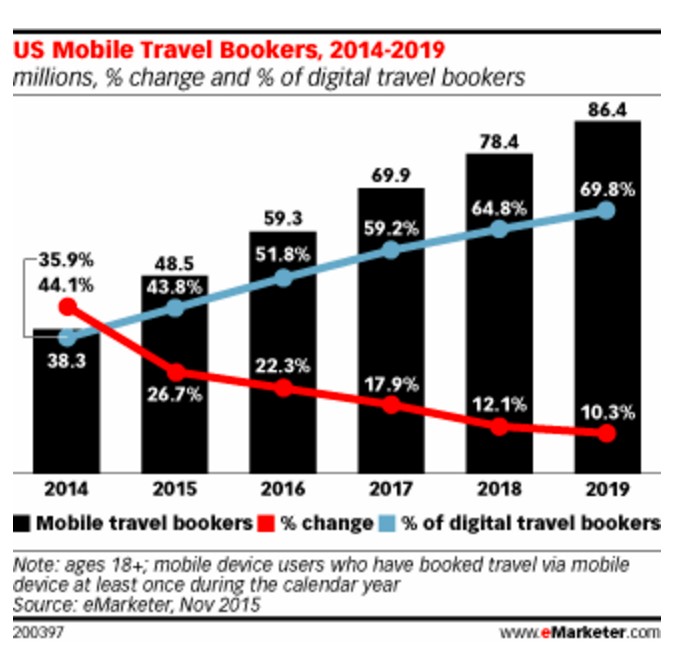 Read all the statistics you want. They all point to the same message: Mobile is here and it is the way of the future.
How is this going to impact your strategies heading into 2016?
Tim Peter, award-winning B2C and B2B Digital Marketing and Hospitality expert with over 20 years of experience, spoke at our 2016 Hospitality Predictions webinar and laid out three trends hotel marketers should expect when it comes to mobile in the New Year.
We'll show you what to expect, how you can take advantage of each opportunity and some success stories to ignite your creativity.
1. The Desire for Quality Content
"Content is, was and always shall be king." – Tim Peter.
If you ever needed a convincing argument for why content is necessary to your success, there it is. Content is not only necessary for your desktop website, but for your mobile presence as well.
Tim started his explanation for why content needs to be an essential element of your mobile conversation with travel shoppers and we couldn't agree with him more.
When it comes down to it, your content needs to answer two primary concerns of all travel bookers when they're searching on their smartphone:
Will I be satisfied with my stay?
Why should I book with you?
Think about trips you've taken recently – somewhere along the way these questions were answered for you while travel shopping on your mobile and helped finalize your decision of where to book.
What content do travel shoppers desire and share the most? Well, Tim Peter answered that with a quote courtesy of RockCheetah Founder Robert Cole:
"Sights, sound and motion get attention and inspires. A product manager for a prominent OTA told me that despite all the conversion testing they run, the one universal truth is that pretty pictures sell hotels".
[Tweet "The one universal truth is that pretty pictures sell hotels" – Robert Cole]
How can you take advantage of this?
What does your mobile content need to consist of?
Content Quality:
The desire of travel shoppers (and your goal) is to have content that they can enjoy and solves their problems. If the quality isn't there, they won't stick around. Not only is this beneficial for travel shoppers and engaging with them, but is also boosts your search engine rankings as well.
Content Velocity:
The desire for travel shoppers to share your content with people they engage with. Positive user-generated content is your best salesman: 87% of Millennials use Facebook and 50% use Twitter for travel inspiration.
A natural question when traveling is "Where should we visit?"
CitizenM answers that for interested mobile travel shoppers in New York by highlighting different restaurants to taste and places to explore. It is content that addresses concerns of travel shoppers and has easy to find click-share buttons.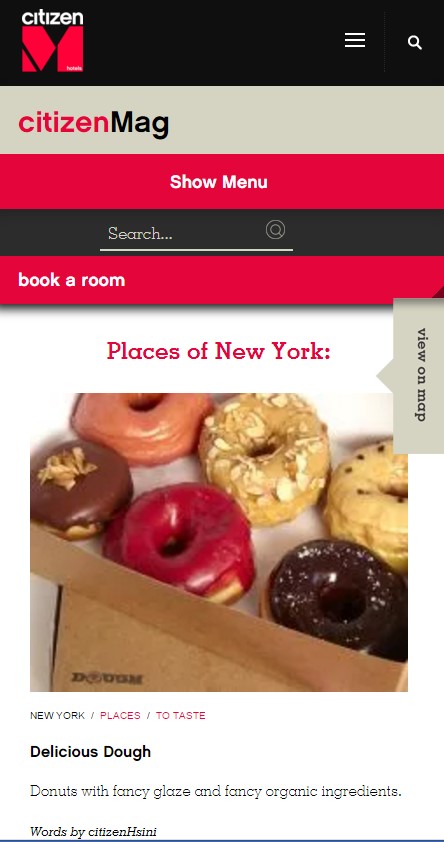 Make it a mission to create content that is the differentiator for your property and tells a story to engage with travel shoppers. These goals are intertwined: the more you can get travel shoppers to engage by create satisfying and quality content, the more likely they are to share their joy across the web.
2. The Influence Of The Net Set
"If you want to shrink the amount of travel shoppers resorting to Airbnb in the New Year, you need to accommodate the needs of Millennials." – Tim Peter.
We hope that is enough of a motivation to get moving on building an effective mobile strategy.
Tim Peter referred to the Millennial segment as the Net Set: A whole set of travel shoppers who have grown up with digital and mobile. How mobile obsessed are they? The average Millennial with internet access spends almost a full day per week on their devices. 
Now that they are the largest demographic, they will begin to spread their influential wings in the hotel industry going into 2016.
The sheer size of this market is forcing hotel marketers to up their game and build relationships based off information Millennials find useful, or else they will find a brand that will. One statistic Tim Peter mentioned really stood out to us:
Smartphone owning Millennials expect brands to have a mobile-friendly website (55%) more-so than a social media presence (39%).
What does a statistic like that tell us? Yes, of course having a strong social media presence is important because you need to offer travel shoppers ways to connect with you; however, it's important to understand how Millennials want to connect with you.
If you are not incorporating their needs and desires into your mobile marketing plan, then you are going to see a massive opportunity pass you by.
Millennial travel shoppers want to experience your story where you tell it best and where they are most-likely to interact with it, on your mobile website.
As the capabilities of digital marketers continue to grow, the expectations of Millennial travel shoppers increases with it. The one-to-many messaging approach does not work for this generation. Millennials expect travel brands to communicate with them using relevant and targeted messages.
How can you take advantage of this?
First off, get your mobile website optimized! We really can't stress it enough.
It is the difference maker between receiving a booking and earning a brand ambassador for life rather than being forgotten and left on the side of the research journey road.
Secondly, meet the needs of this massive group of travel shoppers. Millennial travel shoppers look for belonging, convenience and recognition.
Statistics such as: 37% of Millennials with children plan to vacation with friends should tell you that when you engage with them, you need to answer questions they may have about travelling with kids.
Things to do at your property that are family-friendly? Create a snackable video about it
Do you have a daycare at your property? Highlight some special caretaking employees on social media
Do you have a children's menu? Showcase it on your restaurant website
One property that does an great job of answering questions about family travel is the DoubleTree Resort by Hilton Lancaster.
Under their 'Offers' tab on their mobile website, they have a Family Fun Package that specifically addresses how a family of four can have a great time at their property.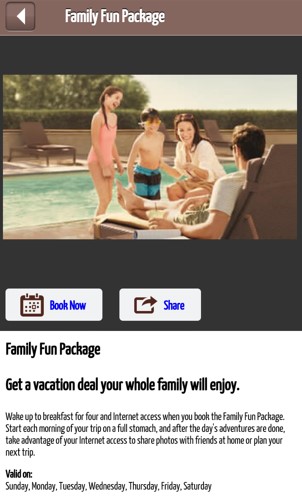 There are numerous mobile appeals that the millennial travel shopper responds to. Find ways to offer unique versions of their desires and communicate that to them in a way they will appreciate on their favorite devices.
The needs and desires of this group are going to determine your marketing strategy for at least the immediate future.
Start now or else these big family-taking travel shoppers will take their wallets elsewhere.
3. The Desire (and Expectation) of Travel Shoppers to Have A Satisfying Experience on Mobile
"You have to treat every travel shopper like a VIP travel writer, because they are." Adele Gutman, Vice President Sales, Marketing & Revenue at Library Hotel Collection.
[Tweet "You have to treat every travel shopper like a VIP travel writer, because they are" – Adele Gutman]
Tim Peter took our webinar listeners through a little activity to emphasis the benefits of giving travel shoppers a positive experience on mobile and putting them to work for you.
Let's assume these are your property's figures:
100 rooms
60% occupancy
1.4 guests/room
That means you have 31,000 annual guests. These aren't just "guests" though – they are also storytellers who can extend your reach and tell their family, friends and followers about the great time they had (or awful time) at your property.
Your travel shoppers are going to talk whether you like it or not and that talk influences further travel decisions. Family/friends and online sources are the most important sources of travel inspiration, so what better way to be in the travel shopper's good books than by providing them with a mobile experience that will resonate with them?
In fact, creating those brand ambassadors starts with a terrific experience on the devices where 69% of leisure travel shoppers search for travel ideas during spare moments every day.
Let's not forget the positive impact of good reviews as well. Tim outlined the statistical gains that could be had given a 1% change in online reputation.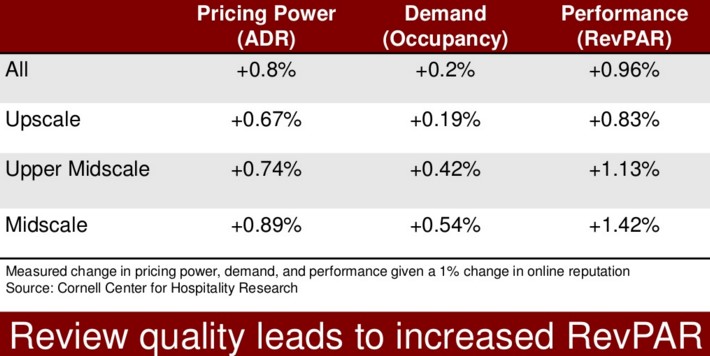 How can you take advantage of this?
How can you create brand ambassadors through their mobile engagement with your property in 2016? Focus on three things:
Snackable content – Content that is digested easily and understood quickly
Shareable content – Content that can be shared with friends and family with ease
Sharp content – Content that focuses on answering specific questions and concerns
Tim highlighted that hotel marketers should look at the mobile-only world leaders to see what an engaging and pleasant mobile experience consists of.
"Uber is one of the greatest experience you can have on mobile. You pull out your phone, press a button, get in the car and then just get out and walk away."
Imagine yourself as a travel shopper. What kind of mobile experience gives you a feeling of satisfaction and relief that ultimately leads to you booking with them? Apply those principles to your current mobile experience.
J House Greenwich asked themselves this same question. Their results of their improved mobile strategy speak for itself:
42% increase in mobile bookings in just 45 days by providing a seamless and enjoyable experience!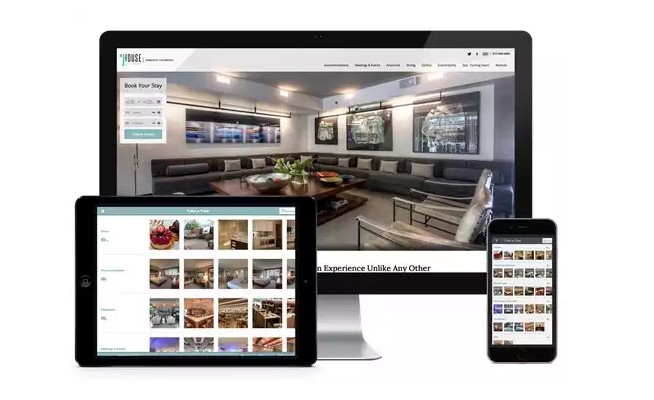 Start Building Your Mobile Story Now
Are these the only mobile trends you should be focusing on when it comes to 2016? Of course not.
We are only beginning to see the influence of mobile in the hospitality industry, which means you and your property need to be as vigilant as ever to anticipate what trends are coming, how travel shoppers will react to the changes and plan accordingly.
This is not an impossible task. Mobile is simply the next big thing in the hotel industry.
The important point to remember is that our smartphones are a very personal part of the travel shopping journey. Our pocket heroes have a role to play in every step before, during and after travel.
Remember that time you were forced to sit and pretend to be excited (but were a little jealous inside) when a relative pulled out their phone and forced you to look at all the pictures they took at their hotel in Rome?
Why can't your relative (or any travel shopper) be able to have that same experience before they go on their trip? Make that your New Year's resolution come 2016.
How can you do this? Make your content so engaging, so targeted and so experience-driven that travel shoppers won't have to wait until after their trip to brag about the experience at their hotel.
Remember, every guest at your hotel is a potential storyteller. Who says that story has to start being told after they're back at home?
Wondering if your mobile presence will meet these expectations in the New Year? Download our mobile scorecard to find out.