All
The Do's and Don'ts of Pinterest for Hospitality Professionals
---
There's another social media network that everyone's talking about and using – your guests, your staff and maybe even yourself. But have you taken advantage of Pinterest's visual platform to tell your property's unique story?
Maybe you've heard of it but still aren't sure about what it does. Maybe you know what it does but you're skeptical because it's just one more social media platform that you just don't have time for. Don't fret – by following these simple tips and tricks for navigating the Pinteresting social media platform, you will be able to reach travel shoppers in ways you never thought possible.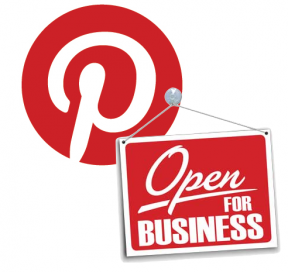 Time to Get Pinning
Pinterest has grown tremendously in the five years it has been around – it's now got approximately 72.8 million users, 85% of which are female. Not to mention, 30% of all social media users in the U.S. have a Pinterest account.
That's all very impressive but you're probably still wondering why your property may consider a Pinterest page. Well, considering women account for more than 85% of all household purchases, and 92% of vacation decisions, your target demographic is essentially sitting right in front of you.
If that's not enough, 47% of online U.S. consumers have made a purchase based on recommendations from Pinterest. Since Pinterest allows you to link pictures directly to your website, users are merely a click away from being drawn into your property's story.
Learn how to be a Pinterest professional with our DOs and DON'Ts:
DOs:
Do post content that is high quality and visually appealing. Posting high quality, enticing images will blend in with the organic Pinterest experience and likely attract more re-pins. A re-pin is when you post something onto your profile – a pin – and then another user who wants to share it with their followers will re-pin it into their profile, with the pin still traceable to you.
Do be inspirational and informative. The most searched category on Wednesdays is "Inspirational Quotes," likely because users are looking for a little push to get them through the rest of the week. Also, informative pins are 30% more engaging than regular pins – engagement is everything! The Fairmont Hotels Pinterest Page does a great job of this with their "Travel is our Passion" board.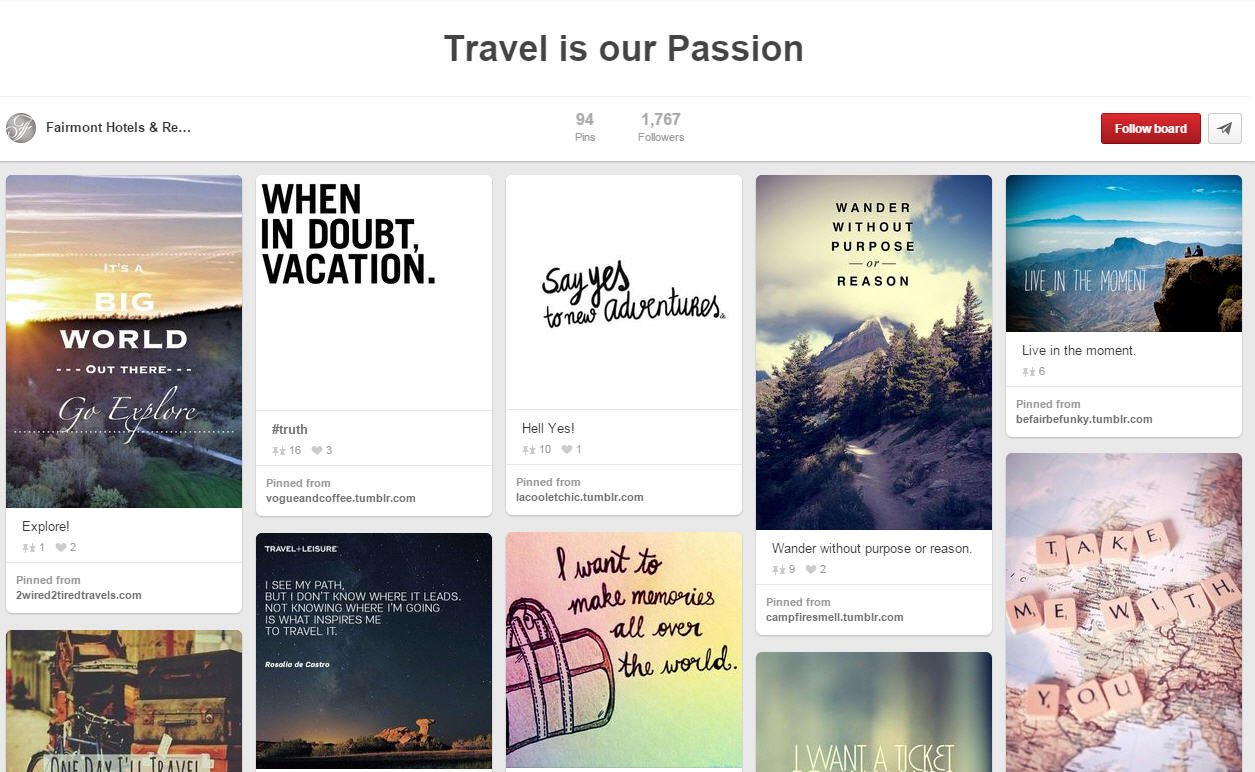 Do post product-rich pins. These types of pins can show users the price and availability of your products (in your case – rooms), and when that product goes on sale by at least 10%, anyone who has pinned that pin will receive an e-mail notification – How do you think I heard that my new favourite pair of shoes were on sale? The trick is to post a product-rich pin without it being an advertisement – make the user want to click on that pin to learn more about the magical experience that awaits them at your property.
Do post more on Saturdays than during the rest of the week. Studies have shown that "Travel" is the most popular search category on Saturdays, plus Saturdays are also when Pinterest receives the highest traffic rates. By posting regularly throughout the week and then scheduling an even higher level of content for Saturdays, you will be reaching the largest audience possible.
Do crowdsource user-generated content (UGC). Ask guests to take pictures of themselves at your property and post them on Pinterest. You can re-pin those posts onto a special board. This will engage guests and get them excited to be part of your property's story. The Four Seasons Hotels and Resorts does an amazing job of this on their Pinterest board "Look Mom!" Guests share photos of their kids at the resorts and they are re-pinned onto this board.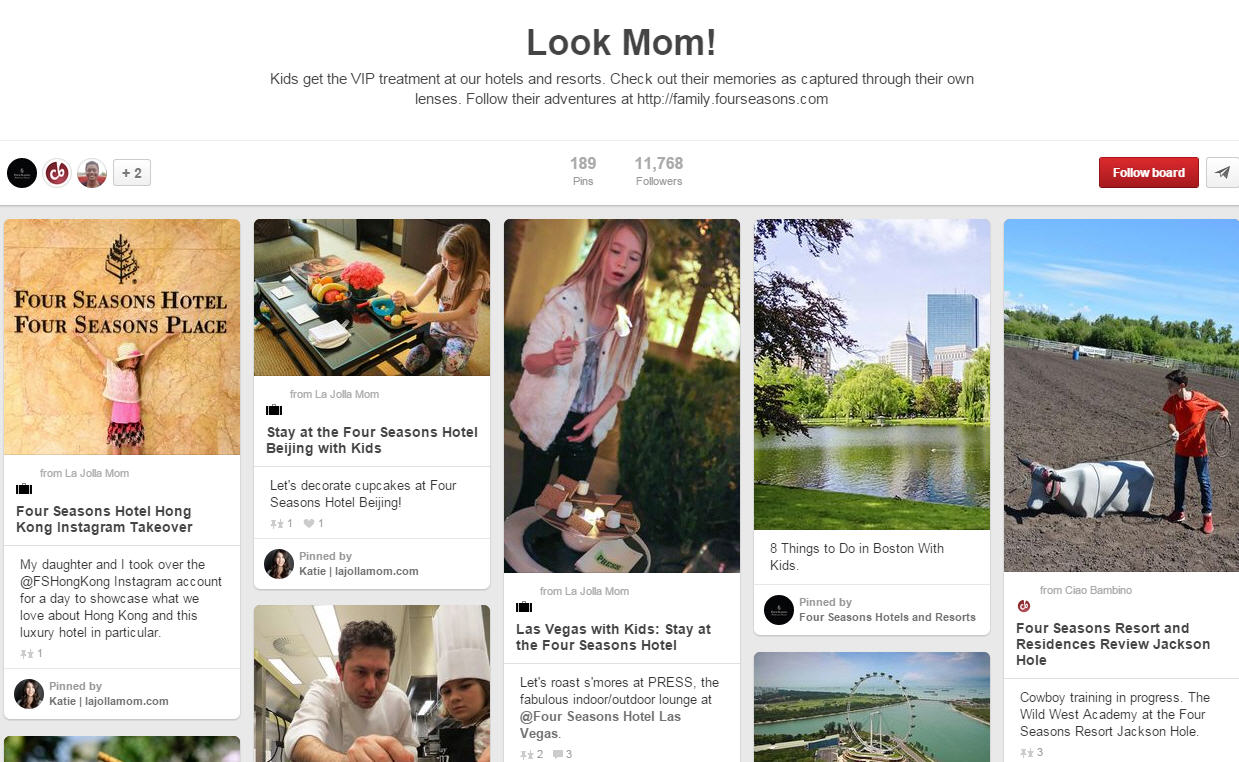 DON'Ts:
Don't post traditional ads that will feel unwelcome to users. Again, Pinterest users don't want to feel like they're being marketed to. The best way to engage on Pinterest is to post pictures of what your property has to offer – amenities, food, unique events and so on.
Don't post rarely or inconsistently. Pinners usually log on more inconsistently than other social media users so by posting frequently and consistently, your hotel will be able to reach a wider variety of users and potential guests.
Don't post an image without a caption. One of the best ways to make your pins search-ready is to have a well-captioned image that is linked to a relevant website. Try to keep the descriptions within 200 and 310 characters – that's the most repined and commented-on description range. Compelling visuals combined with the right amount of text can add a lot of meaning to your property's story.
Don't be overly promotional. We can't stress this enough: Pinterest users don't want to feel like they're being marketed to – even If they are. Promotional material just doesn't blend in to the organic Pinterest experience.
Don't forget about your community. If you make your profile solely about your property, not only will it feel very promotional, it will not allow you to strengthen the reach of your profile. Pin, like and share content that has to do with guests and local community or industry events – engage on Pinterest just like you would on any other social media network.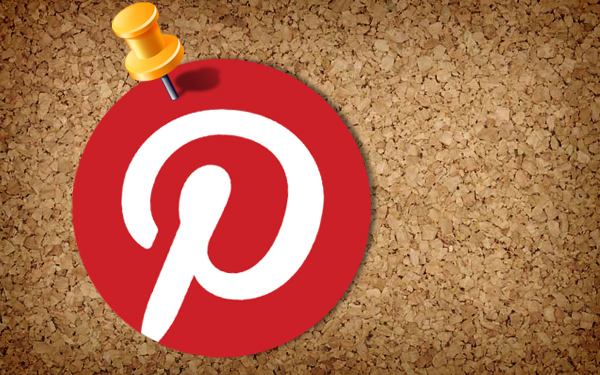 What's Next?
Pinterest is growing at an unbelievable rate – it's time to strike while the iron's hot! My guess is that Pinterest will be one of the most influential places for travel shoppers in the near future. What do you think?
If you want to learn more about visual storytelling on social media, see how your property measures up with our checklist: Strategically Social: Step Up Your Property's Visual Storytelling on Social Media