All
The Hotelier's Guide To Easter
---
It's a great time to be a hotel marketer. As the days get longer and the first signs of spring appear, the promise of warm weather means more travel shoppers will be shaking off winter and looking for inspiration for their next trip.
A successful holiday campaign consists of early research and lots of planning. For hoteliers short on time, we've created this handy guide to help you improve engagement and breathe new life into your marketing strategy.
Here are the three key ways to amplify your storytelling to attract travelers during this holiday.
1. Hop On Social Media
An active social media presence is an absolute must for hoteliers. With 44% of U.S. travelers relying on sites like Facebook and Twitter for trip information, hotel marketers need to engage their audience in a creative way.
To ensure travel shoppers think of your hotel every time a holiday or special occasion rolls around, the content you share needs to be well-timed and relevant. This Easter, start with the basics and update your hotel's visuals. Add an Easter flare to website logos, graphics as well as third party banners. This can include pretty pastels, flowers, bunnies and Easter eggs. No matter what platforms you prefer, Instagram, Google Plus, Tumblr or Facebook, social cover photos should be changed to reflect the event or holiday that your hotel wants to target.
Once you've dressed up your hotel's social pages, amplify your content by starting a conversation with your audience. The theme is Easter so participate in relevant topics and ask your followers open-ended questions like "What does Easter mean to you?" or "How are you guys celebrating Easter this year?"
Also, boost clicks and shares by encouraging comments or holding an Easter contest across your various social channels. Remember, not every interaction with your audience needs to be promotional or formal. Being witty and engaging makes travel shoppers remember you and most importantly, shows the fun, creative side to your hotel story.
2. Give Travel Shoppers Something New
Easter is synonymous with spring, rebirth and new beginnings. So what better time than now to showcase something new about your property. Did your hotel recently complete a renovation? Is there a special offer for Easter weekend guests? Or how about a new menu item at your hotel's restaurant and bar?
Entice travel shoppers with photos and exciting updates that will inspire their next trip. Revamp your hotel's digital brochure and visuals to reflect the Easter spirit or create a themed package that will attract direct bookings.
At the Fairmont Le Chateau Montebello in Quebec, travel shoppers looking to get away this Easter weekend can take advantage of a special package that includes an Easter egg hunt and Easter brunch. By keeping content and storytelling consistently updated, your audience and travel shoppers will look forward to engaging with you.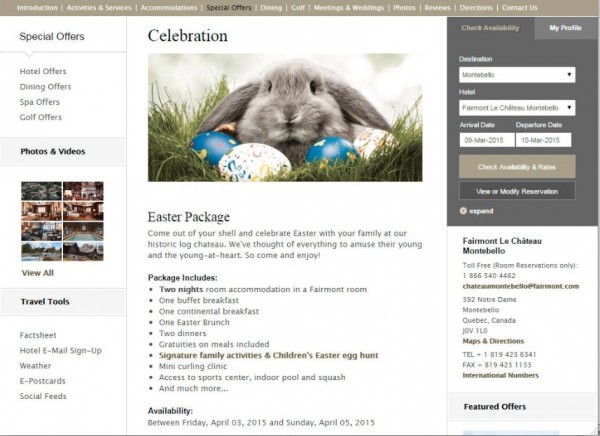 3. Create A Buzz
Nothing shows your open for Easter business better than targeted promotions. Beginning with your email list, send out valuable content that will eventually convert to bookings and more subscribers. Try a calendar that counts down the days until Easter and spring or include exclusive "e-offers" that are only redeemable through email. This can include an EGG-stra special Easter package, an EGG-citing campaign with a local business or EGG-streme savings on direct bookings.
Inside your hotel, decorate your hotel's lobby accordingly and document how your property is celebrating Easter leading up to and on the big day. Share a behind-the-scenes look at your staff, how your hotel is preparing for Easter and what travel shoppers can look forward to once they arrive at your hotel – giving travelers the behinds-the-scenes stories they love to share.
Use this Easter as an opportunity to gain an edge in the competitive hospitality market. Ensure your content is relevant, entertaining and is accessible on the platforms and devices that travel shoppers are using. No matter the holiday or occasion it all comes down to one thing: your hotel's story. What is your hotel's targeting strategy this Easter holiday? Leave a comment below and let us know.
If your goal is to fill rooms and stand out online get started with this eBook, Content Marketing 101 For Hotels.