All
The Hotelier's Guide To St. Patrick's Day
---
Leprechauns, marching bands and four leaf clovers. It could only mean one thing – St. Patrick's Day is approaching and spring is in the air.
St. Patrick's Day is a worldwide celebration that's grown in popularity. It's the one day on the calendar that green is gold and everyone wants to be Irish. Every year on March 17th, millions gather in pubs and on parade routes to celebrate the patron saint of Ireland.
But don't treat this like any ordinary day. Like we told you last month, hoteliers can use holidays to reach more travelers and shine a new light on their hotel story. Through timely engagement and creative content, hotel marketers can refresh their storytelling and inspire potential guests.
Here are the top six ways hoteliers can strike gold this St. Patty's Day.
1. Go Green Online
Nothing shows St. Patrick's Day spirit better than going green. Update your hotel's website, banners, cover photos and social pages to commemorate this special day. For travel shoppers researching their next trip, your content marketing efforts will stand out from other hotels online.
Get some inspiration from the hotel chain, Choice Hotels. On their website's homepage, travel shoppers looking to celebrate St. Patty's Day can click on the different states and are directed to that city's booking page. Revamping your visuals to reflect holidays and special events is a fun way of showing your followers and travel shoppers that your hotel is in the spirit and ready to meet their guests' needs.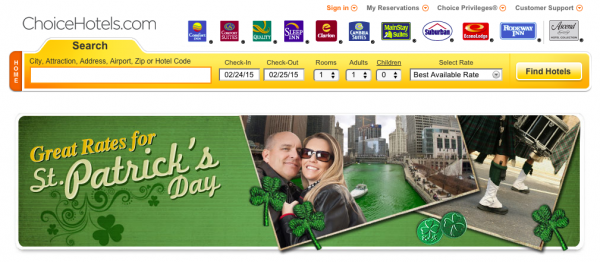 2. Share the Luck on Social Media
Luck is an important theme during St. Patrick's Day so spread some good fortune on your various social platforms, showing travelers the fun side of your hotel story. Hold a contest asking your followers to share their good luck charm or ask your guests why they feel lucky to stay at your hotel. Leading up to the big day, pay attention to your timeline and participate in trending topics the day of. Using appropriate hashtags and formatting can boost engagement and increase your hotel's visibility across all platforms. Accompany social posts with images, relevant links as well as easy-to-find hashtags like #giveaway, #contest, #stpaddys and #stpatricksday.
3. Target with Keywords
To drive traffic to your hotel's website and help your search engine ranking, incorporate relevant words and phrases into headlines, title tags and blogs posts. This St. Patrick's Day, optimize your website with timely phrases like pot of gold, St. Patty's parade, luck of the Irish, and green. But remember, keyword targeting is only half of the equation. To improve your content's visibility, it needs to be entertaining, descriptive and relevant.
4. Capture the St. Patrick's Day Spirit
Holidays like this are your hotel's chance to shine. Decorate your lobby and encourage your staff to add a touch of green to their uniforms. Visual storytelling is not about price, it's about sharing rich content and building a relationship with your audience. To stand out from other hotels down the street, you need to provide travelers with an experience they'll remember. For your online audience, bring your hotel to them by showing how your property is celebrating St. Patrick's Day. Share exclusive photos and behind the scenes videos on platforms like Instagram, Snapchat and Vine.
5. Revamp Your Hotel's Menu
Green food and drinks are a must have on St. Patrick's Day. For hoteliers looking to target the post-parade crowds, offer green beverages or a special on your bar's Irish beers.
Take a cue from the Four Seasons Dallas Las Colinas. Guests can enjoy a St. Patrick's Day menu that includes traditional Irish dishes like Sheppard's Pie, cabbage and Braised beef marinated in Whiskey.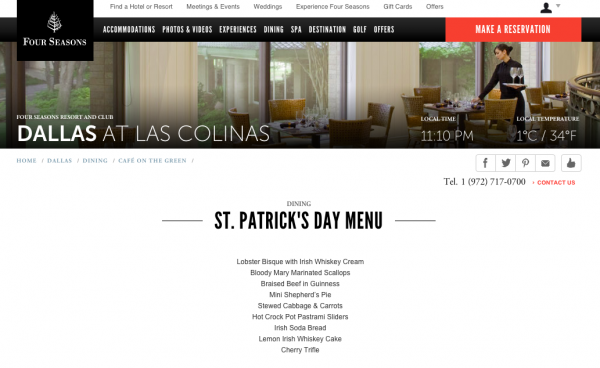 6. Start a Pinterest Board
Despite its growing popularity as the Internet's number one visual discovery tool, many hotel marketers have yet to include Pinterest in their content marketing strategy. With over 70 million active users, hoteliers can use Pinterest to inspire potential guests all over the world. Once registered, hoteliers can begin creating Pinboards, sharing hotel photos, local attractions, recipes and trip advice.
On the InterContinental Dublin's Pinterest board, users can view pins of St. Patrick's Day celebrations around the world, learn about local happenings around Dublin and get a recipe from their property's chef. Hotel marketers should take advantage of Pinterest's potential this St. Patrick's Day as well as all year round.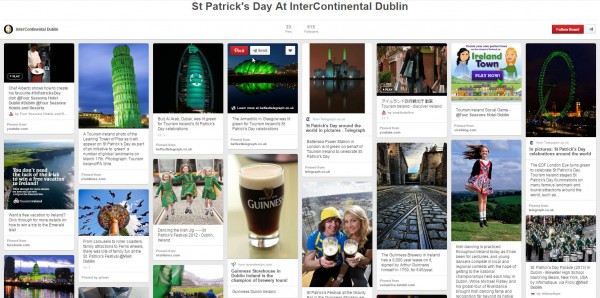 Get into the spirit this year and refresh your hotel's marketing. Let us know how your hotel plans to promote St. Patrick's Day and look out for next month's posts on The Hotelier's Guide to Easter.