All
The Hotelier's Guide To Valentine's Day
---
Red roses, chocolates and the perfect bottle of wine. Valentine's Day is around the corner, which means showering your significant other with love and heart-shaped gifts.
For hoteliers, it means the perfect opportunity to target new guests. Holidays are a stressful and busy time for travel shoppers. With the just the right amount of incentive and irresistible offers, your hotel can be their number one choice this season.
Declared the official day of love on February 14, 496 AD, Valentine's Day is one of the most celebrated holidays worldwide. With spending expected to reach a record $19 billion this year, this isn't just another consumer holiday reserved for retailers. Hotel marketers can amplify their storytelling and increase bookings through clever content and targeted engagement.
Here the top five ways hoteliers can cash in on love.
1. Showcase Your Hotel in a Romantic Way
The theme is love so take this opportunity to speak to travel shoppers in a heartfelt way. Show your Valentine's Day spirit on all of your hotel's channels. On your main webpage and social platforms, add a romantic flare by customizing logos and graphics to reflect this special day. Inside your hotel, hoteliers can add a tender touch to their visual storytelling with picturesque views and sentimental details.
In Miami, the Four Seasons is offering a "Couples Escape" that features candlelit dinners, flowers and a private poolside cabana. Don't limit your targeting to just couples. Use the power of content marketing to also engage with travelling friends, families and groups.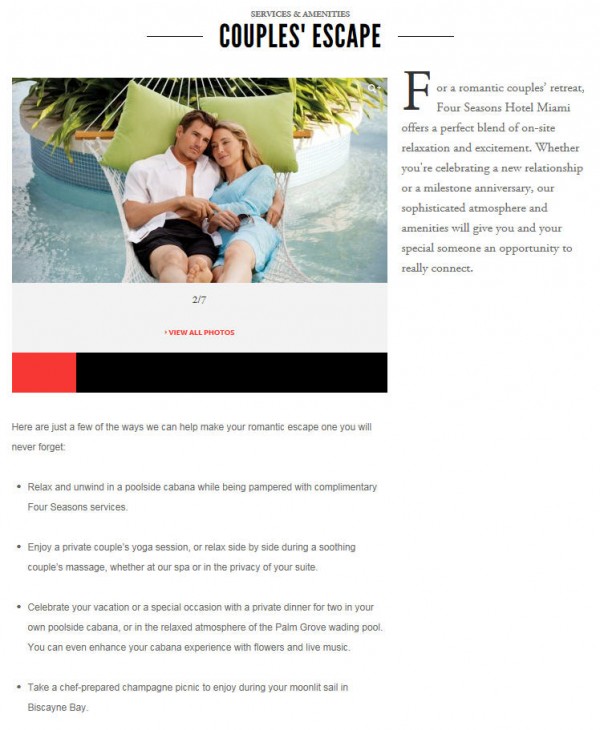 2. Start a Conversation and Share Ideas
It can be hard to be original on Valentine's Day so show your audience you care by suggesting great ideas. Using your various social media platforms, engage travel shoppers by sharing tips about cute date spots, creative ways to say "I love you," activities to do after dinner, and the perfect gift for him or her.
Remember, content marketing isn't about your hotel. It's about providing relevant information and building a community. Take a cue from the DoubleTree Bethesda in Washington, D.C. In the spirit of Valentine's Day, Facebook and Twitter followers are given the chance to win a date night courtesy of the hotel. Using the hashtag #ShowYourLove, followers are asked to describe their perfect date and how they met their significant other. This kind of engagement is fun, clever and gives your audience an incentive. With two simple questions, the DoubleTree Bethesda is increasing their visibility and enticing potential guests.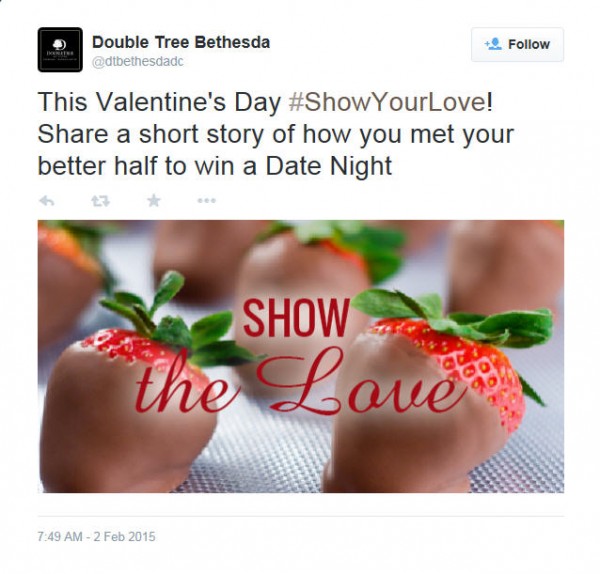 3. Reward Your Best Followers With Special Offers
Everybody loves a good deal and Valentine's Day is the perfect day to compel bargain-hunter lovers. The first major shopping event after the Christmas holidays, travel shoppers are ready to spoil themselves and the ones they love. Special offers and giveaways are an effective way to build brand loyalty and generate more traffic on your website and social media. Offers can include giveaways, gift certificates, a complimentary stay, and special discounts on bookings and hotel shops. Hoteliers can also collaborate with local businesses to increase visibility and connect with new guests.
The La Quinta Inn & Suites is one hotel that has implemented this strategy. Teaming up with floral service Teleflora, travel shoppers can earn La Quinta Return points when they follow the promo link and place an order of flowers. This kind of offer is mutually beneficial to both brands and appropriate to the Valentine's Day theme. Plus, it adds a unique, authentic aspect to their hotel story.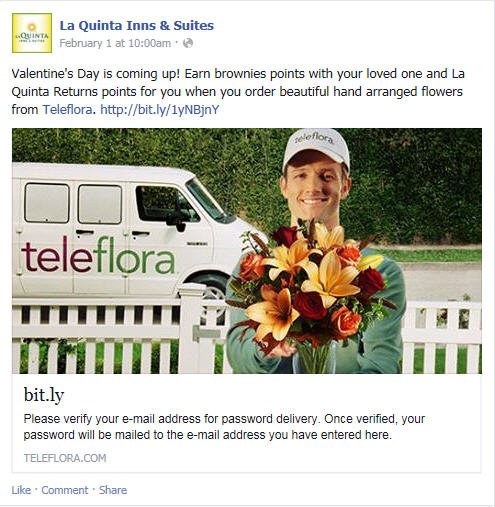 4. Spread Love On Social Media With User-Generated Content
There are several ways hoteliers can reach travel shoppers but user-generated content (UGC) is the most tech-savvy, fun and inexpensive way to build an audience. This Valentine's Day make use of social platforms like Instagram, Snapchat and Vine. Run a contest or ask your audience to share videos and photos using specific hashtags. On the DoubleTree Resort Lancaster's Facebook page, potential guests are asked to share their perfect date during #WinnningWednesday. This hashtag isn't meant to generate bookings, instead they are engaging an audience and amplifying their storytelling.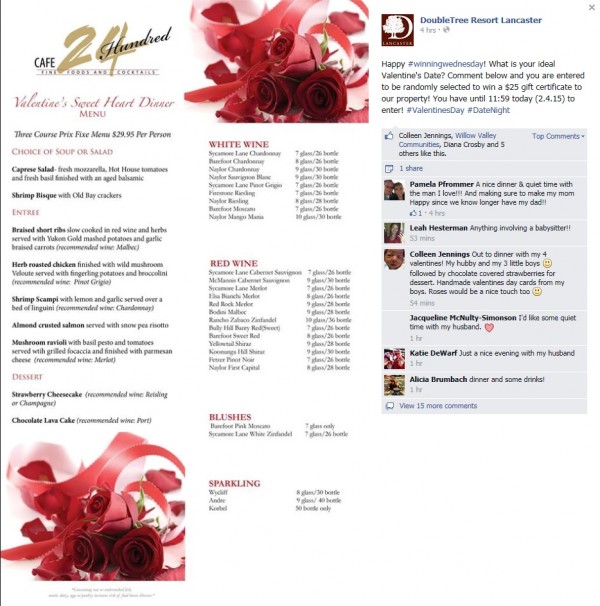 5. Create a Themed Package
A Valentine's Day package is the best way to target online travel shoppers and amplify your holiday marketing. With the average adult spending $213.04 on Valentine's Day this year, hoteliers can increase bookings by optimizing keywords and promoting packages across all devices. Boost clicks and shares by choosing keywords specific to the Valentine's Day theme. Common search words include chocolate, flowers, romantic, deal, gifts, sexy, red and boyfriend. Even if your hotel doesn't sell flowers or chocolate, applying these keywords in your targeting strategy can increase your SEO rankings and drive more traffic to your website. Hoteliers can also expand their email list by promoting future holidays to travel shoppers that book directly.
Get some inspiration from the Holiday Inn Chicago Mart Plaza. They are promoting their Romantic Rendezvous Package which includes a room with a skyline view, chilled champagne and breakfast for two delivered to the room. This offer is displayed prominently on their website and is visual – exactly what travelers love to see. Plus, with just a few small changes to banners and keywords, themed packages can be repurposed for any occasion all throughout the year.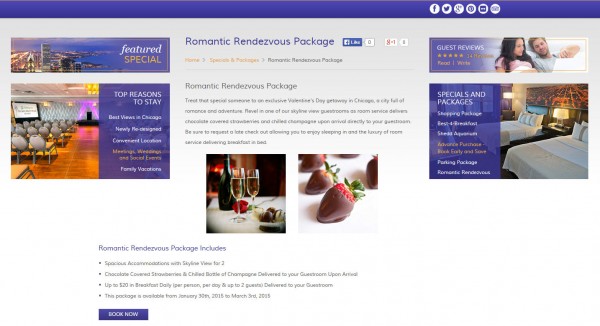 What is your hotel's targeting strategy this Valentine's Day? Leave a comment below and let us know.
Want to learn how to target travel shoppers all year round? Catch up on our latest series, Targeting Part 1 Of 4: How To Earn Loyalty With Millennials.