All
The Ultimate Guide to UGC: Part 1 of 2
---
It has been said that we're living in an era where if you don't take a picture of that wild music festival you went to, that eclectic rooftop patio at that hipster boutique hotel you stayed at, that vegan salad your best friend Sally told you was the best detox formula out there, that perfect sunset you witnessed on your last trip to Cabo, your new car, your new shoes, that birthday cake you so proudly made for Mom, or simply, just that daily selfie to let the world know, "hey, I'm still alive and well!" It's as if it never really happened, and to the social media world, well, it technically hasn't.
So, now that we have all become professional wannabe photographers and feel it is our duty to share them around the virtual globe, does it come as any surprise we have also become lords of the manor when it comes to a little thing called user generated content (UGC)?  
With these feelings in mind, it's easy to see how this social phenomenon has created a severe itch for us to take pictures of every event we attend, every meal we consume, and every person we meet, and for hospitality professionals around the globe, it's essentially a goldmine. So, I say hop on the UGC carpet of opportunity that lays before you, and enjoy the ride.
Now that I have your attention, follow me, and let me take you into the world of social media and tell you exactly what UGC is and why it's important for your property's visual story.
What is User-Generated Content?
First things first, user-generated content equals user generated creativity. In this case, it's property content such as pictures and videos that your guests take on their mobile devices and share with the rest of the world on social media.
Not to mention, it's an extension of word of mouth advertising, and it's a unique form of online advertising as it's created by your audience, for your audience. Talk about cutting out the middle man, it's free, and it's great for low budgets.
The key idea here: Advertising that won't burn a whole in your pocket!
Take a look at how The Hyatt Place incorporate UGC into their brand strategy. They have successfully created an Instagram page where they can post their property's best features and local attractions and they post frequently which is key.
They encourage their guests to tag their photos using their hashtags so they can easily find out what guests are saying online and then share it to their audiences. This has created that connection between property and traveler and has also allowed for a wide variety of guests' photo contributions to their Instagram page, let alone it has circulated a positive buzz about their property.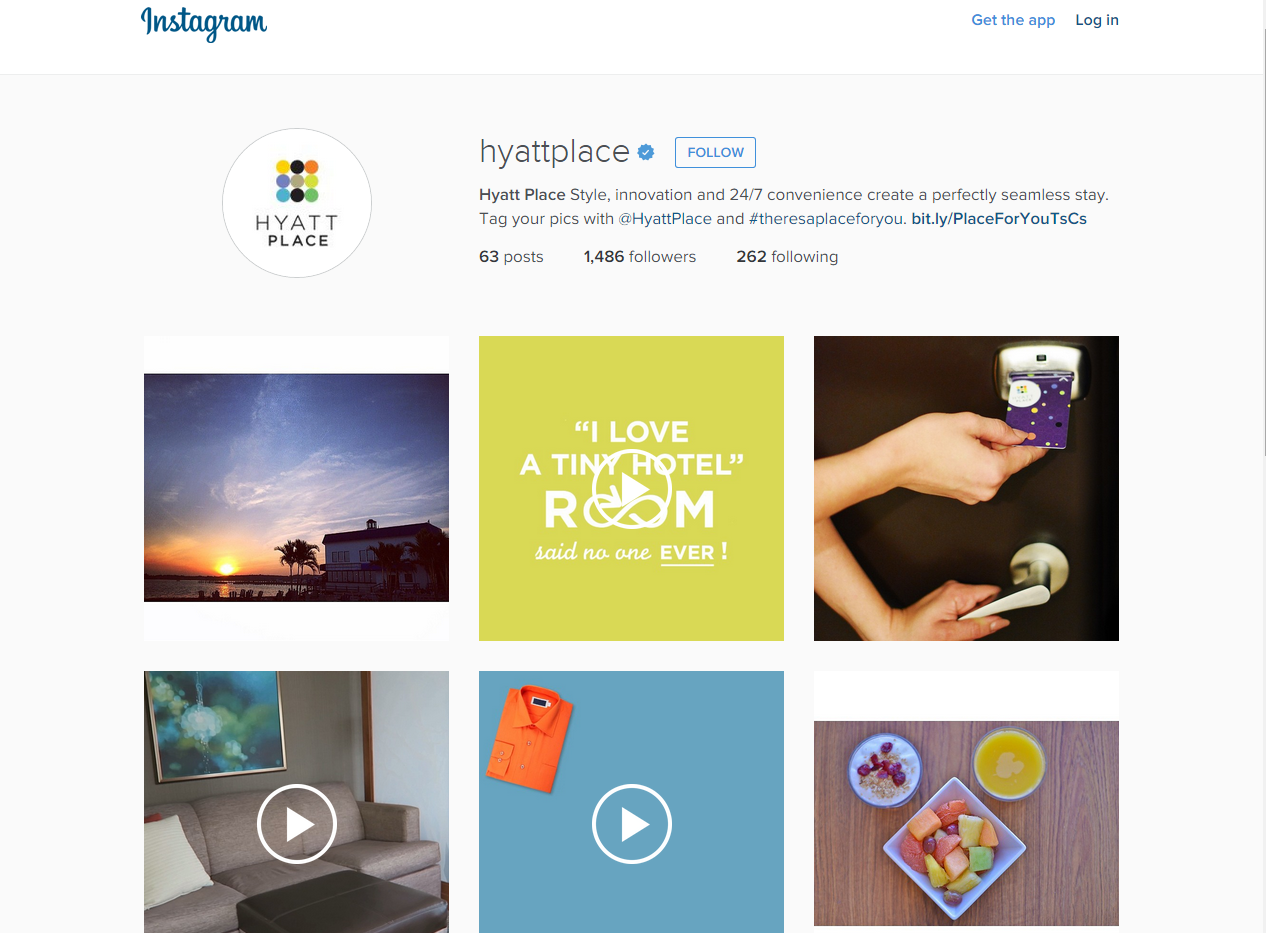 Pinterest is another site that flourishes off UGC. Users are able to constantly share content or "pin" photos or blogs from other websites that are already in circulation on the site.

The Doha Marriott has already tapped into the visual savvy world of Pinterest and have recognized its tremendous benefits.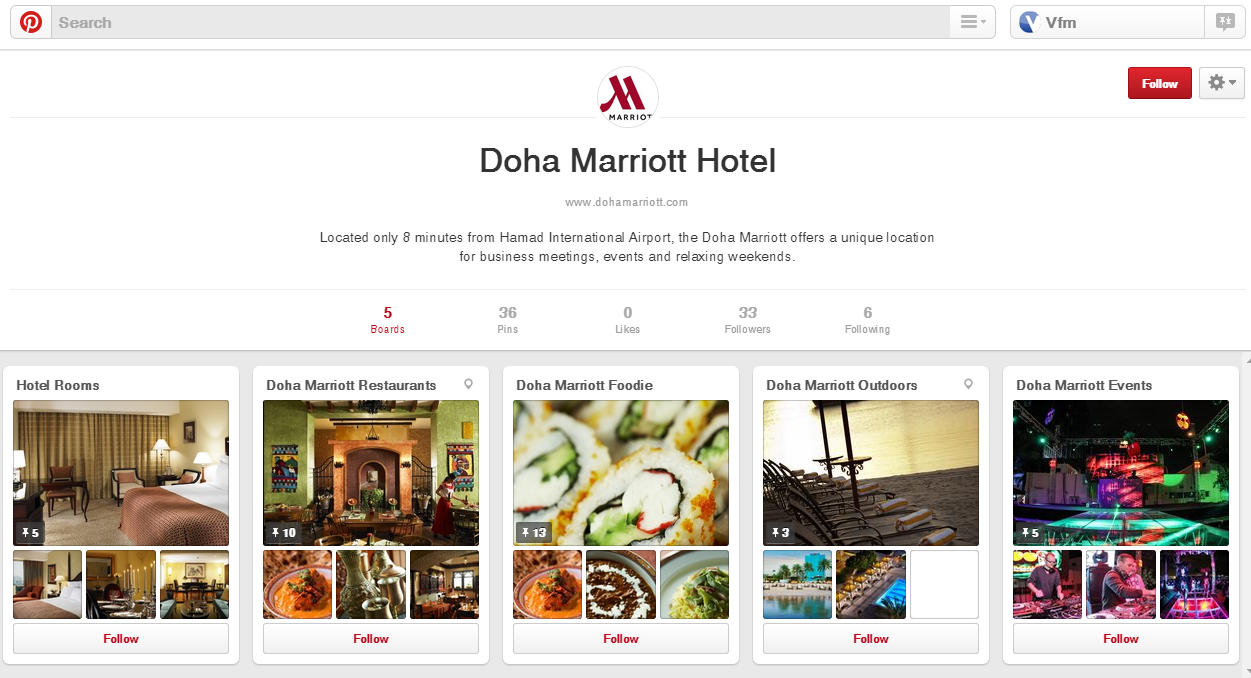 Also, lest we forget, our mobile devices are always resting in the palm of our hands, especially for travelers – which only means, the door is always held wide open for UGC.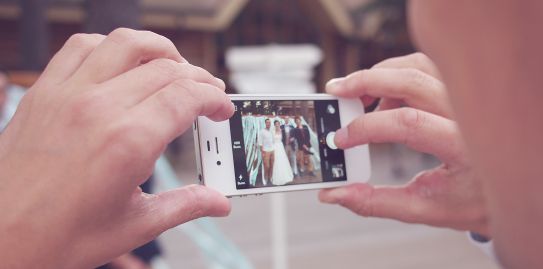 So why is UGC so important? Let these statistics put it into perspective:
80% of all Facebook usage comes from a mobile phone
40% of YouTube video plays in the U.S now come from mobile
Viewing of travel videos is up by 97% on smartphones and 205% on tablets, year over year
55% "liked" Facebook pages specific to a vacation
Almost 50% of all travelers turn to social media for travel inspiration
42% of stories shared on Facebook are about travel and 76% of travelers share their experiences on social media
More than 50% of travelers use their smartphone to research trips and approximately 25% of travelers book from their mobile phones
52% of Facebook users say their friend's photos inspired their holiday choice and travel plans
Telling Your Story with UGC: Why it Matters for You
1. Authenticity: For starters, travel shoppers appreciate authenticity in a property and 92% of consumers say they trust recommendations from friends and family above all other forms of advertising according to Nielsen's latest Global Trust in advertising report. Also, thanks to UGC (photos and videos shared by travelers on social media), you can share real experiences from those who have spent time at your property. Not to mention with UGC, you can discover all the little details that you didn't even know travelers found unique or loved about your property, which means you are then presented with the cherry on top, your "authenticity," and this is one of the things you will use to shape your visual story.
2. Fresh Content: Do you find yourself wondering what to post on social media or your website? With UGC you have a flow of fresh content, every day, so you don't have to spend hours creating new content and can easily source new content shared by travelers online. This keeps your property's story fresh and authentic and, in return, communicates better to the mobile obsessed who, remember, are constantly sharing on social media throughout the day.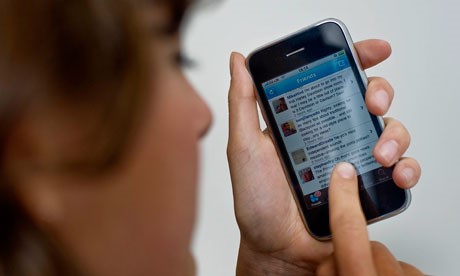 3. Join the Conversation: With high resolution built in cameras on our mobile devices making it easier than ever to share, why not have your property be a part of the conversation online? It can also save you a tremendous amount of time because the content is already created for you.

4. Envision the Experience: UGC helps travelers envision themselves at your property and exudes a sense of comfort between you and your shopper where their guards become lifted and they say to themselves "I would like to book with you." It supplements property-created content and gives travel shoppers two different perspectives.

Overall, UGC, without a doubt, has a great ROI and influences travelers to book, book, and book!

It doesn't really doesn't get any better than this! UGC is critical to show the authentic, fresh side of your property's story. Stay tuned to the next part of this series, where we'll elaborate further how to find and tell your story using UGC.

Plus, learn even more about UGC by taking advantage of SoMo (social media and mobile) in this eBook.