All
Top 5 Hotel Superstar Storytellers of 2014
---
2014 was an important year for the hospitality industry – we saw the rise of mobile (set to surpass PCs in 2015), the importance of social media, and the continued dominance of the one skill that sets your property apart: storytelling.
Throughout the year, we've showcased many hotels who were standing out from the competition online by telling their authentic hotel story (we call them "Superstar Storytellers".) As the year comes to a close, we're looking back at the top five hotel storytellers of the year – and what you can learn from them.
1. citizenM Hotel:
Their premise is simple: luxury should be affordable. Their target audience is the modern, mobile-savvy independent traveler – or as they call it, a citizen of the world. Their mission: to appeal to this new breed of traveler with chic boutique hotels where WiFi is a given, lobbies are like living rooms and guestrooms are your home-away-from-home. Their success at so clearly differentiating themselves as a "new kind of hotel" makes them a clear winner in our books – definitely one of our top Superstar Storytellers.
By showcasing their one-of-a-kind amenities and features of their hotel, they elegantly decorate their webpages with rich and powerful visuals that evoke a sense of comfort and simplicity that is rare to come across. They're different and they know it – and they want the world to see, which is what you learn by watching their short video on their homepage or browsing their social media sites or even their online magazine. One of their tag lines sums it up perfectly: Even the hotel of the future has to start somewhere.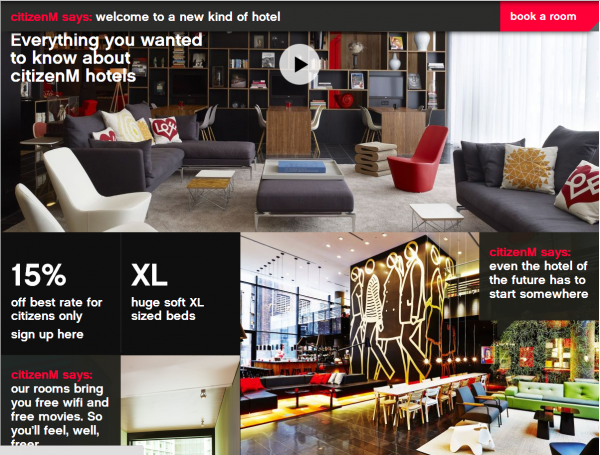 2. Holiday Inn Chicago Mart Plaza River North
There's one reason why we think The Holiday Inn Chicago Mart Plaza River North is a true Superstar Storyteller, and that's because their hotel story shows travelers exactly what they're looking for – something easier said than done. When you visit their website, you won't see an exterior shot – instead, you're greeted with stunning visuals of their rooms, event venues, pool and more. Sounds simple, but it ensures that travelers can picture where they're going to stay, what they can do, and the type of experience they're going to have.
They also know how to grab travelers' attention: check out how their "featured special" is prominently displayed on every page of their hotel website, along with their booking engine and links to their many social media accounts. Sometimes, we get bogged down by trying to fill our website with every detail of the hotel. The Holiday Inn Chicago Mart Plaza River North knows that some aspects of their hotel story are more important than others, and they stick to the basics – and their basics are beautiful!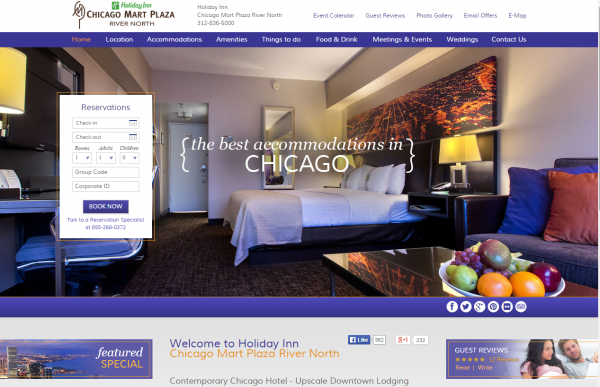 3. The King and Prince Beach & Golf Restort
Known for its luxurious accommodations and amenities, the King and Prince Beach & Golf Resort of Georgia uses the power of visuals to enhance their story in a unique and memorable way. Not only does the homepage of their website feature fresh and unique images, the accompanying striking quotes and sentences help frame the visual and tell their story.
It's not just the fact that they use images in their hotel story – they also feature people in their photos, a hot topic often debated in the hospitality world. Ultimately, though, including real people in their photos helps travel shoppers really envision the type of experience they can expect to have, allowing them to place themselves in the picture and story as well.

They also showcase the most important things travelers are looking for – such as photos of rooms, unique features, dining facilities and local amenities. Plus, they help convince travelers to book now by featuring special offers and package deals right at the top of their homepage. The use of compelling visuals and effective text descriptions make the King and Prince Beach & Golf Resort a Superstar Storyteller.
4. San Juan Water and Beach Club Hotel
Known for its lovely beachfront and exquisite hotel and amenities, the San Juan Water and Beach Club Hotel is a unique property that has eloquently shared their hotel story on multiple channels. By having active and fun Facebook and Twitter pages, they truly engage and create conversations with travel shoppers. In addition to posting visuals of the beach and pool, restaurants, and local events, they also add a splash of personality – when they mention rooms, they call it "pillow talk," their features are referred to as "cool factor." This element of personality shows travel shoppers a unique side to the property –and it pays off.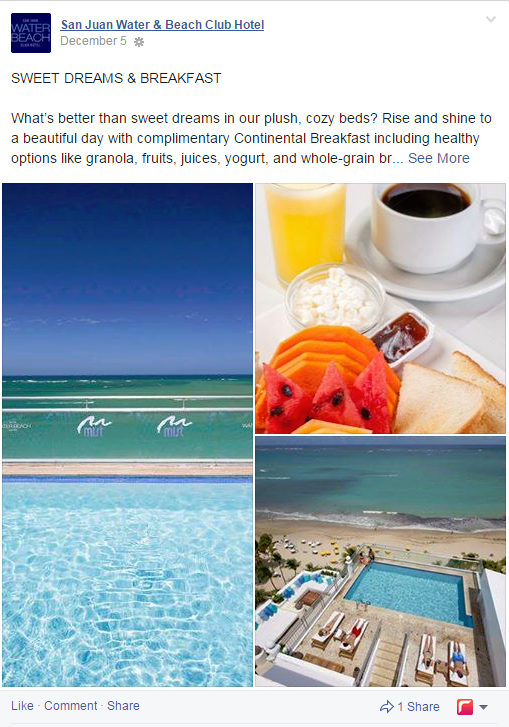 Located on the south west corner of the lovely island of Grenada lies the True Blue Bay Resort, and one of the main reasons they're one of our top Superstar Storytellers is because of the way they use the power of social media and visual storytelling to achieve a wide spread reach that attracts travel shoppers from all over. The True Blue Bay Resort is extremely active on social media channels such as Facebook (with over 50,000 page likes – almost half the population of Grenada!) and over 3,000 Twitter followers while also spreading their reach on Instagram and Flickr by posting engaging guest content, local events, and resort adventures. By being active on social media channels, they're able to keep travel shoppers in the loop of what's happening at the hotel, upcoming specials and Grenada news. The True Blue Bay Resort understands the expanding digital marketing realm and has taken the right steps to spread their content effectively across many different platforms, understanding that today's travel shoppers search use lots of devices and sites to research travel.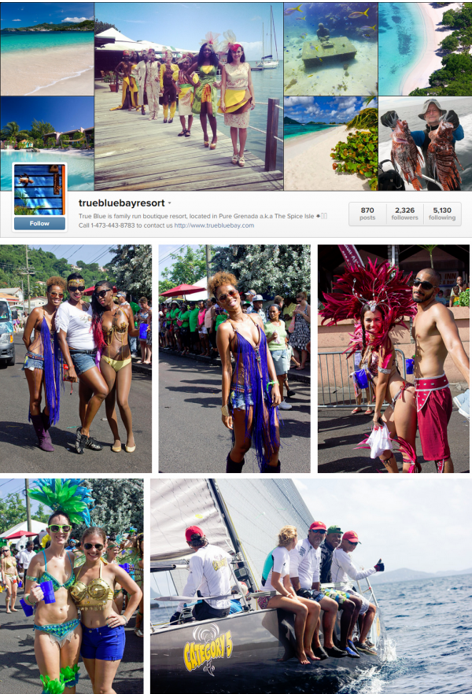 The one thing these hotels have in common is their ability to carefully craft their own story and communicate it effectively to travel shoppers in their own personalized fashion. They do this because they understand the power and influence of having a wide channel reach and its implications for their hotel's bookings, and brand image. By executing their digital marketing focus, these hotels are able to stand out in front of millions of travelers worldwide with their compelling storytelling strategy that exhibits a unique and one-of-kind experience that can't be replicated.
Congratulations to these top five hotel Superstar Storytellers – we can't wait to see what 2015 will bring!