All
Top 5 Superstar Storytellers of 2015
---
At the end of every year, we start to reflect. What milestones did we achieve this year? What challenges did we encounter?
When we think back on this past year, two things in particular stand out:
1. This year, we witnessed the democratization of online marketing. The days of spending thousands of dollars on a custom website are over, thanks to affordable, SaaS software solutions that give hospitality professionals a real alternative.
2. Google's continued expansion into the hotel booking space and the merging of many online travel agencies. We saw more hospitality professionals realize the importance of focusing on their direct sales channels – their desktop and mobile websites – because the indirect space seems to change every minute.
Like with all technological advancements, such developments can be a source of either relief or frustration, but only time will tell how great of an influence they will have on the hospitality industry in the year to come.
This year we also watched hotels challenge adversity head on and relish in the ability to tell their story through striking visuals. As 2015 comes to a close, we want to take a moment to celebrate our top Superstar Storytellers. These properties stand out by distinguishing their unique attributes through their creative use of social media, original content and strong visual storytelling.
Showcasing the uniqueness of your property is key to visual storytelling.
J House Greenwich displays the distinctive aspects of their property in two ways:
The first way they separate themselves from the competition is with their unique content. An example of this is their sustainability page, which highlights how they reduce paper waste by putting Apple iPads in each room and the ecofriendly materials used during their renovation. By using a page dedicated to what makes them different, J House Greenwich puts itself in the foreground of a more specific demographic and can attract their ideal guest.
Secondly, J House Greenwich distinguishes itself from their competitors with their multimedia gallery. They use captivating high-quality images with short and sweet captions that can only add to the power of the image. They also include video, which they cleverly film from the point-of-view of someone walking into their property. By doing this, J House Greenwich makes it easier for travel shoppers to imagine themselves in many of the unique spaces they offer, such as their restaurant, coffee bar, or spa.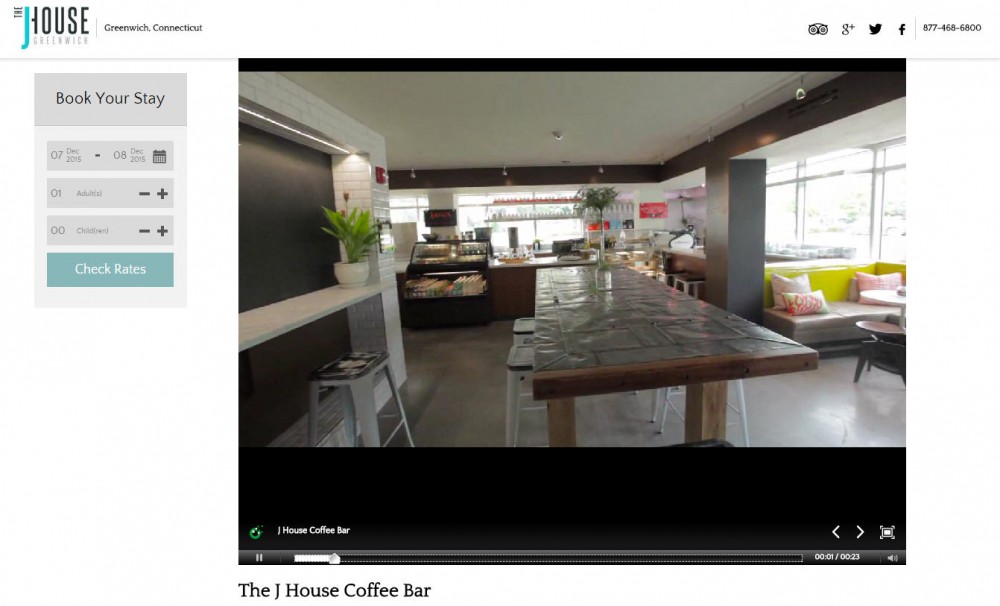 Doha Marriott
Messaging bombards us from every direction on social media. That's why it's so impressive when a hotel stands out the way Doha Marriott does.
These social butterflies fly above the competition on not just one social media platform, but four. They highlight the unique qualities of their property—like their fitness offers, spa and Turkish bath—on Facebook, Twitter, Pinterest and Google+. Across all their social media profiles, their images are high-quality and hard to overlook.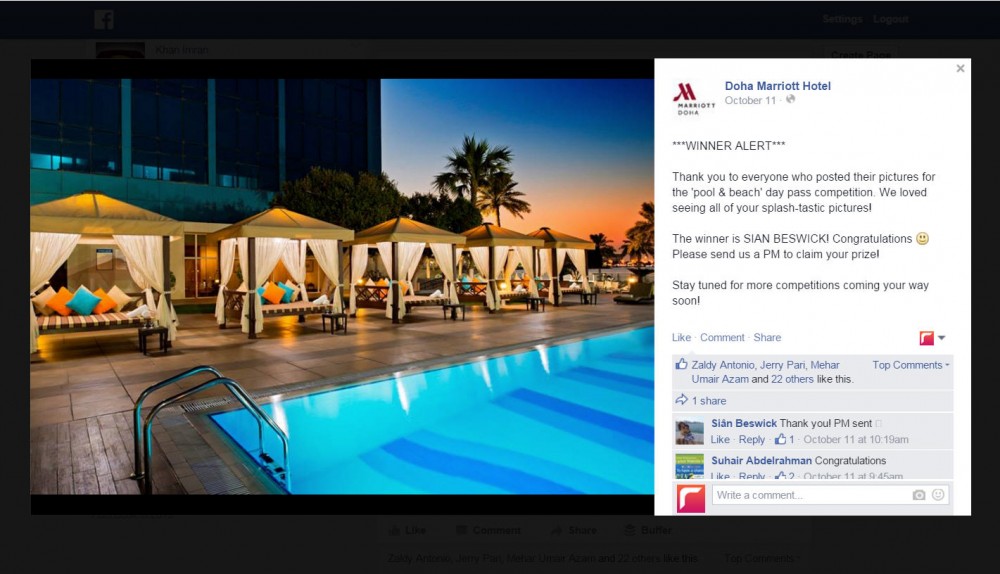 Doha Marriott's Facebook page gives travel shoppers everything they want to see when planning their next trip, including images of their property and the surrounding area. At the same time, their Facebook page includes reviews, tours, and gives travel shoppers the opportunity to book right from Facebook. The Doha Marriott is the epitome of hospitality, not just in person, but on social media as well.
It's easy to go from surfing the web to surfing the ocean with this creative and engaging website. Sa'Moana Resort exemplifies storytelling by showcasing Samoa's beautiful scenery and culture.
On Sa'Moana Resort's "Feel the Vibe!" page, they highlight a video that, like the waves they feature in it, will engulf you.
Their short clip utilizes video best practices by keeping its length to a "snackable" minute and a half while also showing off unique features of their property to set them apart from the competition, such as their outside activities, like snorkeling, surfing and lounging on the beach and much more.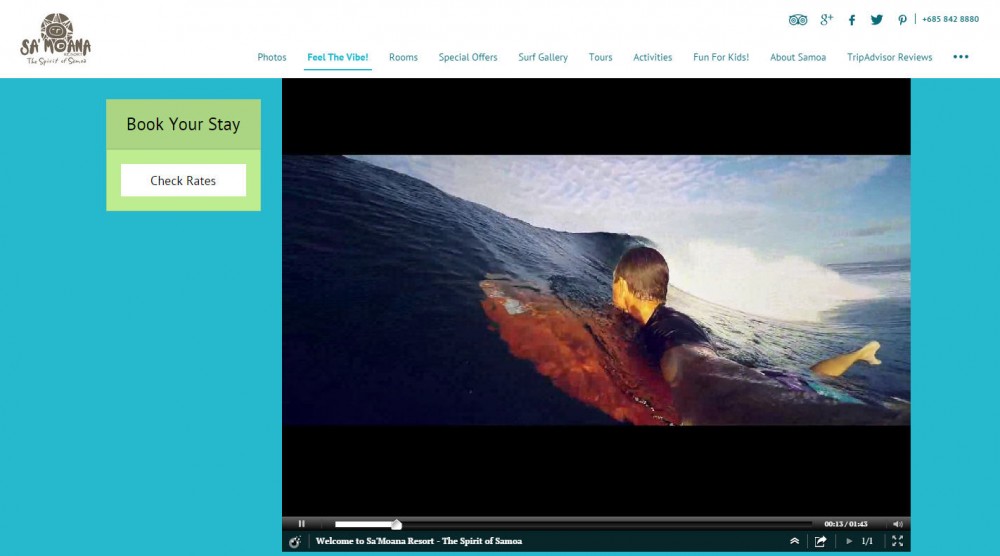 With that said, Sa'Moana truly captures the spirit of Samoa with their page dedicated to their island. Their Samoa page talks about their culture and history. By providing background about the Samoan culture, it aids in building a relationship with travel shoppers. As a result, readers begin to emotionally invest in the culture they are about to submerge themselves in.
Sa'Moana Resort's clever use of video emphasizes the beauty of their culture, which guides travel shoppers straight to their beachside property.
The last thing you want to happen when you visit a new place is to get lost, the same thing is true when you visit a website. One study shows that 60% of website users can't find what they are looking for and 40% of users do not return to a site if their first visit is negative.
Plantation Beach Villas does a great job of making it easy for travel shoppers to navigate their website which is one of the reasons they are our top Superstar Storytellers of 2015.
On their page, Plantation Beach Villas has easy to identify tabs, highlighting everything a travel shopper is looking for to research and plan their trip to Tobago. Each page has complimentary images that are as warm and bright as the sun shines on the beaches of this island. The combination of their descriptive tabs and engaging imagery helps travel shoppers find their next adventure.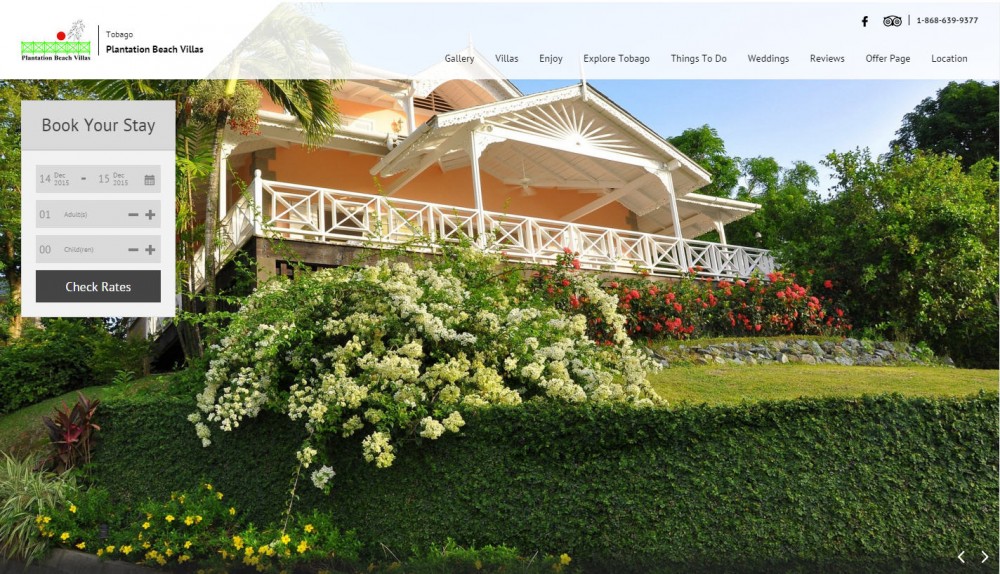 A part of great storytelling is laying out the scenery in which it happens. Hotel Pension Continental does exactly this by incorporating their community and utilizing visual storytelling best practices.
Hotel Pension Continental is located in the beautiful city of Vienna, which is soaked in culture and history. They highlight this with their "Authentic Vienna" page, which showcases beautiful architecture and scenery of local attractions, like the Schonbrunn Palace and Burgtheater.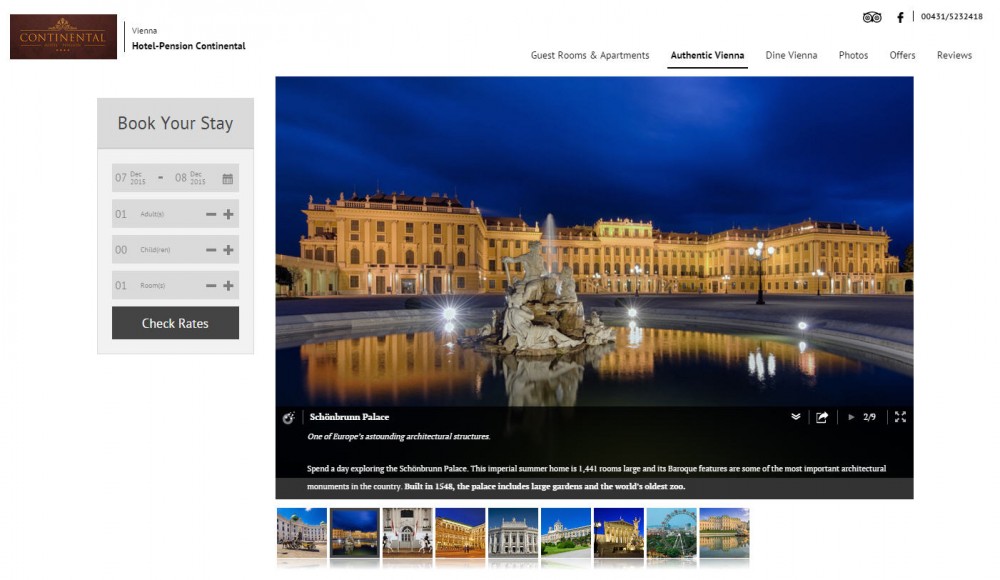 With each image is an accompanying short description to provide context to these already enticing images. These captions also outline the history of the buildings and what there is to do there. Through their visual storytelling, travel shoppers can already begin to imagine their trip to this historical wonderland.
As we've seen, these superstar storytellers attract travel shoppers by encapsulating their uniqueness through visual storytelling. At the same time, each property used distinct techniques to individualize themselves from the competition.
Although, this may be the end of the year, it's only the beginning for visual storytelling. As technologies develop with mobile, cloud-based SaaS software, or even YouTube's new 360 capability, so will the techniques to tell your unique story. We can't wait to see how you do it!