All
Transforming Your Hotel's Online Presence with Video
---
This article also features a discussion between Daniel Zelling, CEO & Founder of opensmjle, and Darlene Rondeau, VP of Best Practices Online Merchandising at Leonardo. You can read opensmjle's original article here.
Introduction
A good video evokes emotion, it can make you laugh or cry and feel any variety of sentiments. Which is precisely why a well- told story through video can also inspire travel shoppers to book a stay at your property. You aren't selling four walls and a bed, you're offering guests an experience, and what better way is there to communicate that experience than through a dynamic, engaging online video.
Here you'll learn why video has become one of the most useful tools for hotel marketers, and how you can begin telling your story through this ever-popular medium.
In terms of cost, video has never been more affordable and accessible. With smartphones capable of viewing – not to mention recording, editing, and uploading – online video's popularity is at an all-time high. As hotel marketers it's up to us to figure out the best way to use video to help promote our hotels, to drive engagement and increase booking opportunities. In "Seeing is Believing," we've broken that journey into five chapters:
Leverage Your Visual Storytelling Strategy
Tune In To Online Video
Make Video Work For You
Learn Best Practices
Ready, Set, Go!
Chapter I. – Leverage Your Visual Storytelling Strategy
In the last few years, advances in technology, higher speeds, broadband cellular networks, and high-resolution screens have made high-powered visuals far more practical – and demand for them has soared. Today, roughly a third of all internet "real estate" is images: those websites with huge blocks of text and one or two tiny images have been replaced by graphically- and visually-driven web interfaces.The travel industry has definitely followed the trend.
When it comes to your property, visual storytelling with engaging imagery is the perfect way to share your hotel's atmosphere and your guests' experiences. Combine those rich images with vivid descriptions enabling a potential guest to imagine what their stay with you will be like. Supercharge the experience by using video!
Daniel, opensmjle:
We as well do come across more and more creative short videos on the new platforms. Do you see any tendencies on which platform has a broader reach – Instagram or Vine? And based on your experience, what kind of video works best for the hospitality in 6 to 15 seconds?
Darlene, Leonardo:
With the growing trend of mobile social video platforms, everyone has the ability to be a film director-albeit in short clips, not lengthier Hollywood feature films. Google is predicting that by 2017, digital video will be even more popular than previous social media platforms. In the travel industry, online video use has been steadily increasing. In 2013, 51% of leisure travelers and 69% of business travelers have watched online travel videos respectively when planning a trip. Both figures are up 5-6% from the previous year. (Google, 2013)
There is no right or wrong answer here. Vine, Instagram or both? The choice is yours.  To give you a clear idea of what each service offers, we've broken down the features of each one: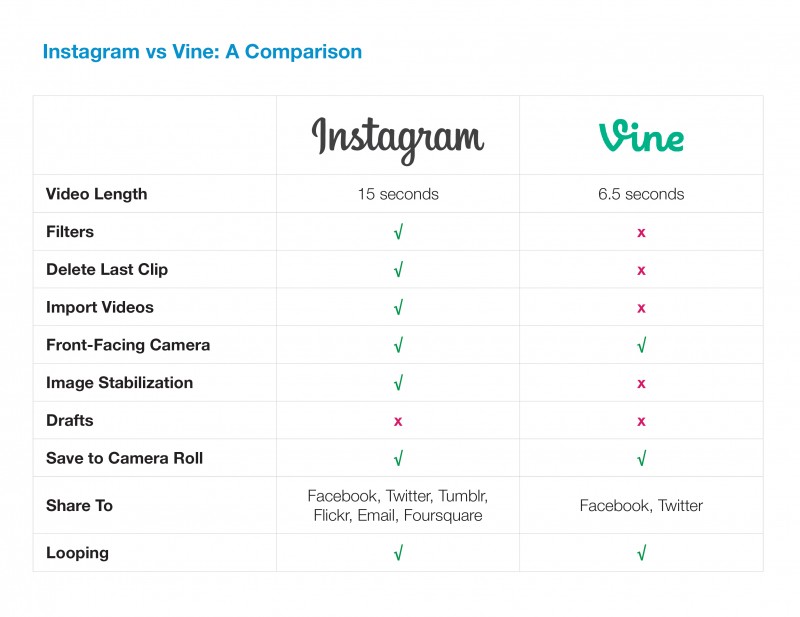 Instagram offers more obvious features, and allows up to 15 second videos. But micro-hotel reviews are very popular on Vine, so hotels really can't go wrong by using either one of these apps. The possibilities are endless on how these mobile video services can be used!
Chapter II. – Tune In To Online Video
Photographs, panoramas, 360-degree room tours and interactive images can and should be a part of your strategy, but videos in particular are a great way to tell your hotel's stories and differentiate yourself from the competition. When it comes to storytelling, video is simply one of the best mediums available.
Some quick facts:
Forrester Research suggests one minute of video can be the equivalent of reading 1.8 million words (Reuters)!
More than a billion unique users visit YouTube each month and more than 6 billion hours of video are watched monthly on its site.
Almost half of leisure travelers and more than two-thirds of business travelers were prompted to book as a result of watching online travel videos during their trip planning, and that overall, a whopping 93% of travelers watch online video (Google/Ipsos Media).
Video now appears in almost 70% of search results according to Marketing Week
Forrester Research says that webpages containing video are 53 times more likely to appear on the first page of Google.
Chapter III. – Make Video Work For You
Now it's time to start thinking about the best ways to produce videos to engage with your guests. What types of production will create rich, memorable experiences for your online visitors?
When it comes to hotel marketing, there are three types of video that you can use:
Professionally Created
In-House Production
Guest Generated
Ultimately, best-in-class hotels will use a mix of all three to provide high-quality productions, authentic videos produced in house and by guests. But for properties on a budget, a good smartphone video camera – and taking the time to encourage guests to shoot and share their own video – is a great place to start.
Daniel, opensmjle:
What could be typical video content provided by hotel guests generating high engagement rates on social media channels? And probably more important: One way would be to find hotel videos via tags used and monitoring tools. But what could be tactics to approach guests taking videos whilst on site and get them to share those with the hotel?
Darlene, Leonardo:
There are many options of videos that guests can create, from 10 second reviews of your guestrooms or restaurant, interviews with staff or short videos of themselves enjoying your property amenities! Encourage guests to take short videos at your manager's reception, or of the sights they see around town. Even a video tour of their guestroom is a great and shareable video.
Here´s an example video from Vine highlighting the simplicity of such videos.
The best way to encourage guests to create and share user generated content is by simply asking them! Amateur photographers and social media enthusiasts love to share and have their content shared. Host contests asking guests to tag your hotel on Vine or Instagram and feature them on your website. Include your social handles in emails or even on signage within your hotel, reminding guests to share the content they create. It never hurts to offer a reward for those who participate. Consider providing guests to contribute a coupon for a free appetizer in your restaurant, or a discount on parking for their willingness to share their video with you.
Chapter IV. – Learn Best Practices
We recommend following a few best practices for the act of creating and publishing of your videos. Paying attention to the following will help you maximize the return on your video investment:
Sourcing
With three options for video – Professionally created, created in-house, and created by guests – now it's time to determine which you'll want to use, and how to go about acquiring them.
Publishing

Source the best camera available on your budget
Encourage your guests to shoot and share
Turn to marketing agencies or smaller
Independent videographers for assistance in case needed
Distribution

Cover all of the key travel channels, including your website, social networks, and online travel agencies
YouTube is an obvious place to start
Feature videos on your website and on other travel channels like review, metasearch, destination and corporate travel sites
Authentic user-generated video is ideal for Facebook and other social sites
Amplifying

Video's life isn't over when the publishing tasks are completed – in fact, it's just beginning
Video should be shared, tweeted, and pinned, shared via e-mail newsletters, on travel review sites and be re-purposed in sales material
Keep your content fresh – remember, your longer videos can be re-cut into several Vine and Instagram videos and finally
Engagement is key
Chapter V. – Ready, Set, Go!
With your strategy in place and the best practices established, there are just a few questions you should be asking yourself before you launch your video publishing plan:
What types of video are right for my property?
What is our message?
Which video platforms and channels best suit my property's needs?
How much of my marketing budget should I dedicate to video?
About Daniel Zelling
Daniel Zelling is a hospitality professional with multiple years of experience in online distribution for hotels, hospitality IT-solutions, online reputation management, social media strategies and retail business. Having worked for several industry leaders in director positions, Daniel brings along a great network of industry experts and solution providers contributing to the services provided by opensmjle. He´s your linkage point between hospitality day-to-day business and our digital amenities.