Best Practices
Travel Research, Planning and Validation: A Recap From Our Digital Marketing Summit for Hoteliers
---
Last week, during Leonardo's Digital Marketing Summit for Hoteliers, we discussed the evolving travel shopping journey and its impact on direct bookings. In our first blog recap, we highlighted the best parts from our first presentation on Travel Inspiration (the first phase of the travel shopping journey), including how to target and appeal to consumers as they start thinking about a trip. In this article, we recap our second presentation, "Making a List and Checking It Twice: Travel Research, Planning and Validation."
Often considered the murkiest part of the journey, this "Mid-Funnel" phase is complex and hectic. Travel shoppers are jumping from site to site, searching for the right travel dates, flights, accommodation options and activities.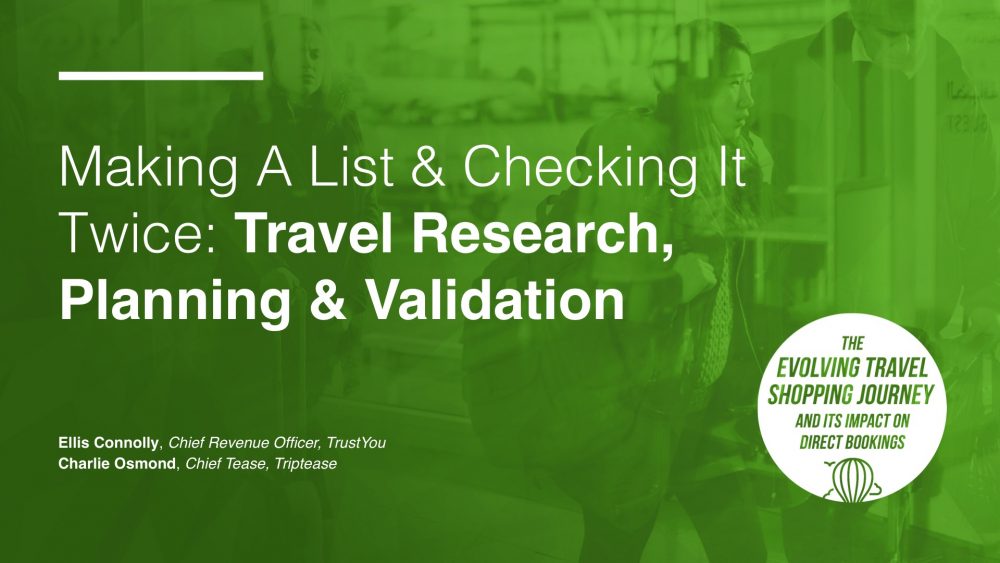 According to Google, 20% of leisure travelers are totally undecided on what brand to stay with during the travel research phase, 65% are considering multiple properties, and only 16% are absolutely certain which brand or property they will book with. So this a hotel's chance to influence and persuade.
Ellis Connolly from TrustYou, and Charlie Osmond from Triptease shared their insights on just how to do this.
Validating the Travel Shopper
– Ellis Connolly, TrustYou
If you consider that someone might take 1-3 trips/year, spending money on a hotel is an important purchase decision. During the Mid-Funnel phase, travel shoppers are looking for validation that the decisions they're making are right.
One of the main ways they do this is through online reviews. In fact, 95% of travelers read reviews prior to making a booking decision (TrustYou, 2016). And 76% of travelers are willing to pay more for a hotel with higher review scores (TrustYou, 2016).
Travel shoppers consult a variety of sources for reviews – OTAs, metasearch and your own branded website. 52% of travelers say that summarized review content is the easiest way to consume travel reviews, though full text reviews and images are also important.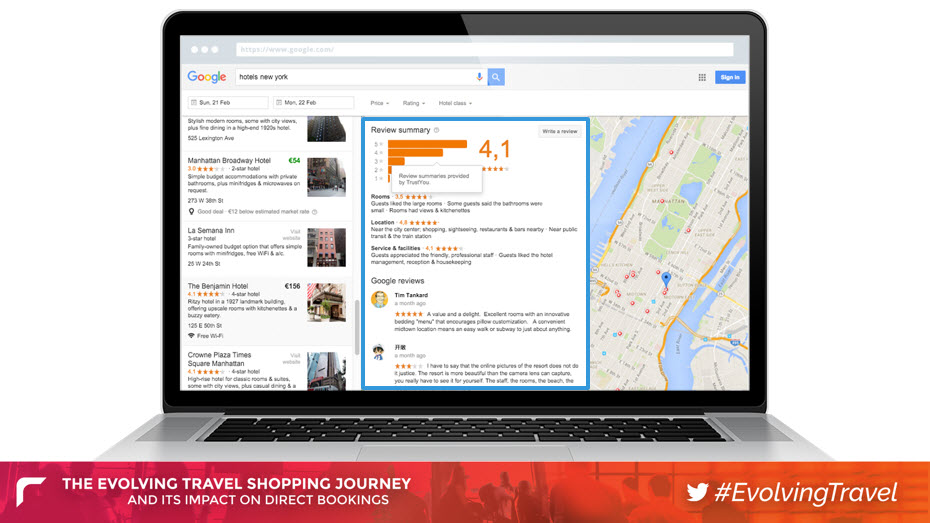 With Travel Research, Consistency is Key
However, perhaps even more important than offering variety in your reviews is ensuring that they are consistent across the entire online booking experience, in each different channel travelers are using to research your property (e.g. Google, Hotels.com, Kayak, branded site, etc). Take a look at your branded website and most profitable distribution channels. Is your review content consistent on each? If not, spend the time to bring everything up to par. Consistency is key to instilling confidence in a travel shopper and validating their purchase decision.
Some ways to do this include distributing review content into those ecosystems, or asking travelers to write reviews across your different distribution channels. You want to make sure your property is presented well across all the channels that generate bookings.
Driving Your Conversion Opportunity
– Charlie Osmond, Triptease
Once a travel shopper has selected an accommodation provider, and validated their decision through reviews, they must then decide how to book. This is another important step of the Mid-Funnel phase. Should they book directly or through an OTA?
Hoteliers know that direct is best; direct bookers deliver 9-18% more netRevPAR due to upsell and ancillary revenue opportunities (Kalibri Labs). But they must convince travel shoppers, and the Travel Research phase provides the perfect opportunity to do this.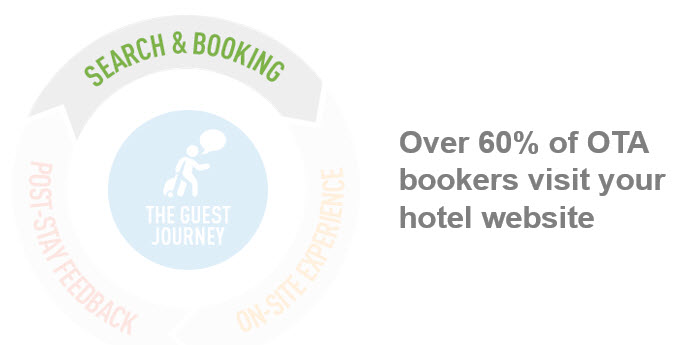 According to Triptease, over 60% of OTA bookers will visit your website before they book on an OTA. They're coming to your site to see bigger images, more information and reassure themselves that they're making the right decision. And that's the moment to capture them and convince them why they should book with you directly.
Charlie provided 6 tips on how to do this:
1. Experience the customer journey
First understand how people use your website – the journey that they take through it. Ask 2-3 guests on your property to try and book a room on your website in front of you. Get them to talk you through it as they do so. You'll be amazed to see what confuses them on your website – things you may have overlooked by being too familiar with it.
2. Present clear benefits
List the reasons why travel shoppers should book direct. Some hotels even include upsell benefits (e.g. free diving lessons, glass of wine, pineapple!)
3. Prove your rate is the best
The number 1 reason why someone comes to your website during the Research phase and then leaves is because they think booking through an OTA is cheaper. But it isn't most of the time! Price comparisons on your website (comparing your direct price to the OTA price) is an effective way of proving it.
4. Don't be undercut
That said, hotels need to know if they are being undercut online. It's not enough to say "Best rate guarantee" on your website. We now live in a world of metasearch – travel shoppers can verify it for themselves. Hotels are being undercut by OTAs a lot more than they think (20-30% of the time), which decreases conversion rates by over 30%! Monitor and measure your rates, and if possible, look at integrating a price comparison widget on your website.
Abandonment pop-up tools are useful in capturing details about your website visitors as they are exiting, to re-engage them at a later stage. These type of tools can help increase conversions by 10%.
6. Be human
Forward-thinking hotels are now using live chat/chatbots to improve the Research phase on their website and encourage travel shoppers to book direct. Sending images via chat will be the next big opportunity to prove the guest experience and build a human relationship with visitors – something that will be hard for the OTAs to replicate.
Get all of Ellis' and Charlie's insights on the Research, Planning and Validation stages of the Travel Shopping Journey. Watch the full presentation on-demand.