Best Practices
Traveling & Sharing the Experience: A Recap From Our Digital Marketing Summit
---
In our fourth and final recap from last week's Digital Marketing Summit we turn our focus to the final stage of the travel shopping journey: Traveling and Sharing the Experience. Many hoteliers can overlook the importance of social sharing and guest reviews, both of which impact future bookings.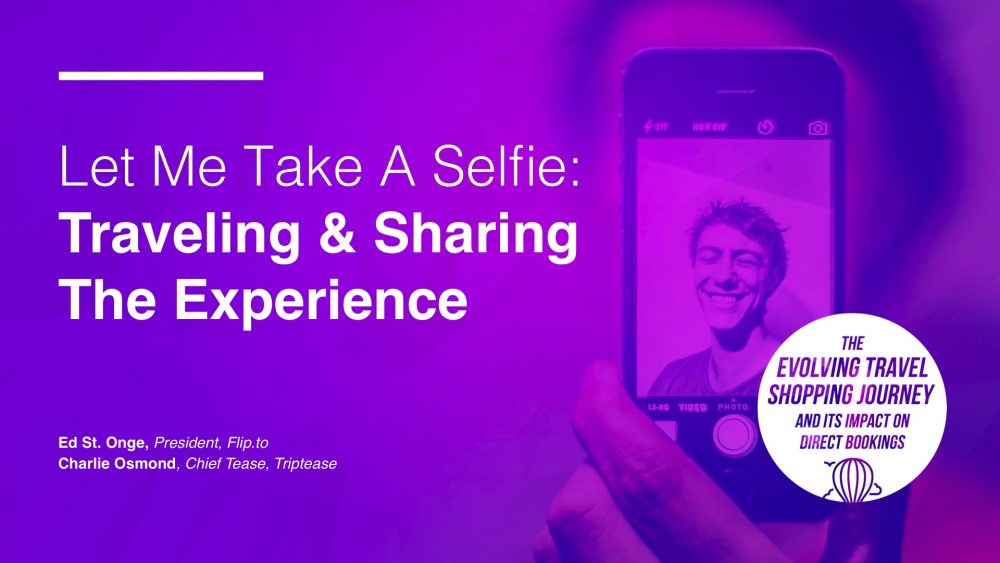 Humans are social by nature. We love to share our experiences with others. This is especially true of travelers. And with the rise of social media, it's never been easier. We post pictures, stories and reviews of our experiences online for all to see. In fact, 70% of travelers are likely to share their holiday pictures on social media, according to Skift's new 2017 Digital Transformation Report.
Positive reviews are crucial for the success of your hotel. 53% of travel shoppers won't book a hotel without first reading a review. So hotels need to take advantage of their guests' experiences in order to attract new guests. But it isn't all positive, hotels must be weary of negative reviews that can damage how future guests view their property.
Ed St. Onge from Flip.to and Charlie Osmond of Triptease shared their thoughts on the power of social media during the travel experience and debated its impact.
 The Power of Now
– Ed St. Onge, Flip.to
Modern technology has made us all storytellers. We share the highlights of everything we do, especially our travel experiences. Today, the average person has a larger sphere of influence than celebrities did in the late 1800's. The rise of smartphones and social media has given people a platform from which their voice can be heard. It has fundamentally changed our view of what is shareable content and disrupted how travel shoppers interact with hotels.
The disruption caused by modern technology presents many opportunities for hotels, but it hasn't been all positive. Hotel's need to be cognisant of how much influence a single guest can have on their reputation. A single post on Facebook shared only 3 times, typically reaches over 10,000 people. If the post is a scathing review of your hotel, it can negatively impact your future bookings.
However, focusing on improving the customer experience and encouraging guests to share their positive experiences at your property can have a positive impact on your hotel's reputation and drive future bookings.
Leverage Your Guests' Content
Thanks to social media, guests have the power of influence. So, it's a natural progression for hotels to try and get guests to create content for them. The benefit of user-generated content (UGC) for your hotel is three-fold. First, you gain new content to inspire other travel shoppers. Second, you get access to a new and expanding audience (i.e. their followers). And third, travelers trust other travelers, more than they trust brands. UGC is a way of demonstrating your authenticity, and backing up your brand promise.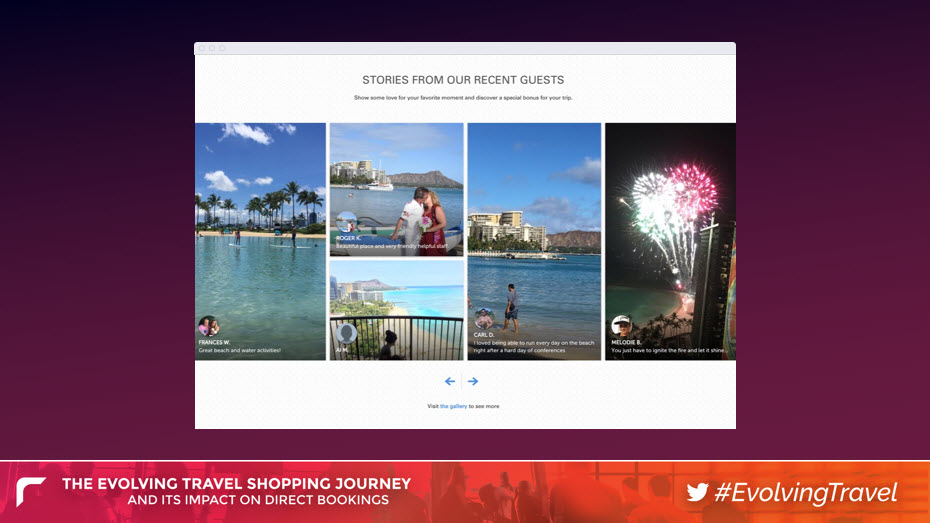 Photo contests can be a great way to leverage guest content. Today, everyone has a high quality camera built into their smartphones, and use it to capture all aspects of their vacation. By setting some simple parameters for a photo-contest, you can get great guest-generated content without asking them to do anything different then they typically would. It has even been found that displaying previous guests' images fuels higher image quality moving forward. So a photo contest can keep helping your hotel's social strategy even after it has finished.
Is Social Media Useful?
– Charlie Osmond, Triptease
While photo contests and similar strategies to engage guests through social media can be a powerful, it is important to be realistic about what social media can actually do for your hotel. According to Charlie, social media is most effective at making the travel shopping journey come full circle. Social media presents a key opportunity in the Inspiration phase, and smart hotels are using current and past guests' stories to inspire travel shoppers thinking of taking a trip.
Guest stories are something unique to the property, and not something available to OTAs. OTAs don't control the relationship that you have with guests. So while you won't ever be able to beat Expedia in terms of marketing spend, you can win with storytelling. You can harness the emotional connection guests have with your property and share it via social media to inspire others to visit.
Using Social Media to Target Future Guests
In addition to inspiring future guests, your current guests can tell you a lot about your target market. This is because people tend to associate with like-minded people. By examining positive interactions on social media, you can target new audiences and even speak to them in a similar manner.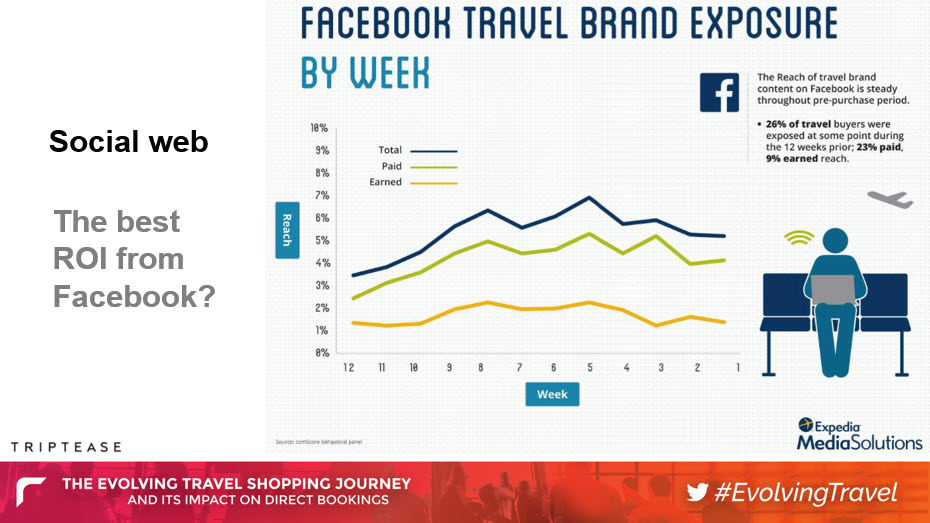 Facebook presents wonderful opportunities to target custom audiences. The paid reach that now fills people's Facebook feeds has increased dramatically in the last few years. This presents a great platform for hotels to re-target travel shoppers that may have previously shown interest in their property. It also allows for hotels to reach custom audiences. You can upload the emails of previous guests to the Facebook Custom Audiences tool and it will identify similar people that you can target and advertise to.
Get all of Ed and Charlie's advice on the Travel & Sharing phase of the Travel Shopping Journey. Watch the on-demand video.