All
How to Step Up Your Twitter Game: Part 2
---
One of the best analogies for social media is to imagine yourself at a party. Would you go up to a group of people and start talking all about yourself and how awesome you are?
If you have any basic social etiquette, the answer is no. People would be bored of you immediately. You want to engage with these guests, join fun conversations, talk about them and leverage positive relationships from it. Now think of this style as you begin to refine your hotel's presence on Twitter.
In the previous article in our three part blog series, we gave a refresher on Twitter's best practices, an overview on how to utilize Twitter lists for marketing purposes, how to take advantage of your activity feed to discover new content and expand your network and how changing your trends can help you stay in touch with what is popular on the Internet and how your hotel can jump on these themes.
Now, you can do even more. In this article, we'll dive into the intricacies of Twitter that help you narrow your marketing goals and utilize some of the tools that sometimes get overlooked.
Here are three easy tips you can begin taking advantage of right away to attract more travelers through your Twitter efforts.
1. Schedule Your Posts
Take a proactive measure and plan your month ahead. You can design your content calendar around certain events, pre-draft your tweets so you have a base template for the month and adjust accordingly instead of winging it on the fly.
This allows you to curate your content and methodically schedule it throughout your month, posting it around your peak performing times. By scheduling your posts you can take a step back and look at the bigger picture to create a proper content strategy. This also helps ensure that your hotel's story is being properly told. If you are always scrambling at the last minute to make sure that you are posting for the sake of doing so, chances are your story will get lost amidst a flurry of procrastination. You do not want to look back and realize your tweets aren't conveying your hotel's true essence, what makes your property unique and why travelers should choose you. Scheduling your posts ahead of time helps take out some of this challenge.
Obviously, life will intervene and you may have to update or postpone your tweets depending on the circumstance. But by planning ahead, you won't be tweeting haphazardly and for the sake of doing so. Hootsuite, Buffer and Tweetdeck offer great scheduling options and analytic capabilities. Plan the work, work the plan.
Helpful Hint: If you start your tweet with a person's Twitter handle, only users following both people will see the tweet. But by starting off your reply with a period, the post won't start with @ it will instead be viewed as a separate tweet and will be seen by all of your followers.
2. Tailor Suggestions Based on Your Web Browsing
Twitter can now take information from your search queries and suggest people for you to follow based on your related industry to give you a more personalized experience. This helps you find new tweets, links, media and conversations from people you are interested in and that relate to the realm of your hotel's story.
For example, you could find people, businesses or publications that may inspire you to include content pertaining to your community or industry in your hotel's story on social media. From there it can open up entirely new avenues of who to follow, can greatly widen your network and contribute excellent content ideas.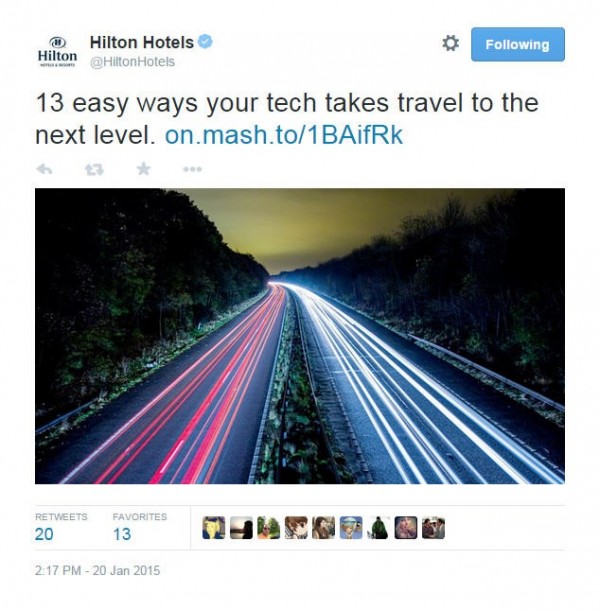 Hilton Hotels are plugged into everything that pertains to their industry, and have established themselves as a resource by sharing articles that deal with all things travel-related.
Click on the Gear Icon > Settings > Account > Personalization and then check "Tailor Twitter based on my recent website visits."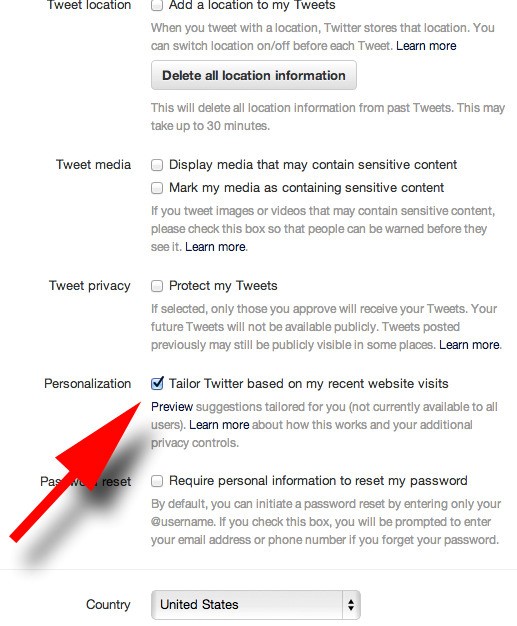 3. Advanced Search
The advanced search toolbar helps you refine your search queries and type in specific phrases. You can find out who is talking about your hotel, if they have any issues or concerns so you can try and rectify them and find travelers sharing their experiences online (which you can then retweet or share to your followers). There are Twitter monitoring tools such as Twilert that will send you alerts for specific search terms (like your hotel's name for example).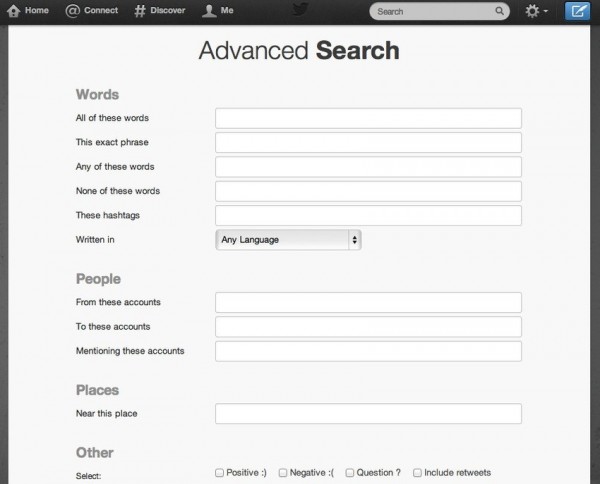 Helpful Hint: Twitter can be an excellent customer service utility if used correctly. You can pick up on conversations about your hotel you may not know about, address any questions or concerns right away and use it as your very own press release service.

When utilized correctly, Twitter is a perfect platform to act as a brand enhancer and a phenomenal avenue to amplify your hotel's story. Remember, it's not all about your hotel but about your guests too. Be authentic, entertaining and engaging and watch how well you can leverage the full power of this microblogging tool to showcase your brand.

This is the second in a series of three blog posts about taking your hotel's Twitter presence to the next level. Learn even more by checking out Part 3.