All
Understand Today's Travel Shopper: Learning from Google's 2014 Traveler Study
---
Google does the travel and tourism industry a great service each year when they conduct and publish their Traveler Study, and 2014 is no different.
I moderated a special webinar event last week dedicated to exploring the results and implications of the study with Katy Galambos, Industry Analyst, Travel, Google.
During the webinar, Katy from Google explained:
Why multi-screen marketing is important for hotels – 55% of hotel bookers who use their smartphone for inspiration, book another way
Trends in the online travel shopping journey – such as the decline of app usage
Key statistics for understanding consumers – such as why hotel bookers watch travel videos during the early stages of the shopping journey
Check out the full recording or view the slides from the presentation here.
We also had a lot of interaction with the audience during the event, including several questions that are top of mind for hotel marketers:
Question: Why are there differences between business and leisure travelers in terms of brand loyalty?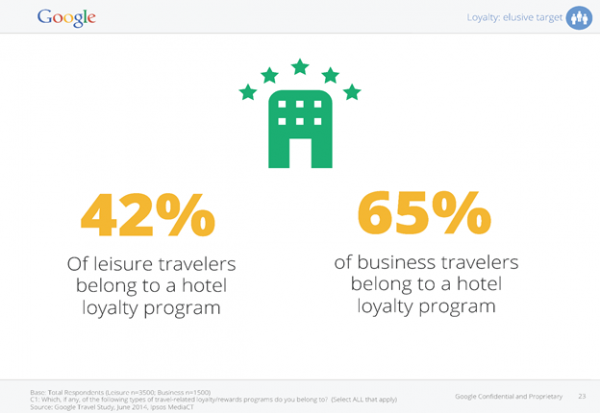 Katy from Google: This variance is characteristic of one of the common differences we see between leisure and business travelers. Business travelers are typically more brand loyal, more frequent travelers and have a slightly higher tendency to stick with certain brands, despite other variables.
Question: Why would someone visit a website if they have an app?
Katy from Google: It could be for several reasons. For example, think of how many apps you have on your phone. If you downloaded an app a year ago and used it once, do you even remember you have it? We also see travelers using search to navigate to brands. For example, if you're searching for "Marriott," it's likely then that you would enter through a search result, frequently leading to a website.
Question: How is it beneficial to me as a hotelier to show travel-related content while consumers are watching videos on an unrelated topic?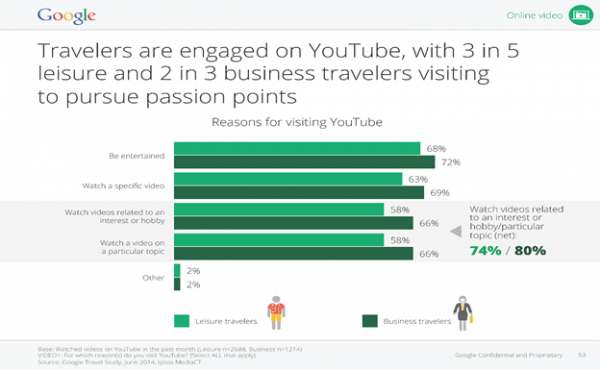 Katy from Google: You want to be everywhere you user is. Users go online undecided and it's an opportunity to inspire. If you're targeting someone in your key demographic, regardless of what they are watching, you know you want to be in front of them. Users are influenced through online video at the earliest stages of travel.
Judging from all the comments and questions we received, hoteliers learned a lot from Katy and the annual Google Traveler study. Here are a few key takeaways to keep in mind:
People are inspired primarily by online resources, most especially social and video sites and search results so it's important that your hotel be represented on these sites and optimized for search engines
The research phase is a critical part of the planning stage of hotel shopping which presents an opportunity for hotel marketers: grab their attention, and stay memorable as they go through the consideration process
Mobile is important throughout the entire shopping journey with 75% of leisure travelers switching between devices to complete planning and booking. Being optimized for smartphones and tablets shouldn't be a back burner initiative any longer
80% of hotel bookers watch online videos to make a decision regarding their accommodations. Video production isn't as expensive as it used to be and there is an option for every budget
Learn more from Google by watching the full webinar recording or checking out the slides from the presentation here.