All
Understanding the Traveler's Path to Purchase: Insights from the Hotel Association Canada Conference 2016
---
From the impact of the sharing economy, to ongoing challenges with hotel distribution, the Hotel Association Canada Conference in Toronto last week was packed with discussions and debates around the biggest challenges the hospitality industry faces. Some of the biggest names and the brightest minds in the industry came together to share insights, nurture ideas and help formulate strategies that will help accommodation providers drive business over the next twelve months and beyond.
I had the pleasure of moderating a panel called The Long Road: Understanding the Traveler's Path to Purchase. Joined by two travel and travel technology industry veterans Kyle Nantais from Westmont Hospitality Group and Alan Young from Puzzle Partner Ltd, we discussed how the travel shopping journey is evolving and what this mean for hoteliers.
Travelers go down a long, unpredictable road when it comes to purchasing travel, more so now than ever before with the complex digital ecosystem of hotel websites, search engines, OTAs, review sites, social media and more. With such complexity in the purchase cycle and an unpredictable shopping experience, how do hotels present their properties on all devices, on all platforms with the most powerful, consistent message, and more importantly, how do they drive them to book directly?
As a summary of our discussion, I can offer the following three highlights.
1. Embrace and invest in technology.
Technology advances have created opportunities for hotels to drive operating efficiency and engage with guests, from first touch to checkout, and be where they are through the increasingly complicated path to booking. Digital marketing technology takes the agony out of managing online marketing and simplifies the process of creating a visually-compelling hotel website that is designed to engage and convert travel shoppers. Now is the time that more hoteliers start using this technology to their advantage.
Today's hoteliers have access to a myriad of software solutions that drive efficiencies in hotel operations from online guest check-in software to revenue management tools that automate and assist in managing inventory and guest services technology that makes the guest's stay more convenient and connected.
The panelists offered this advice: embrace and invest in technology that can make you more efficient and save you money. You don't have to invest in building your own technology, as user-friendly, efficient, low-cost solutions are already at your disposal – now is the time to use the technology that is available to you to drive more revenue.
2. Tell your story everywhere.
A report produced by Millward Brown and commissioned by Expedia showed an increasing amount of content that shoppers are consuming before they book their travel – in fact, it shows the average number of travel sites visited prior to booking is 38 starting 5 weeks out with the amount of content increasing as the shoppers gets closer to booking.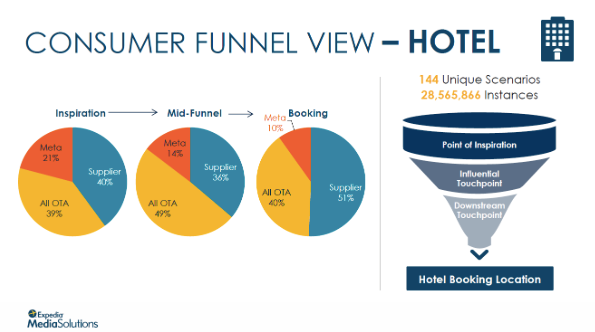 Image Source:  Expedia Media Solutions
This just confirms that the journey travel shoppers take to their ultimate decision is a complicated one, and on that is continuously evolving. Their decisions are influenced by the stories they're encountering along their travel shopping journey on OTAs, review sites, social media, brand.com and the list goes on.
Yes, it may be hard to track this journey and it differs from traveler to traveler, but that shouldn't stop hotels from ensuring every interaction they have with your property fits in with the story you are trying to tell. This brings us back to the first point – embrace technology. Smart hoteliers will ensure that their hotel's visual story is displayed on every channel possible and are driving their target guests down the path to purchase. Successful storytelling influences the traveler's decisions and drives them to book.
3. Enable easy booking.
If there's one channel you can truly control, it's your own website – so make the most of that opportunity and enable booking on every page, on every phone, tablet or computer screen. Optimize your website for every possible booking channel and ensure that the path to conversion is easy.
The overarching theme that come from all of the sessions and discussions at this year's conference was this: our industry as a whole needs to adapt (and quickly) to today's digitally-connected traveler as they go down the long, winding road of researching and booking travel.
We created this infographic, The Online Road to Reservations, for you to visualize where travel shoppers go at key times in their decision journey, with convincing stats along the way to help you make strategic decisions at every turn. Download now so you can start mapping out your road to success today.